10 Interesting African Locations you Should Visit this Fall/ Winter
When searching for international tourist sites for fall/ winter 2019, these most interesting African locations should come to mind.
Africa has a stunning blend of natural games and a rich cultural heritage. It is the cradle of ancient civilization and famous for the ancient Egyptian Pyramids. If you need a warm region to enjoy the holiday 2019 away from the winter, then the hottest continent on earth should suffice, Africa.
Interesting African Locations to Visit this Holiday 2019
From the 54 countries contained in Africa, picking a spot to spend your vacation could be a bit tricky. But here are ten exciting locations or countries to choose from for a holiday 2019.
Morocco
Morocco is one of the interesting African locations or countries to visit with a wide array of interests. Morocco ranks as the African nation with the highest number of visits, with over 12 million visitors as of 2018. Morocco is in the Northern part of the African continent with serene seaside villages and beaches, bustling cities, and snowy mountainous planes.
Places of interest in Morocco include the giant dunes, Atlas mountains, beach resorts, etc. Morocco also holds 9 UNESCO World Heritage sites. One of such is the Medina of Marrakesh city, establish since 1070 AD. Another section of interest is the Ait Benhaddou with a taste of antique structures from the Saharan era. Morroco is a pot pouri of European, Berber, and Arabic cultures with exciting Morrocan cuisine to explore.
Enjoy street theatres, a variety of roadside but exquisite meals – grilled meats, salad, and amazing displays. Also, see snake charmers, tribal drummers, henna-painters, ladyboy dancers, all at the Djemaa el Fna, the main square of Marrakesh. Go to the Sahara Dunes for long walks and the Marathon des Sables with visitors worldwide during the spring. Gaze at the stars at the Merzouga Dunes, no worries about light pollution. See mind bugling landscapes at the Draa Valley as they rise against the sky.
Don't leave in a hurry! A visit to Chefchaouen is what you need for a lasting impression about Morocco. This beautiful African location is a city painted in brilliant blue hues. It was built in the 1400s, attracting thousands of visitors to date. It's a long walk, I must say. But with over 200 hotels to cater to tourists, you can relax to an exciting meal afterward.
South Africa
South Africa is one of the most exciting international tourist attractions, with at least 9.5 million visitors annually. It boasts of some of the most interesting African locations like the splendid coastlines, national parks, vineyards, and wildlife safari.
Rhode Island, where erstwhile President Nelson Mandela got imprisoned, is a popular tourist site. Gauteng houses the cradle of humanity with fossils of at least 2 million years old. A trip to Transkei or Garden Route to experience the splendor of nature and surfing will make your vacation fun.
When you feel like being closer to nature, boat ride, fishing, then it's the boathouse retreat at Vermaaklikheid. To have a taste of wildlife, and an exceptional Safari park experience, then it is the Kruger National Park.
Take a trip to Cape Town, the second-largest city in South Africa, and a renowned culturally diverse city in the world. Take in the natural planes, beautiful African locations like beaches, mountains, and expansive harbors. Worthy of note is the Table Mountains of Cape Town, which is one of the world's most photogenic or best beach cities. Take a ride to the Mesa on the Cable car and take exciting photos, area view of sunrise and sunset.
Tanzania
Tanzania is a nation with fascinating historical sites, natural reserves, and more you don't wish to miss. First, ever heard of Mount Kilimanjaro? Well, Tanzania is home to the mountain with the highest peak in Africa, with 5,895 meters or 19,341 feet high. So, if you love hiking, it's time to go mountain climbing – see above cloud levels or reach the twin summit. If not, take photos and get a breathtaking view from the ground.
If you have an interest in reaching some of the best Safaris in Africa, then the Serengeti National Park could be your best pick. And when you visit, watch out for the 'Big Five' – Lion, Elephant, Rhino, Leopard, and Buffalo. Also, one of the world's exceptional natural event – 'The Great Migration' takes place here. It is a time when hundreds of antelopes, zebras, and more make the great walk to Kenya to look for greener pasture. The journey starts in January at the Ngorongoro Reserve, the Serengeti in June, and to the Masai Mara in Kenya in September.
Zambia and Zimbabwe's Victoria Falls
Zambia and Zimbabwe hold the key to one of the most interesting African locations – Victoria Falls. It is the world's largest-ever waterfalls as well as one of the seven natural wonders in the world. A sight of the Victoria Falls is a splendor to behold with the beautiful memory staying forever with you. The fall is also known as 'The Cloud That Thunders' or 'Mosi-oa-Tunya.' Discovered in 1855 by Scotsman D. Livingstone, thousands have experienced the coolness and feel of this spectacle of nature. It is at least a 108-meter high water cascade with a flow of 12,800 cubic meters per second. It borders Zambia and Zimbabwe on the Zambezi River. And when you visit, try to hang around at night to catch a glimpse of the stunning rainbow caused by the moon's reflection.
To experience the many wonders of nature in Zambia, take a trip to the famous Devil Pool and see your perfect reflection. Or you could go white-water rafting on the river Zambezi. Other fun activity includes a visit to the Lower Zambezi to say hi to giraffe, elephants, hippos and an array of colorful birds.
Egypt
Egypt is one African country made famous by the ancient Egyptian Pyramid and civilization. Besides the above, Egypt attracts millions of tourists annually to its natural reserves, parks, and more. The White Desert of Egypt is one of the most exciting and interesting African locations. It's famous for its unique formations from chalk rock, made from calcite, which is a form of limestone.
Close to Cairo is the Pyramids of Giza, a charming and ancient city. The structure came into existence in 2650 BC and built with over 2.5 million blocks during the reign of King Cheops. Other Pyramids include the Chephren pyramid and the Pyramid of Mycerinus.
You can also take a cruise down the Egyptian Nile to experience the Wonders of the Nile. But it's more exciting as a romantic voyage to get a glimpse of one of the world's ancient civilizations. Also, your trip in Egypt can't be complete without a visit to the Valley of Kings. There you can see the ecstatic Kom Ombo Temple and the monumental statues.
 Namibia
When you want to explore some of nature's best and appealing splendors, then Namibia should be on the list. The Sossusvlei dunes of Namibia hold millions of years of history with breathtaking views to behold when you climb. By the way, Sossusvlei refers to 'gathering place of water.'
When in Namibia, don't forget to look out for the Fish River Canyon. It is said to be the second-largest canyon in the world, only surpassed by the Grand Canyon in the US. It is 1,640 feet deep and over 100 miles long.
Into the deserts of Namibia, you would find the Spitzkoppe, a group of granite peaks in the Namib Desert. At some levels, the granite peaks hit 5,900 feet, an interest location for stargazers, geologists, climbers, weaver bird watchers.
Madagascar
Madagascar offers vacation seekers one of the most interesting African locations to experience the real magnificence of nature. This fourth largest island in the world has almost anything you need to make your holiday 2019 an exhilarating one. From rainforests to deserts, beaches, and rich and diverse landscapes, Madagascar is your holiday spot of choice. It's only in this tiny island nation you can find a little of every species of plant and animal in the world. Also, you can take a trip to Tsingy de Bemaraha National Park to see the Mineral forest. It is rock formations only found in Madagascar and nowhere else on planet Earth.
Take a trip to the UNESCO World Heritage site at the Ambohimanga to see the ancient Royal settlement with all its fortification. Also, walk through the Baobabs for a feel of nature, seeing trees as old as 800 years ago.
Kenya
Kenya is notable for its tourist interest due to its nature reserve and wildlife splendor. One striking feature is the 'Great Migration' from Maasai Mara to Serengeti in September every year. So, do you want to see a vast herd of lions or elephants during a Safari drive? Then, it's got to be Kenya.
Pay a visit to the Rhinos located at the Solio Reserve in Kenya. The reserve has at least 250 white and black rhino at the slopes of Mount Kenya and Aberdare. If you enjoy horse riding, here's your chance to get a good view of Kenya's Zebra on horseback. You can take a clear look at the stripey Masai Mara beasts while horse riding.
At the Lake Nakuru National Park is one of the most interesting African locations to see Flamingos of Kenya. A vast expanse of Flamingos, numbering at least 1 million, will greet you on arrival. It's such a lovely sight to behold. The Flamingos create a picturesque view of vibrant pink across the sky or lake.
Nigeria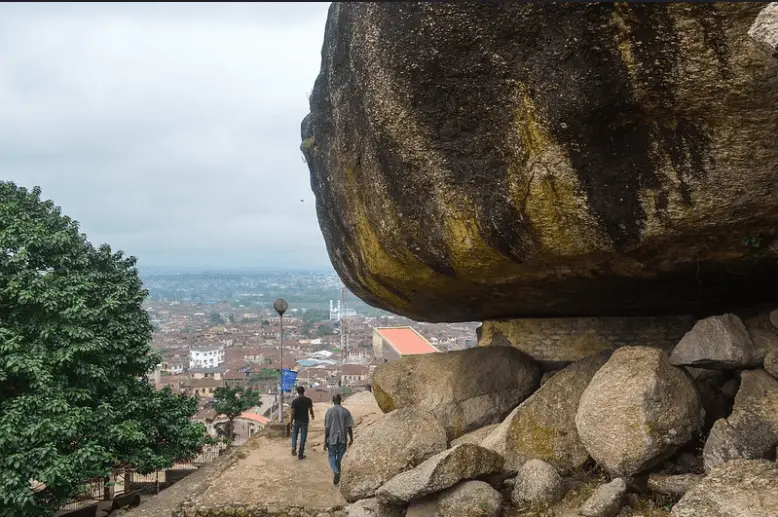 Nigeria is another growing tourist location in Africa. Though bedeviled by socio-economic cum political issues, Nigeria has cultural and natural reserves worth visiting. Popular annual festivals in Nigeria include the Calabar festival, Lagos Carnival, and the Osun-Oshogbo festivals. Each of these festivals attracts visitors from across the globe and holds annually at different times.
An interesting site to visit includes the Osun Sacred Grove, which is a UNESCO World Heritage Site. The site seats on 75 hectares of land and located close to the Osun Rivers. It deals with the traditional belief system of the Osun and Yoruba tribes. There are lovely beaches in several parts of Nigeria, popular of note is the Tarkwa Bay, Eleko beach, in Lagos. Natural sites include the Yankari Game Reserve in Bauchi with Nigeria's most significant wildlife retreat. You will find elephants, roan antelope, patas monkeys, olive baboons, and more.
Other beauties of nature to sight in Nigeria include the Olumo rock in Abeokuta, Zuma, and Aso Rock in Abuja, Gurara waterfall in Niger state. See life at its best in Africa's longest canopy walkway, the Lekki Conservation Center.  Also visit Tinapa Resort, Slave History Museum and more.
Your trip won't be complete without a visit to Obudu Mountain Resort in Cross River State. It is the ideal place for a weekend getaway in a serene and close to nature environment. And if you are a lover of music, Afro Juju music at the New African Shrine, Lagos can be an ideal place to enjoy African music. The late Afrobeat legend and pioneer, Fela Anikulapo Kuti, established the music hub.
Botswana
Botswana has all you need to experience the best of wildlife and nature in Africa. It has some of the interesting African locations yet explored. Top on the list is the Okavango Delta, with all the close to nature and untapped natural beauties. However, you are not likely to experience a safari drive in Botswana, but the trip would be a worthwhile experience.
Some of the best parks include the Central Kalahari Game Reserves and the Chobe National Park. At the Makgadikgadi Pans, you can take in the view of the age-long dried-up salt lake in the Kalahari desert. See more of the salt-rich pans, cheetah, leopard, lion, and more at the Nxai Pan Park. The park also holds an unusually large herd of giraffe, to spice up your visit. Also, you can enjoy exquisite sherbet-like tasting fruits from the Baines baobabs located at the entrance of the Nxai Park.
If you need a memorable and exhilarating adventure this holiday 2019 visiting interesting African locations, then you got it already. Africa is replete with many historical, cultural, and natural phenomena that will blow your mind this holiday. But this list only touched a few.
Also, Check Related Posts
15 Safest Countries in Africa to Visit
These are the Best Times to Visit Africa by Season
Ugali: 10 Things to Know About the Popular African Dish