101 Black Owned Restaurants You Need To Try !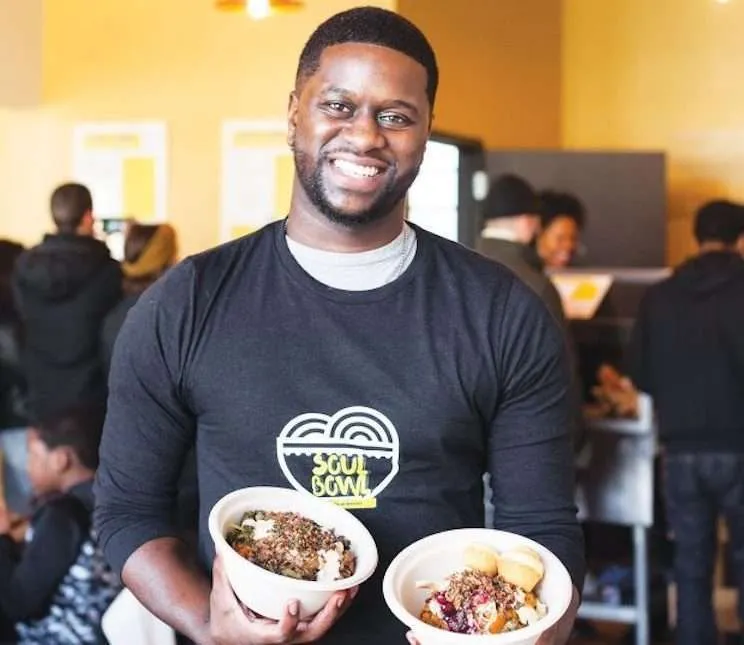 Black travel is at an all time high!
According to Huffington Post, "It's estimated that the African-American community spends about $50 billion annually on travel and leisure." That's a lot of time on the road looking for somewhere to eat.
So, we at Black Excellence wanted to give you a list of 101 Black Owned Restaurants you need to try in any state that you happen to find yourself in.
Two from  each state and one bonus at the end. Enjoy!
Random Fact  – The number of black owned restaurants grew by 49 percent from 2007 – 2012.
101 Black Owned Restaurants
Alabama
Voted 4.7 stars on Yelp, Yo Mama Restaurants is an urban, counter-serve spot making chicken & waffles along with other Southern breakfast & lunch eats. It was also voted the winner of the best lunch in Birmingham Magazine 2016 & 2017.
1845 Montgomery Hwy #201, Hoover, AL 35244
Want to enjoy fine dinning that doesn't treat music as an afterthought? Then the next time you're in Alabama, give Perfect Note a try. Usually open Thursday through Sunday.
Alaska
120 E 6th Ave , Anchorage, Ak 99501
Missing a little Southern flavor when you're in the most rorthern part of the United States? Have you ever tried Alaskan Seafood Gumbo?! Then look no further than Roscoe's Catfish & BBQ.
Read about how they're opening their second location and history here. 
Didn't think you would find black owned Ethiopian Food in Alaska? Well, think again.
2081 N. Arizona Ave Ste 132, Chandler, AZ 85225, US
In the mood for an  authentic Jamaican Caribbean restaurant? Next time you're in Arizona, try Hot Pot's.  Food Truck and Catering available too.
2426 E Jefferson St, Phoenix, Az 85034
Specializes in great Southern Style BBQ and Fried Catfish.
Arkansas
219 W Louisiana St, Marianna, AR 72360
In 2012, Jones Bar-B-Q in Marianna became the first and only restaurant in Arkansas to receive the prestigious James Bear Award. It is called an American classic being that it was established over 100 years ago and probably the oldest continuously operated restaurant in the south owned by a black family.
You don't have to go all the way to Sierra Leone to get the taste of jollof rice and Akara ( a slightly sweet, bread like ball of rice flour, mashed banana, and sugar.)
For some native to Sierra Leone, this restaurant has been known to bring them to tears.
13240 Ar – 11, Alexander, Ar 72002
You can find the history here.
California
Southern California ( Los Angeles ) 
Pico Blvd, Los Angeles, Ca 90019
This is a small and very hip restaurant that offers an upgraded Southern style cuisine. Delicious!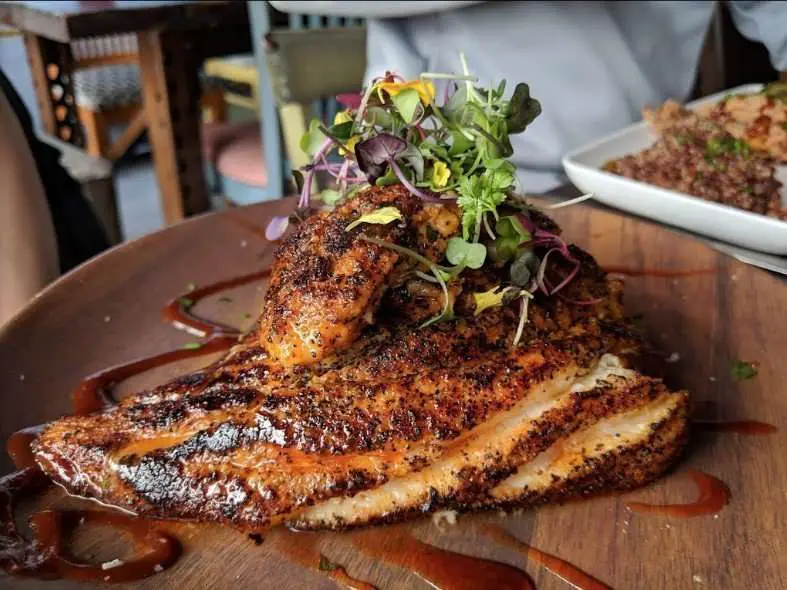 Northern California ( West Oakland) 
2534 Mandela Pkwy, Oakland, CA 94607
Given a honorary town jersey by the Golden State Warriors for providing opportunities to women of color, Tanya Holland has created a soulful experience that was rated Best of the East Bay in 2016. She has been featured on the LA Times, Eater, Zagat, Oprah Magazine, NY Times, ABC News, and the list goes on.  Next time you're in West Oakland, you have to try Brown Sugar Kitchen.
Colorado
611 22nd Street, Denver, CO 80205
This one is a tear jerker. Years before the opening of Tea Lee's Tea House in Denver (Feb, 10th 2018), owner Rise Jones contracted a rare form of Leukemia. When her husband asked her at the end of her treatment: "What do you really want to do with your life?" She answered: "I want a teahouse."
Then, after much hard work, on Feb 10th TeaLee's tea house was born.
2736 Welton St Ste 107,Denver, CO 80205
Want something delicious that blends Southern and Caribbean cuisine? You've got to try Welton St. Cafe.
Connecticut 
2790 Main St, Hartford, CT 06106
A hidden gem in Hartford, Ct, this modern take on Caribbean soul food served buffet style is a local hit.
113 West Main Street
(cross street: Tresser Blvd)
Stamford, CT 06902
One of the few only Black Owned Restaurants in Stamford, Ct, this Ethiopian restaurant blends great food and upscale decor to create a great experience.
Delaware 
928 Justison St, Wilmington, DE 19801
This American Family style boutique in Wilmington, DE specializes in plant based foods inspired by their Aboriginal Heritage. It has been voted healthiest fare in the state by Delaware Today.
317 S DuPont Highway, New Castle, DE 19720, US
Opened in 2009, L&G Southern Soul is so good you'll think your momma made it.
Florida 
1435 Lyons Rd, Coconut Creek, FL 33063
Described by HungryBlackMan.com as having one of the best sliders in the nation, Chef Judith Able has taken Fusion to new level. It combines Caribbean and old world style of cooking to create some of the best food in Florida.
9570 SW 160th St, Miami, Fl 33157
Think this is husband and wife Black Owned Business is just another wing spot? Well, think again!  Their menu includes everything from a waffle burger, wraps/ tacos, jumbo shrimp, steak, salmon, grouper, and a full list of Vegan options. Of course there are some of the best wings in Florida too!
Georgia (Too much to Choose From)
675 Ponce De Leon Ave, Atlanta, Georgia 30308
This Elevated beer garden sitting on a rooftop in the middle of the Ponce City Market is a must visit not only for the view but also for great food.  Make sure you get the Braised Beef Short Rib.
1133 Huff Rd NW #D, Atlanta, GA 30318
Twisted Soul Cookhouse & Pours' first iteration was voted best new restaurant in Atlanta by the Georgia Voice, ranked among the best new openings in Atlanta by Thrillist and has been featured on the Cooking Channel's 'Late Nite Eats' and Genius Kitchen's 'Carnivorous'.
Hawaii 
99-080 KAUHALE STREET, AIEA, HI 96701
Finally, some good Southern food in Hawaii! 
Hospital Rd , Kahuku, Hawaii 96731
Another great soul food restaurant in Hawaii.
Idaho 
24th and Fairview, Boise ID
In the state with 3rd lowest population of African Americans in the United States, soul food is hard to come by. So, if you're ever in Idaho and need some soul food, stop by Brown Shuga Soul Food.
3506 W State St, Ste 100
Boise, Idaho 83703
First authentic Ethiopian restaurant in Boise!  They bring you the great dishes of Ethiopia!
Illinois 
1339 W. Taylor Street
Chicago, IL 60607
With a 40's era background, Sweet Maple Cafe's is one of Chicago's favorite breakfast and brunch locations. The "Not-So-Plain Buttermilk Pancakes" served with pure Vermont maple syrup are to die for.
2748 N. Lincoln Ave. Chicago IL.
You know what, because Chicago has so many great places to eat for dinner why not put another Breakfast food place on the list?  Batter & Berries is a local town hero in Chicago, IL.
Indiana 
1831 North College Avenue, Indianapolis, In 46221
One the most famous Black Owned restaurants in the United States, Kountry Kitchen has been in business for over 20 years. It has seen the faces of celebrities like Jimmy Fallon, Katt Williams , Taraji P Henson, tons of athletes, and even Barack Obama.
https://www.youtube.com/watch?time_continue=87&v=fGf8fcB2YCY
3355 N Keystone Ave, Indianapolis, IN 46218
Think you can't get amazing Black Owned Florida style Seafood in Indiana?  Make sure you stop by Chef Oya's The Trap and surprise yourself. 
Iowa 
4342 16th AVE SW, CEDAR RAPIDS, IOWA 52404
Vivian's offers good old fashioned, authentic soul food, specializing in traditional Southern and American cuisine.
650 Pacha Parkway Suite 1&2 North Liberty, Iowa 52317
Here is a review: "If you don't like outstanding and uniquely delicious home style cooking, please don't go because you will only slow down the genius of Carol, and waste my time by taking up a valuable place in line."
Kansas 
6441 Troost Ave, Kansas City, MO 64131
Founded in 1985, Denise Ward has gained notoriety as the go to soul food restaurant in the Kansas City Area.
6706 Kaw Dr, Kansas City, KS 66111
Known for their secret sauce and BBQ. Stop here next time you're in Kansas and visit this sisters owned business.
Kentucky 
802 South Clay Street, Louisville, Ky 40203
Shirley Mae has been serving soul food for over 30 years. She makes everything from scratch.
4532 W Broadway, Louisville, KY 40211
Argued by many to be the best soul food in Louisville.
Louisiana 
1901 Sophie Wright Pl, New Orleans, LA 70130
Known for their Creole food and that's, of course, saying a lot in New Orleans.
2301 Orleans Avenue
New Orleans LA 70119
Known as the "Queen of Creole Cuisine", Leah Chase has fed Quincy Jones, Jesse Jackson, Duke Ellington, Thurgood Marshall, James Baldwin, Ray Charles, Presidents George W. Bush and Barack Obama and countless others as Executive Chef of Dooky Chase's Restaurant — one of the best-known and most culturally significant restaurants in New Orleans. 
Wayne Banquet cooks some of the best fried chick in Louisiana. 
Maine
3921, 51 Oak St, Portland, ME 04101
30 Washington Ave, Portland, ME 04101
Two delicious Ethiopian food restaurants.
840 N Eutaw St, Baltimore, MD 21201
Land of Kush serves vegan and vegetarian soul food, the kind that will make you say "I can't believe it's veggies!" Everything on the menu is vegetarian or vegan friendly, from the crab cakes and BBQ ribs to the curry chicken and sweet potato cake – according to Baltimore.org. 
920 Light St, Baltimore, MD 21230
In the mood for desert after all this food? You should take  a trip to Berries by Quicha. They recently opened their second location and they're starting to get famous for their Gourmet Chocolate covered strawberries infused in vodka.
604 Columbus Ave Boston, MA 02118
Laid-back spot for old-fashioned Southern eats & live jazz, plus a buzzing Sunday brunch.

266 Bowdoin St.
Boston, MA 02122
If you've never tasted the rich, comforting food of Cape Verde, an archipelago off the coast of West Africa, you need to try Restaurante Cesaria.
Michigan 
21611 Grand River Ave, Detroit, MI 48219
Maty's African Cuisine on Detroit's Grand River Avenue  is the only Senegalese Restaurant in Michigan. You've got to try the chicken.
17337 Lahser Rd, Detriot, Michigan 48219
For almost three decades, Cassandra and Jeffery Thomas have been preparing  sweet potato treats.  They also specialize in other goodies such as cheesecake, cake, and cookies.  Oh, and they  have some delicious chicken and waffles.
Minnesota 
1210 West Broadway Avenue
Minneapolis, MN 55411
Breaking Bread Cafe & Catering is a casual, sit down restaurant offering a unique style of fresh, flavorful and healthy global comfort foods.
Pop Up Shop
A corporate chef for Crave and Kaskaid Hospitality, Gerard Klass is working on his own side hustle, Soul Bowl. And it has been selling out when he pops up in North Minneapolis. Soul Bowl is a build-your-own soul-food dish – Mspmag.com
Go to his website to see when the next event is.
Mississippi  
122 Norfleet Dr
Senatobia, MS 38668
It's got to be hard to stand out in the heart of the South, but Alma Jean's has definitely done just that. The catfish, candy hams, and greens are world famous.
414 39th Ave, Meridian, Ms 39307
This place is a hidden treasure!
Missouri 
1626 Tower Grove Ave
ST Louis Mo, 63110
If you ever find yourself inside of LA Patisserie Chouquette, you're in for a treat. This French-inspired shop offers afternoon tea in addition to treats like cakes and French macarons.
13 Maryland Plz
St Louis, MO 63108
Originally from Ethiopia, co-owner Mengesha Yohannes created a restaurant that boasts great Italian food and wines from around the globe.
Montana 
115 North 29th Street
Billings, MT 59101
This is actually a secret bonus on our list. ( Shhhh…. There is actually 102 restaurants) 
We couldn't find a Black Owned restaurant in Montana when this article was originally posted. Then a lil birdie told us about this amazing restaurant called The Sassy Biscuit. It is owned by a husband and wife team Jilan and Demarco Johnson and is also home to a wide assortment of elevated southern comfort food that is hard to come by anywhere else in the state.
Check out the video below and please make sure you stop by if you're ever in Montana. 
Restaurants in areas like this have to work!
Washington DC 
1213 U Street NW Washington, DC 20009
Maybe's Washington DC's most iconic dish, Ben's Chili Bowl (which is over 60 years old) has seen the faces of almost every celebrity on the on planet. Including Bruno Mars, Kevin Hart, Mary J Blidge, and Chris Rock just to name a few.
709 H St NE, Washington, DC 20002
Welcoming spot offering eclectic & classic Louisiana-style sub sandwiches & Cajun & Creole dishes.
Nebraska 
3223 N 45th St
Bldg A
Turning Point Campus
Omaha, NE 681
A catering service that originated over thirty years ago as a part-time, home-based business, they opened their first location in 2007
105 W Mission Ave, Bellevue, NE 68005
One of the newest restaurant to open in Olde Towne, serving up soul food classics with a healthy twist.
Nevada 
775 W Craig Rd, North Las Vegas, NV 89032
Cozy go-to lures locals for hearty soul food, including fried chicken, catfish & homestyle sides.
7320 S Rainbow Blvd #112, Las Vegas, NV 89118
This restaurant receives great feedback from customers, especially on the restaurant's specialties of chicken and waffles.
New Hampshire 
Great Jamaican Style Cooking.
2805 Washington St, Boston, MA 02119
Actually located in Boston because there are not that many in New Hampshire (another state with low black population).
New Jersey
19 Dennis St, New Brunswick, NJ 08901
Brick-walled Southern eatery offering down-home dishes plus live music on weekends.
183-185 West Kinney Street, Newark, Nj
Vonda's Kitchen was designed to provide our customers with an eclectic experience. They provide they provide the comfort food the everyone loves.
New Mexico 
5209 4th St NW, Albuquerque, NM 87107
You'll discover that you'll feel right at home. Hearty home-cooked food, a warm comfortable atmosphere and real down home hospitality.
4730 Pan American Fwy NE suite d, Albuquerque, NM 87109
One of the few Black Owned Breweries in America!
This restaurant serves craft beer paired with soul food including frito pie, bread pudding & gumbo in a laid-back space.
New York 
310 Lenox Avenue ( Between 125th and 126th) Harlem, Ny 10027
I don't know who is more famous head, Chef Marcus Samuelsson (Ethiopian-born, Swedish-raised) or his restaurant Red Rooster in Harlem.
Located in the heart of Harlem, Red Rooster serves comfort food celebrating the roots of American cuisine and the diverse culinary traditions of the neighborhood
New York | Red Rooster: Swedish Chef, Harlem Soul from Manic Media on Vimeo.
509 Myrtle Avenue, Brooklyn, NY 11205
Arguably one of the best Black Owned Restaurants in United States, the next time you're in New York, you have to try SOCO Restaurant in Brooklyn.
North Carolina 
3726 N Tryon St, Charlotte, NC 28206
Tropical Goodies has served authentic Caribbean food and drinks for more than a decade.
341 West Main Street
Durham, NC 27701
Upbeat, bohemian hangout offering coffee, all-day American fare, a full bar, live jazz & free WiFi.
North Dakota 
30 N University Dr, Fargo, ND 58102
Who wouldn't want to try the pairing of Soul Food and West Indian Cuisine?!
In a place were international food is a rarity, this amazing Ethiopian delicacy is much desired.
Zanzibar Dwntwn 627 Prospect Ave. Cleveland, Ohio 44115
Located in historical Shaker Square & in the heart of Downtown, Zanzibar Soul Fusion is a casual full-service restaurant that features the best in Southern cuisine and other specialties such as Walleye cakes, Soul Rolls, Smothered Steak.
20126 Chagrin Boulevard, Shaker Heights
This upscale joint in Shaker Heights features barbecue/comfort food and live music.
Oklahoma
3014 N 74th E Ave
Tulsa, OK 74115
Family owned soul food at its best! I actually heard this place is on a lot of people's bucket list. Make sure you try the chicken which is always fresh.
125 W. Britton Rd, Oklahoma City, OK 73114
A  restaurant that specializes in seafood, but also offer other items like chicken as well.
Oregon  
31235 NW North Ave, North Plains, OR, 97133
Looking to do a little wine tasting? Next time you're in Oregon, make sure you visit Black Owned Abbey Creek.  The place is on a short list of Black Owned Wineries in the world!
427 SW Stark St Portland Oregon, 97204
Have you ever heard of the island of Mauritius (officially the Republic of Mauritius)?  It's a small island off the Southeast Coast of the African Content. 
It has also produced some of the best food in Portland, Oregon, mixing Indian, Chinese, and Creole Cuisines.
Pennsylvania 
211 E Market St
West Chester, PA 19382
Miss Winnie's was voted Best of the Mainline and Western Suburbs Best Jamaican Cuisine 2018.
​8229 Germantown Avenue, Philadelphia, PA 19118
Step through the glass front door and descend the mosaic tiled stair into the dining room and bar – you'll be transported to another time and place – a Parisian bistro in the 1930's.
Rhode Island 
149 Admiral St, Providence, RI 02908
Just great soul food.    
532 Lonsdale Ave Pawtucket, RI 02860
Bringing an authentic taste of Cape Verdean Culture to Rhode Island.
South Carolina 
7001 Parklane Rd, Columbia, Sc 29223
LA Has Roscoe's and Columbia, SC has Kiki's.
1011 King Street, Charleston, SC 29403
Celebrated counter-serve joint for Lowcountry-style slow-smoked pulled pork BBQ, chicken & ribs, Rodney's Scott has created one of the best BBQ joints in the South, better yet the United States.
South Dakota 
529 N. Main Avenue, Garretson, SD 5703
A Great mix of Seafood and Comfort Food.
1701 E 10th St, Sioux Falls, SD 57103
With only a few options for black owned restaurant in the state of South Dakota, this Ethiopian restaurant saves the day.
Tennessee 
6343, #110, Summer Ave, Memphis, TN 38134
Vegan fare includes pasta, burgers & Southern dishes in this low-key cafe with catering & delivery.
 5814 Nolensville Road, Suite 110 Nashville, TN
You can't go to Nashville without eating the hot chicken and Prince's Hot Chicken is probably the most famous in town.
Texas 
3510 Ella Blvd
Houston, TX 77018
There is no BBQ more famous than Texas BBQ. And when it comes to Texas BBQ, there is nothing more famous than Gatlin's.
4212 Almeda, Houston, TX 77004
If you're searching for one of best restaurant and lounge in Houston, TX,  look no further than Café 4212 Restaurant & Lounge.
Utah 
1465 State St Ste 7, Salt Lake City, UT 84115
With another city that struggles to keep soul food places, you can still count on Ethiopian food.
Vermont 
2213-2122 Greenbush Rd, Charlotte, VT 05445
This place is truly special. It is 148 acre center where everyone can celebrate African American Heritage and farming.
160 N Winooski Ave
Burlington, VT 05401
Another state that makes it difficult to find a Black Own Restaurant. Go into Mawuhi's for a taste of Africa.
Virginia
33 E Mellen St, Hampton, VA 2366
French inspired cuisine originally appeared on Shark Tank.
https://www.youtube.com/watch?v=WUFVWbnmN3o
315 N. 2nd St, Richmond, Virginia 23219
Serving Southern Fried Wings, Catfish Sandwich, and more! 
Washington
501 23rd Ave, Seattle, WA 98122
Some consider this the best fried chicken sold over the counter. Oprah has it FedExed directly to her.
 1412 E Union | Seattle, WA 98122
This Capitol Hill restaurant is bringing its eclectic, ambitious menu of food from all over the place.
West Virginia
4845 MacCorkle Ave SW
South Charleston, WV 25309
Has a 4.5 rating on yelp!
423 Virginia Street West, Charleston, West Virginia
Five years ago, Dem 2 Brothers and A Grill Owner Adrian "Bay" Wright was selling his delicious ribs, pulled pork and his mouth-watering barbecue sauce on the side of the road in Charleston, West Virginia. Now they are being featured on the food network.
Wisconsin
551 W Becher St
Milwaukee, WI 53207
Upscale Southern-Creole-Cajun.
7237 W North Ave, Wauwatosa, WI 53213
Warm, homey hub serving seasonal, homemade African & Jamaican meals, plus beer & wine, in snug digs.
Wyoming
6107 Missile Dr
Warren Air Force Base, WY 82005
Soul food restaurant in Cheyenne, Wyoming. People talk about collard greens, good Southern cooking and best chicken strips.
Ok, 2 bonus restaurants because there were no other options in Wyoming that we can find.
UK
132 Brixton Hill, London SW2 1RS
United Kingdom
Named after the luxurious beaches in Negril, Jamaican, Negril the restaurant captures the feeling with their authentic traditional caribbean food. 
Guadeloupe Islands
Located in Dubois in the region of Basse-Terre
Just watch the amazing video.
So there it is! 101 Black Owned Restaurants. Who is brave enough to try and go to all of them?
Also let us know if we left something off the list.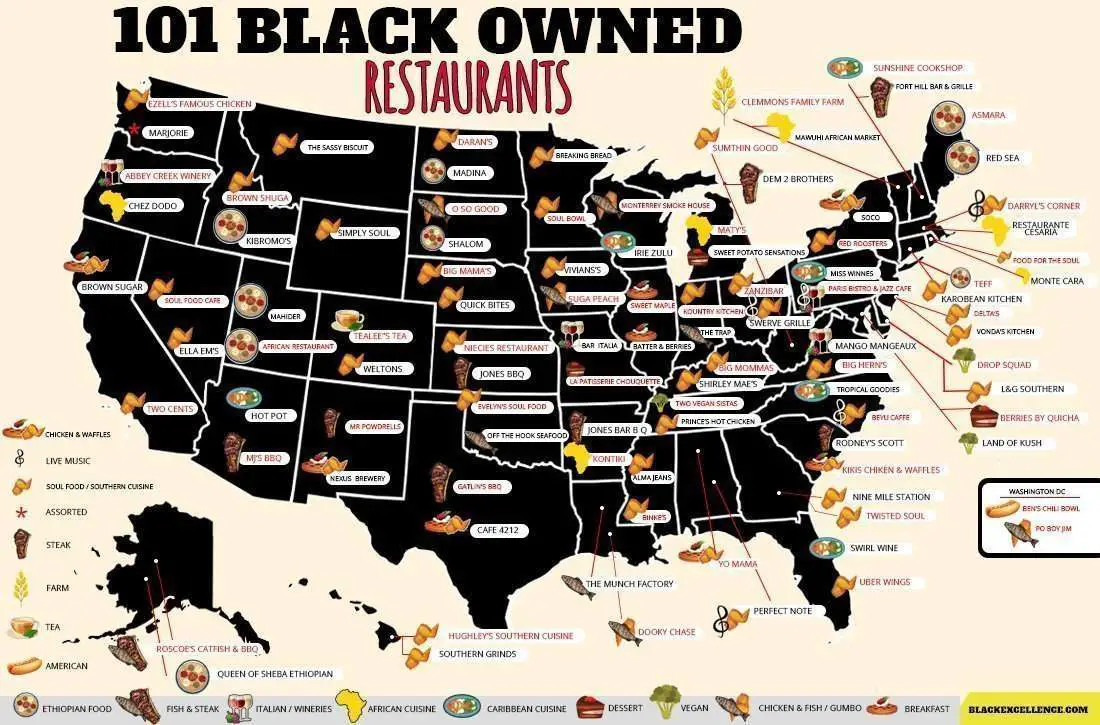 Share this Image On Your Site