13 Black Cowboy Movies to Watch
Saddle up! If you're looking for some Black cowboy movies to quench your thirst for some adventure, then we got the perfect list for you.
These 13 movies have something to offer, no matter what type of Western you are looking for. Classic Black cowboy movies? Got them. Cowboys and zombies? Got them. Modern day Cowboys? Yup, got that too!
This list is not in any particular order.
1. Rosewood
Rosewood is a historical drama directed by the late great filmmaker John Singelton. It takes place in the historical Black town of Rosewood, Florida in 1923. It tells the story of racial violence and destruction that followed in this historical town after a white woman falsely accuses a black man of assaulting her. It's the dramatization of an actual event that took place in this Black community that was once thriving.
Rosewood stars Don Cheadle and Jon Voight among others. The film received critical acclaim for its powerful storytelling, performances, and direction. It's not a traditional Black cowboy movies but it has all the elements there of the good guys, the bad guys, and the battle between them.
RELATED: 15 Historical Black Sitcoms
2. Thomasine & Bushrod
Thomasine & Bushrod is a 1974 blaxploitation Western film directed by Gordon Parks Jr. and starring Vonetta McGee and Max Julien. Two outlaws, Thomasine, and Bushrod, fall in love and star robbing banks together. The film is set in the 1910s in the American West.
Thomasine & Bushrod is considered a classic of the blaxploitation genre and an important example of Black filmmaking. The film is especially notable for its depiction of a Black female outlaw, which was rare for its time. The film's soundtrack, composed by jazz musician Arthur Blythe, also received critical acclaim for its mix of jazz, blues, and soul music. Thomasine & Bushrod remains a significant entry in the history of Black cinema and an influential example of the blaxploitation genre.
3. Django Unchained
This 2012 Western can qualify as a Black cowboy movies because the story revolves around Django, played masterfully by Jamie Foxx. The movie is set in the pre-Civil War era and follows the story of Django, a slave who is freed by a German bounty hunter named Dr. King Schultz. Together, they embark on a mission to rescue Django's wife from a brutal Mississippi plantation owner.
Django Unchained is known for its raw and uncompromising portrayal of slavery and the issues surrounding it. Director Quentin Tarantino is known for creating works that are violent, funny even with difficult subjects, and just raw. That's what you get here.
4. Posse
Posse is a 1993 Western film directed by and starring Mario Van Peebles. The movie follows a group of Black soldiers who return from fighting in the Spanish-American War to find that they are still facing racism and discrimination in the United States. Led by Van Peebles' character, Jesse Lee, the soldiers set out to rob a bank and expose the corrupt officials who are oppressing them. Along the way, they must also confront their own personal demons and grapple with the harsh realities of the Wild West.
Posse was a groundbreaking film for its time, as it featured an all-Black cowboy cast in a genre that had long been dominated by white actors. The movie also tackled important themes of racism and social justice, making it a significant contribution to the Western genre. Posse has become a cult classic over the years, with many viewers appreciating its unique take on the traditional Western film.
5. The Harder They Fall
You want a full fledged Black cowboy movie, you have found it!
The Harder They Fall is a 2021 Western film directed by Jeymes Samuel and produced by Jay-Z. The movie tells the story of a former outlaw named Nat Love, who returns to his hometown to seek revenge on the man who killed his parents. Along the way, he assembles a team of Black cowboys to take down the corrupt and racist power structure that has taken over the town.
The movie received critical acclaim for its fresh take on the Western genre and its all-Black cast. The Harder They Fall explores themes of race, power, and justice, while also paying homage to classic Western films. With its compelling story and talented cast, The Harder They Fall is a must-see film for anyone who loves Westerns or action movies.
6. Buffalo Soldiers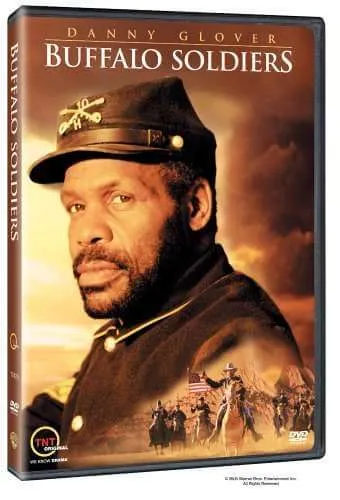 You might know "Buffalo Soldier" as a Bob Marley song, but there is a fantastic Black cowboy movie with the same name too.
The plot of this 1997 made for TV Black cowboy movie centers around a unit of African American soldiers stationed in the American West just after the Civil War. The soldiers are commanded by Colonel Grierson (played by Bob Gunton), a strict and racist officer who makes life difficult for his men. However, when a group of renegade Confederate soldiers begin to raid Union supply trains in the area, the Buffalo Soldiers are called upon to stop them.
The film received generally positive reviews for its historical accuracy and strong performances, particularly from Danny Glover, who played the role of Sergeant Washington. Despite its success as a made-for-TV movie, Buffalo Soldiers is sometimes overlooked in the Western genre, but it remains a powerful and moving portrayal of the struggle of African American soldiers during the late 19th century.
RELATED: 15 Black Country Artists You Should Know
7. Hell on the Boarder
Hell on the Border is a 2020 Western film directed by Wes Miller. The movie is based on the true story of Bass Reeves, the first Black Deputy U.S. Marshal in the Old West. David Gyasi stars as Reeves, who is tasked with tracking down a dangerous outlaw named Rufus Buck (played by Frank Grillo) and his gang of criminals.
The film follows Reeves as he navigates the challenges of enforcing the law as a Black man in a predominantly white society, while also facing personal challenges such as the loss of his family. Along the way, he forms a bond with a former slave named Charlie (played by Ron Perlman), who becomes his trusted ally in his mission to bring Buck and his gang to justice.
While the film received mixed reviews, it remains a notable entry in the Western genre for its focus on the little-known story of Bass Reeves, who has been largely overlooked in popular Western films and TV shows. Hell on the Border is a fantastic pick for fans of Black cowboy movies.
8. Gallowwalker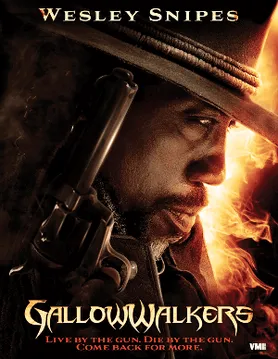 This movie is for those who love Westerns but with a twist of zombies. If you've never heard of Gallowwalker, you're not alone. Not too many people have.
Gallowwalkers is a 2012 supernatural Western film directed by Andrew Goth and starring Wesley Snipes. The movie follows the story of Aman, a cursed gunslinger who seeks revenge against a group of outlaws who killed his lover and their child. Aman's curse is that all those he kills come back to life as supernatural beings called "gallowwalkers," who are both undead and unkillable.
The film blends traditional Western elements such as gunfights and outlaws with supernatural and horror elements, including the gallowwalkers themselves, who are depicted as grotesque and terrifying creatures, similar to zombies. The movie also explores themes of loss, redemption, and the consequences of seeking revenge.
9. Bull
Bull is a 2019 movie directed by Annie Silverstein. It tells the story of a troubled teenage girl named Kris (played by Amber Havard) who lives in a working-class neighborhood in Houston, Texas. Kris becomes involved with a local bull rider named Abe (played by Rob Morgan), who is dealing with his own personal struggles. As the two form an unlikely bond, they help each other confront their demons and find a sense of purpose.
"Bull" explores themes of redemption, resilience, and the power of human connection. It received praise for its authentic portrayal of working-class life and its nuanced performances, particularly from Havard and Morgan. It's a very compelling story of a Black cowboy bull rider, the type of story that's rarely told.
10. Concrete Cowboy
Can we really complain about another Idris Alba Black cowboy movie?
Concrete Cowboy is based on the novel "Ghetto Cowboy" by Greg Neri. The film stars Idris Elba, Caleb McLaughlin, and Jharrel Jerome in leading roles.
The movie is set in Philadelphia and focuses on the urban cowboy subculture, which centers around a community of Black horse riders and their struggles to maintain their way of life in a rapidly gentrifying city. The story follows a troubled teen named Cole (played by McLaughlin) who is sent to live with his estranged father, Harp (played by Elba), who is a member of the cowboy community. Harp introduces Cole to the world of horse riding and teaches him valuable life lessons, all while trying to save their neighborhood stables from being closed down by developers.
It is a powerful and thought-provoking film that offers a fresh perspective on the American West and the lives of those who continue to keep its legacy alive.
11. Wild Wild West
Ok, maybe this is not the greatest Black cowboy movie, but it's a fun one, especially if you appreciate it for the nostalgia.
Wild Wild West is a science fiction western action-comedy film starring Will Smith, Kevin Kline, and Kenneth Branagh. The movie is loosely based on the 1960s TV series of the same name.
The film is set in the 19th century and follows two government agents who are tasked with stopping a mad scientist named Dr. Arliss Loveless from taking over the US government. Loveless has invented a giant steam-powered spider that he plans to use to achieve his goal.
The movie is a blend of Western, comedy, action, and futuristic themes. Although "Wild Wild West" received mixed reviews from critics upon its release, it was a commercial success, grossing over $220 million worldwide. It has since gained a cult following among fans of the genre-bending and over-the-top action sequences. The film's catchy theme song is of course a hit in its own right.
12. Buck and the Preacher
Buck and the Preacher was directed by and stars Sidney Poitier. It also stars Harry Belafonte and Ruby Dee.
In the years after the Civil War, a group of African American homesteaders struggle to build new lives in the West. They face racial discrimination and violence from white settlers and outlaws.
Buck and the Preacher looks at the difficulties faced by Black people who left the South to move to the free West, a subject that's often ignored by Hollywood.
13. They Die by Dawn
This short movie has some of your favorites and it's a fun one to watch if you don't have the time for a full length Black cowboy movies. The cast includes Michael K. Williams, Erykah Badu, Jesse Williams, Giancarlo Esposito, and Rosario Dawson.
They Die by Dawn is about a group of outlaws who gather in a small town to face off against each other in a showdown. The characters include real-life historical figures such as Bill Pickett and Bass Reeves, as well as fictional characters. The action is fast-paced, and the dialogue is sharp, with a focus on common Western themes such as revenge, redemption, and justice.