Auntie Fee: The Story and Life of the Foul-Mouthed Chef
Is she Auntie Fee or the swearing chef?
When you hear the name Auntie Fee, two things should come to mind. First, she is the sensational and humorous cook and Masterchef. Her mouth-watering fried dishes, amongst other exquisite meals, make Auntie Fee a delight on her YouTube Channel.
Auntie Fee reminds you of your Auntie, bringing her culinary skills to play while at the same time making you laugh.  
The second reason to remember Auntie Fee is her way with words. Though foul-mouthed, she became an internet sensation due to her stylish manner of preparing meals. Auntie Fee uses unique recipes to prepare meals on her YouTube channel. 
How Did Auntie Fee Run Her Cooking Show?
Auntie Fee earned the name 'the new swearing chef the world has been waiting to see' when her YouTube channel went viral. But her real name was Felicia O'Dell, an authentic and warm-hearted black woman who knew her way around the kitchen. 
Most of her cooking shows were recorded in her kitchen by her son Travis Hunter. Her online cooking show lasted 3 years before she Auntie Fee was taken too soon from this world. 
Who is Auntie Fee? 
Early life
Felicia O'Dell didn't have a perfect childhood. The South Los Angeles born star was one of ten children. Her dad's name was James O'Dell.  
James O'Dell was a jack of all trade. He was a plumber, an electrician, and a carpenter. While growing up, Felicia O'Dell was in the habit of preparing her father's favorite meal of hogshead cheese and gumbo. Her love for cooking started as early as the age of 9, apparently learning from her parents. 
Preparing meals for her dad, however, did not result in a good father-daughter relationship. Felicia's relationship with her father was a frosty one, which got worse when she became pregnant at the age of 15.
Her culinary experiences and passion, you would have thought, should immediately snowball into pursuing a life in the food industry. But that wasn't the case. 
The rest of her girlhood experience included dropping out of high school and going into drugs. Her drug-related activities caused her ten years in jail. Felicia was sentenced to 20-years but spent ten years in prison. However, some reports indicate she never committed the offense. After her release in 1992, O'Dell remained drug-free for the rest of her life.
Auntie Fee married her boyfriend of several years, Tommy Hunter, and had a son with him; Travis. Hunter is a writer with seven urban fictions to his credit. She had two other children also; Jamie and Marlon.
Her Auntie Fee got Her Culinary Groove 
Not much account exists about Auntie Fee's early days immediately after jail. She, however, made her debut and rise to fame in 2014.
O'Dell's homemade cooking skills went viral and brought her instant fame. Her videos ranged from cooking low budget meals to 'sink chicken.' Within a few years, Auntie Fee had hit over 304,000 subscribers and 500,000 likes on her Facebook page. 
Her youngest son Travis Hunter, who doubled as her sidekick and cameraman, made her show a reality. He convinced his mother to allow him to record her cooking because he thought they were funny. 
Travis Hunter uploaded his mom's culinary videos on the internet, and the rest like they say, is history. Interestingly, she consistently argued with him over his camera skills, which gave some spice to her show. 
Felicia made it clear that her recipes were more for children. But she went ahead to produce over 50 videos, undeterred. Her YouTube channel titled 'Cooking with Auntie Fee' was a favorite. The channel name was an offshoot from her real name, Felicia. 
In addition to her show, O'Dell had other businesses to include selling branded products on her website. These products were all food-related like cooking spices, dry seasoning, cookware, and more. 
What is Auntie Fee's Networth?
Auntie Fee had a Net Worth of $350,000. For 'Sweet Treats for Kids,' she had more than 2 million views. Her businesses and YouTube channels were her primary source of earnings.
What was Auntie Fee Media Appearances and Celebrity Status?
The success with the online cooking show carved a niche for Auntie Fee. She appeared in various talk shows and movies. Some of these shows include Jimmy Kimmel Live and The Steve Harvey Show. 
Auntie Fee also participated in a series of promotional videos for some movies such as Top Five and Dumb and Dumber To. Felicia also appeared with notable personalities such as Harvey Levin, Snoop Dogg, and Sherri Shepherd.
Did Auntie Fee Make It to Hollywood?
Auntie Fee's skills did not end at the kitchen. She also made it to Hollywood. Her break into the movie industry came when she featured in movies such as 'Real Husbands of Hollywood' and 'Barbershop 3'. She played the mother of Anthony Anderson in Barbershop.
Auntie Fee Gave Back to the Community
There were many sides to the foul-mouthed chef (or swearing chef) that were loved by her online and real-life fans. Auntie Fee was said to possess so much love in her heart for her community and fans. 
She regularly organized free community breakfast in her home. She sold cups of Koolaid and received donations from others to make this dream possible. This free initiative also brought about the 'right-your-wrong' event organized in her home. The event usually brought people together to discuss social issues within the community and ways of resolving them.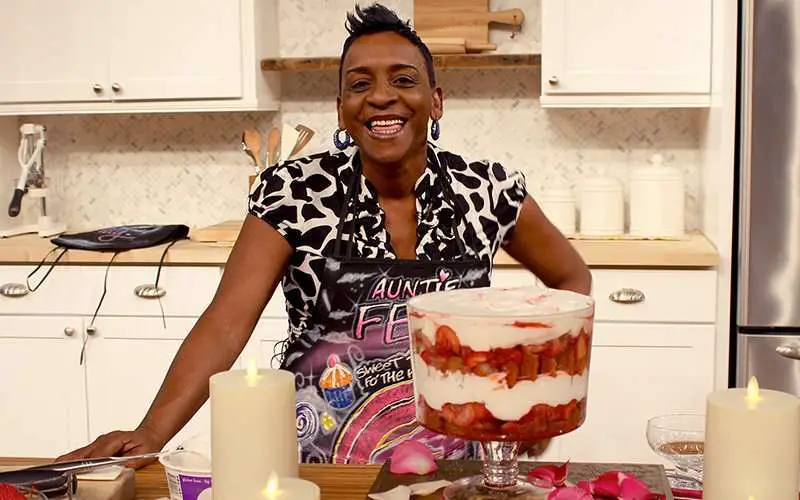 How Auntie Fee's Unexpected Death
On March 14, 2017, Auntie Fee complained of chest pains and suddenly collapsed. Her husband dialed 911 to take her to the UCLA Medical Center. 
Auntie Fee's case became critical when it was discovered that she had a heart attack. She was placed on life support for three days. An initial report afterward said Auntie Fee was dead. But this report was denied via her Facebook and Twitter pages. 
The confirmation finally came on March 18, 2017, stating that Felicia O'Dell died at the age of 59. Her son Travis Hunter took to social media to write:  "God made the decision to take her home where it's peace and joy … she can finally be happy." 
Felicia O'Dell's burial was on April 1, 2017, after a funeral ceremony at Paradise Baptist Church, Los Angeles. The event was streamed live on Facebook, allowing fans to pay tributes. 
The death of the swearing chef and foul-mouthed cook came as a significant loss to her community. Auntie Fee overcame her challenges to make an impression on all those she came across. She was loved by many.  
Auntie Fee could make something rich from anything small.  This skill, however, did not free her from much criticism due to her grease, butter, and sugar-laden cooking. Through the criticism, Felicia Hunter remained true to her style. 
Although she is gone, her cooking videos remain popular. She will remain in the hearts of thousands of fans and millions who watched her videos.
Also, Check Related Stories: