These 5 Are The Most Expensive Black Celebrity Homes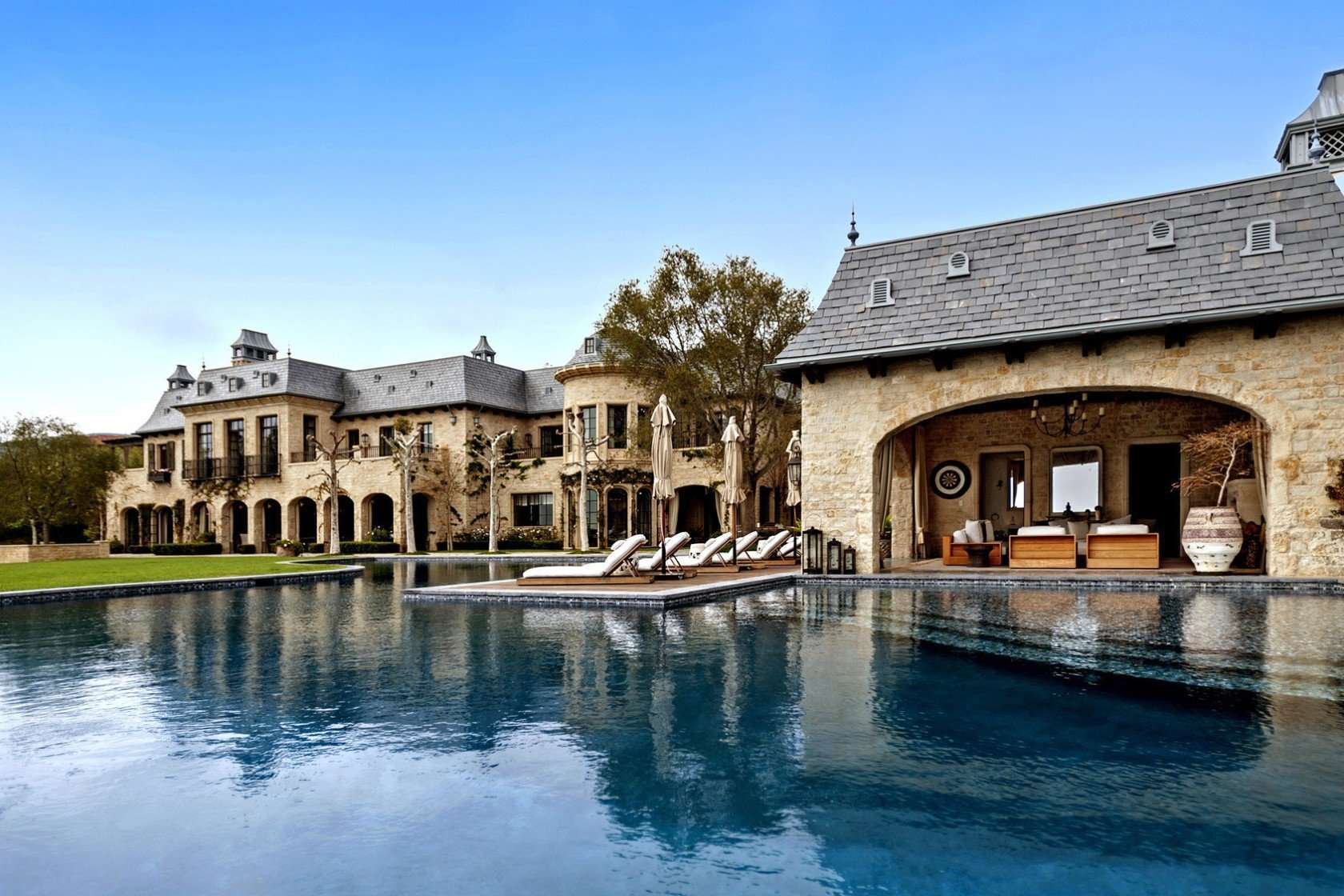 To have made it anywhere in the top 100 most expensive black celebrity homes would be impressive. But to be in the top 5? Now we're talking about being black celebrity royalty.
And who else do you expect to see on the list other than the following 5 home owners, as their legend is as big as the mansions (or chateaus) they call home.
Here are the top 5 most expensive black celebrity homes.
Dr. Dre- $40 million French Chateau
This wide custom-built Brentwood Mansion was purchased by Dr. Dre from football champion Tom Brady and supermodel Gisele Bundchen. The property is 18,300sft with 5 bedrooms and 9 bathrooms. The four acre property was designed by architect Richard Landry and contains a library, gym, sauna, and seven fireplaces.
The mansion was originally listed for $50 million but Dr. Dre negotiated it down to a cool $40 million.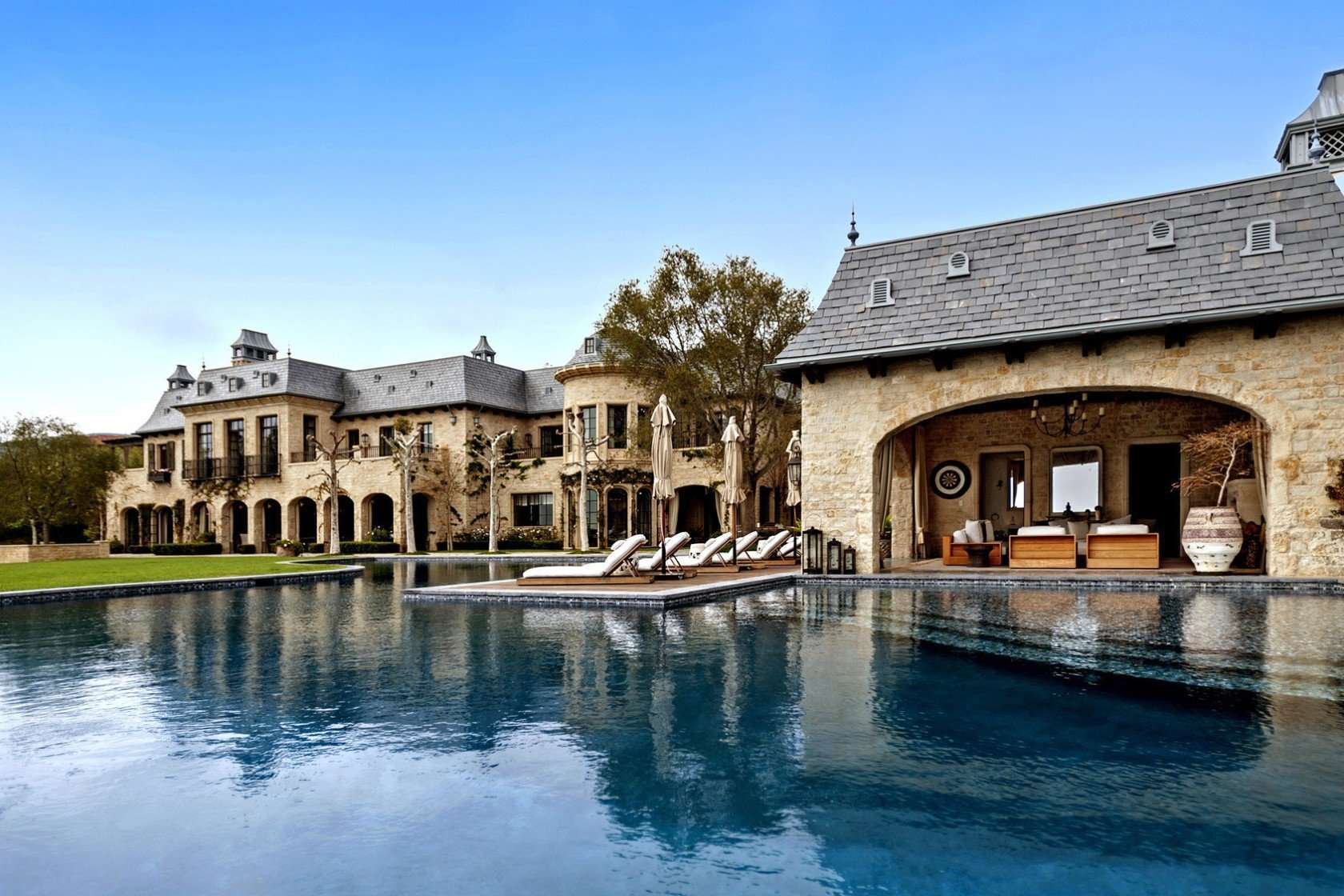 Dr Dre made the purchase of this house shortly after selling his thriving music streaming and headphone company he co-founded. He sold it to Apple back in 2014 for a whopping 2.6 billion in cash and $400 million in stock options.  
The outdoors of this property just might be the most beautiful part of this mansion. An infinity pool that rivals any luxury hotel can be found here along with a shady terrace, a koi pond, and a moat.
And last but definitely not least for the Dr, the house also is equipped with state of the art music studio.
Will and Jada Pinkett Smith- $42 million mansion in Calabasas 
If you're a fan of Red Table Talk, then you've surely gotten some glimpses of Will and Jada Pinkett Smith's mega mansion in Calabasas, California. 
This 9 bedroom house spans 25,000sq feet and sits on 150 acres. The construction on the house began in 2003 and it took 7 years to complete. A meditation lounge, recording studio, 8 car garage, basketball court, volleyball court, and a large sunken trampoline can all be found here. 
Speaking on the design of the house, Will said, "The 9 bedroom residence includes a meditation room as well as a circular floor plan which creates an infinite-cycle that represented what Jada and I hopes for our love." Will also has said in the past that he built the house for his wife, Jada Pinkett Smith, and also named it "Her Lake."
The property also has its own lake with a gazebo in the middle. The front door to the property was restored from Northern India and transported to California for the construction.
The adobe style house was designed by architect Stephen Samuelson. 
The Top 3 Most Expensive Black Celebrity Homes
Tiger Woods $54.5 million Ocean front estate
Jupiter Island, Florida is home to Tiger Woods' massive 54 million dollar estate. Tiger purchased the 12 acres property back in 2006 for 40 million dollars and tore down the 9,000sqft house to build his own custom 9,700sqft mansion.
While 3,300 sqft of space is the living quarters, the remaining 6,400 sqft of space is a multipurpose building that contains a theater, world class gym, and an oxygen therapy room. 
This house, unfortunately, was completed in 2010, the same year Tiger went through his very public divorce from wife Elin Nordegren. Tiger moved into the Jupiter Island home in 2011 by himself.
Tiger Woods designed the golf practice facility on the property himself. Writing on a blog post about the design, Tiger said: "Working with my team, I designed the short-game facility and oversaw its construction. It features four greens, six bunkers with different depths and kinds of sand, a video center and a putting studio. If no wind is blowing, the longest club I can hit is a 7-iron. It's also set up so I can hit shots out of my second-story studio."
This Florida estate is one of the most expensive black celebrity homes.
The grounds include a four hole practice facility, 100 foot swimming and lap pool, and a spa. The ocean side property also has a pair of docs to welcome boats from the sea. 
Jay Z and Beyonce – $88 million Bel Air mansion
The billionaire couple bought this Bel Air mansion back in 2017. This contemporary style home has a combined 30,000 sq ft  of living space divided into 6 structures on the property. It has 8 bedrooms, 11 bathrooms, 15 car garage, four swimming pools, basketball court, and much more. 
And as a bonus, the glass windows at this compound are all bulletproof.
Jay Z and Beyonce snagged up this modern marvel for 88 million dollars. The property was originally listed at 120 million dollars.  
The pair bought this mansion after going through a three year house hunting journey.  They had initially made an offer to purchase a 23,000sqft LA house but were outbid by Markus Persson, the creator of Minecraft. They were outbid again the following year by, ironically, designer Tom Ford for another Beverly Hills property. Jay Z's song "TOMFORD" (about Jay wearing the famous designer) must have been good for business.
But they finally found their home in 2017, making the most expensive purchase in Los Angeles that year.
RELATED: You Can Now Have Samuel L Jackson's Iconic Voice In Your House
Oprah Winfrey – $88 million Promised Land
Oprah purchased her dream home back in 2001 for 50 million dollars, although it is currently estimated to be worth 88 to 90 million dollars. This 42 acre estate that is located in Montecito, California was originally built in 1922 but has gone through numerous renovations to get to the size and style it is today. There are six bedrooms, 14 bathrooms, a gourmet kitchen, 10 fireplaces, and a wine cellar inside the 23,000sqft mansion.
Oprah found her dream house when she was asked to attend an event that was held at the property. She then made the owners an offer to buy the house they couldn't refuse.
Although it's the biggest, this property is just one of several homes Oprah owns.
As of this article's publishing, Oprah's house is the most expensive black celebrity home. 
Which one of these super mega mansions are your favorite? Let us know in the comments below.