23 Black TV Shows to Stream While on Lock Down
In these times of uncertainty, the only thing we are certain of is that lock downs will lead to binge watching. Then why not binge on some black tv shows that will have you laughing, crying, and just flat out mad?
Just what you need for the times.
There are plenty of movies and documentaries available to watch on the various streaming services, but there is something special about binge worthy shows.  They magically take hours of our lives, and we are left wanting more.
So, here are some Black TV shows to stream while you hanker down this season. Some of these shows are available for streaming on multiple platforms.
Black TV Shows on Netflix
Black Lightning– If you love superheroes, or not, this is a great show. After being retired from his superhero persona for nine years, high school principal Jefferson Pierce goes back into the vigilante life when a local gang causes crime to spike.
Black Lightning has 3 seasons and you can watch them all on Netflix.
Dear White People– If you were a fan of the movie, then you probably have watched the series too. If you didn't know there is a series based on the movie, you're in for a treat. Set on a college campus, Dear White People takes on modern day racial issues through satire.
There are currently three seasons of Dear White People to stream on Netflix.
RELATED: Tevin Campbell: Where is the '90s Wonder Kid? 
Raising Dion: This might fall in the superhero genre, but really, it's a family show. A recently widowed single mother, Nicole, discovers her son, Dion, has superhero-like abilities. She seeks for answers on the sources of Dion's magical abilities while also dealing with her husband's death.
You can watch the first season of Raising Dion now on Netflix and stay tuned for season two.
Who Killed Malcolm X?: This documentary miniseries follows the work of Abdur-Rahman Muhammad. Muhammad is a historian and tour guide in Washington, D.C and has been investigating the assassination of Malcolm X for over 30 years.
There are six parts to this miniseries.
The Last O.G.: What happens when an O.G. returns to a gentrified Brooklyn after spending years in jail? That's the premise of this TBS comedy series you can catch on Netflix. Tracy Morgan, Tiffany Haddish, and Cedric the Entertainer star in The Last O.G.
Family Reunion: The McKellan family moves from Seattle to small-town in Georgia. What they experience there is an old school kind of family life, mostly driven by traditional grandparents.
Loretta Devine and Tia Mowry-Hardrict drive this feel good, family comedy. Watch the two season that are out now on Netflix.
REATED: 25 Black Romantic Comedies You Must Watch! 
When They See Us: This critically acclaimed mini-series examines the 1989 arrest and prosecution of five black boys for the attack and rape of a woman in Central Park. Director Ava DuVernay brings out exceptional performances from the full cast and anger from the audience.
If you haven't already, watch When They See Us on Netflix.
https://www.youtube.com/watch?v=u3F9n_smGWY
Greenleaf: If scandalous families are your thing, meet the Greenleafs! The Greenleaf family runs a Memphis megachurch and appears to be a loving and caring clan. What's underneath is everything but.
This drama has everything you would expect from a soap opera: adultly, sibling rivalry, greed, and more. Watch four seasons of Greenleaf now.
Being Mary Jane: A successful cable news anchor navigates family and romantic relationships and a competitive career in BET's very first scripted drama series. The always talented Gabrielle Union stars as Mary Jane and will have you watching all day long.
You can stream the first five seasons of Being Mary Jane on Netflix.
Black TV Shows on Hulu
Empire: You might not have heard about this little show called Empire if you have been living under a rock for the last few years. If you have heard of it, then you probably know what it's all about.
Lucious Lyon must pick which one of his sons will take over Empire Entertainment when he gets bad medical news. What complicates things is the reappearance of Cookie, his ex-wife.
If you haven't jumped on the Empire band wagon yet, now is the perfect time to do it.
https://www.youtube.com/watch?v=lmi5QbkhQ1Q
Wu-Tang: An American Saga: So, this is not an exact re-telling of the Wu-Tang story, but it's close. This "historical fiction" series takes places in New York in the early 1990s when Wu Tang was founded and six black men create one of the most iconic and legendary music groups.
There has only been one season of Wu-Tang: An American Saga so far and you can watch it now on Hulu.
Insecure: Oh, to be black, fabulous, and single, right? Humm, maybe not. Two black women, and their friends, deal with insecurities in their relationships and careers as they navigate the dating world and career field in Los Angeles.
Even if you have watched every episode of Insecure before, it might not be a bad idea to binge watch it again before the next season comes on. You can stream it both on Hulu and HBO.
Watchmen: Yes, this limited series is based on a graphic novel, but it's so much more than a superhero drama.
When a white supremacist group wages war against minorities and the police, the police are in turn allowed to wear masks to protect their identities. Years after a devastating attack on the homes of 40 police officers at the Tulsa Police Department, the only two that are still left there will now go after the group.
This HBO series is available to be streamed on both HBO and Hulu.
The Chi: The lives of the young and black in the South Side of Chicago is the focus of this drama series. This TV show comes from creator Lena Waithe and currently has two seasons. Watch it on Hulu or Showtime.
Black Monday: If you follow the stock market, this might be a fitting show for you, especially considering black Monday has been brought up multiple times recently.
This dark comedy series "chronicles the 31st anniversary of the worst stock market crash in the history of Wall Street. To this day, no one knows exactly who cased the Oct 19, 1987 stock market crash– until now."
The Bernie Mac Show: Who can be more comforting than Bernie Mac, RIP, in these troubled times? The Bernie Mac Show was on air in the early 2000s and lives on forever in online streaming. If you're looking for some familiar humor, binge on all five seasons, available on Hulu.
Good Times: Another warm, comforting humor to calm your nerves, all six seasons of it. "Florida and James Evans struggle to raise their kids- irrepressible artist JJ, voice-f-reason Thelma, and politically active Michael- in a Chicago housing project. They have help from wisecracking neighbors, buffoonish building superintendents and friends.
Stream Good Times now on Hulu.
Atlanta: Two cousins navigate the Atlanta hip hop scene in this highly rated comedy-drama show (it has 97% rating on Rotten Tomatoes. 97!). Donald Glover received a Golden Globe Award for his portrayal of Earnest "Earn" Marks, a Princeton dropout turned manager trying to get his cousin's rap career off the ground in Atlanta.
The Cleveland Show: Although it's animated, The Cleveland Show is not exactly a family show. This "offbeat animated sitcom" is about Cleveland Brown, "a nice guy who leaves Quahog, R.I., for Stoolbend, VA, to rekindle his previously unrequited love for high-school crush Donna.
The series run from 2009 until 2013 and had four seasons. You can stream all four seasons now on Hulu.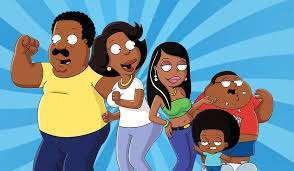 Black TV Shows on Amazon Prime
Free Meek– This documentary miniseries chronicles "Meek Mill's transformation from chart-topping rapper to galvanizing face of criminal justice reform. Meek, his family and his legal team fight for his freedom, reinvestigating a case filled with allegations of corruption.
Whether you're a fan of Meek Mill or not, this is an important series to watch and an important issue to discuss.
The Wire: If you're the last person on Earth who hasn't seen The Wire yet, here is your chance! Lucky for you, the whole series is available for streaming both on HBO and Amazon Prime.
The Wire "looks at the narcotics scene in Baltimore through the eyes of law enforcers as well as the drug dealers and users. Other facets of the city that are explored in the series are the government and bureaucracy, schools and the news media.
The Cosby Show: You might think the worst of Bill Cosby, but The Cosby Show was one of the most beloved and iconic shows in American TV history. If you're feeling nostalgic, you can stream all the seasons now on Amazon prime.
A Different World: A Cosby Show spinoff, A Different World sees Denise Huxtable go to a predominantly Black Hillman College. This college show run for six seasons from 1987 to 1993. You can watch all seasons back to back now on Amazon prime.