Black Vegan Businesses and Influencers You Can Support During National Vegan Month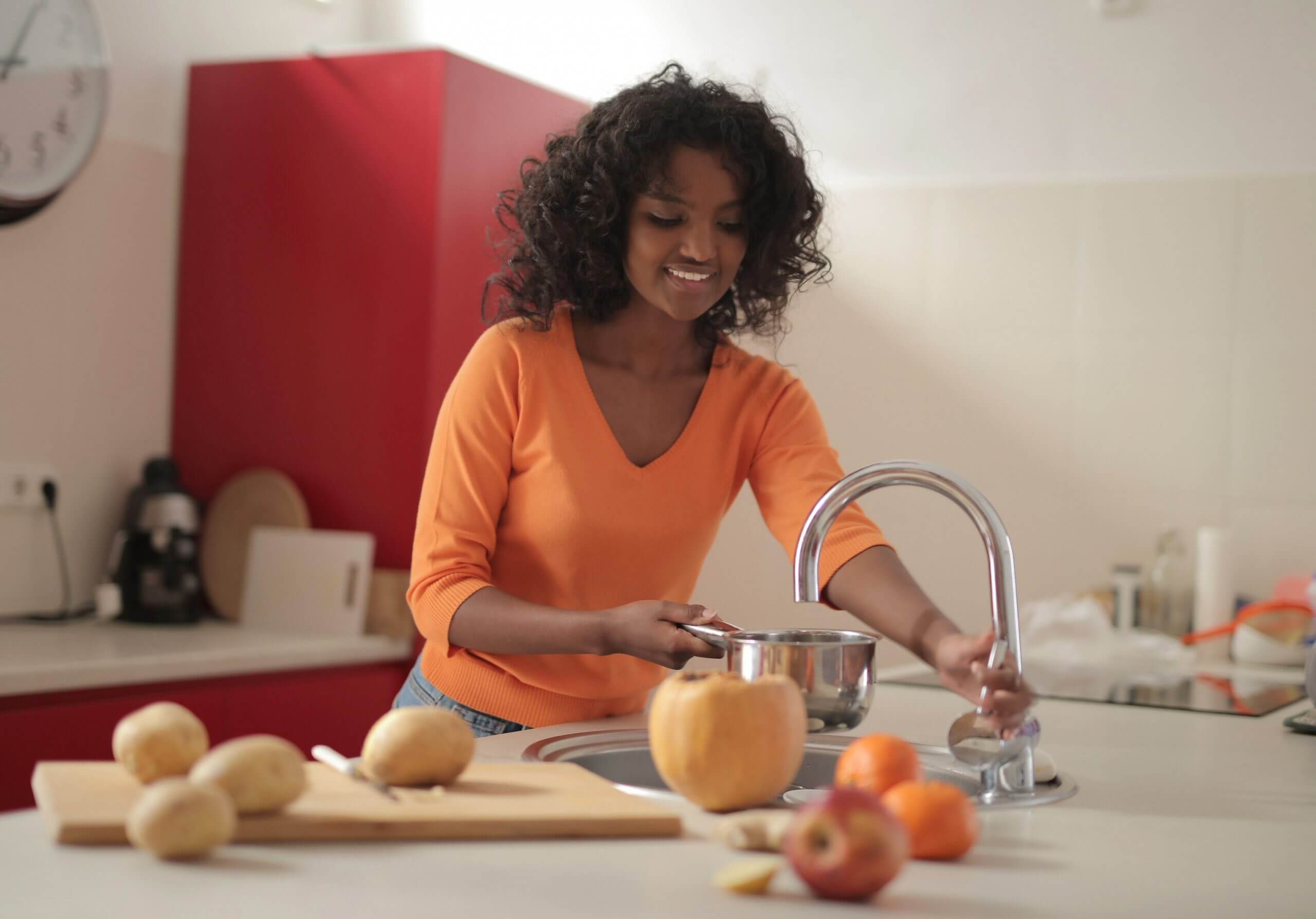 There was a time when choosing a vegan lifestyle left no room for variety. You were limited to one area of the grocery store, and going out to eat was no fun. But, like everything, veganism got better when Black people took over.
According to BBC.com, Black Americans are almost three times as likely to be vegan and vegetarian than other Americans. 8% of Black people identify as vegan. Many choose to become vegan as a path to a longer life. This healthy lifestyle can decrease the chances of heart disease, high blood pressure, and diabetes. These are all diseases that plague the Black community at alarming rates.
With the emergence of influencers such as Tabitha Brown and business owners like Pinky Cole, veganism has become much more melanated.
In observance of November being National Vegan Month, we wanted to introduce you to some Black vegan chefs, businesses, and influencers we think you should know.  
 

 

 

View this post on Instagram

 

 
John Lewis has spent over two decades in the health and fitness industry. He is highly passionate about not only his health and fitness but that of others as well. His adoption of a vegan lifestyle was inspired by his mother when she was diagnosed with colon cancer. Lewis advises people not to be so hard on themselves when transitioning to a vegan lifestyle. "The key is not to beat yourself up about it. If you slip up and eat cheese at 11:59, make sure you are right back on the path at 12:00." He is also a managing partner of the largest Black-owned health supplement company, Natureade, and director of the upcoming health documentary, "They're Trying To Kill Us."
 

 

View this post on Instagram

 
Urban Vegan Kitchen is a 100% vegan restaurant with locations in Manhattan's West Village and Queens, NY. The restaurant promotes healthy and tasty vegan food alternatives for Black people. UVK is co-owned by health and nutrition counselor Samantha Bailey. Bailey is New York-born and raised. As an overall health and wellness advocate, she focuses on communities most excluded from the holistic wellness discussion. Bailey teaches habits that ultimately lead to improved health and economic situations. As a former owner and co-founder of a vegan homeschool cooperative, she has been intrinsically aware of how vital food justice awareness is for our community since childhood.  
 

 

View this post on Instagram

 
Vurger Guyz is a plant-based food company that champions a community-centric approach to promoting healthy eating habits. This Black-owned business prides itself on bringing consumers closer to a healthier lifestyle. With education at the forefront of their efforts, Vurger Guyz is committed to showing nonbelievers that you can still savor the flavor of a burger without having to eat beef. What separates Vurger Guyz from other vegan restaurants is their "One Bite Warranty." This strategy allows consumers to try the food before placing an order, ensuring complete customer satisfaction one bite at a time. Founded by Na'eem Outler in 2018, Vurger Guyz was launched as a passion project to promote plant-based eating without having to reset your taste buds. The brand has collaborated with the likes of Tabitha Brown, Kevin Hart, Snoop Dogg, Alicia Keys, Pharell, Alvin Kamara, and Michael Thomas, to name a few. With all four owners (Na'eem Outler, Phil Bennett, Kori Vines, Kendall Patterson) being former NCAA athletes, teamwork is the driving force behind Vurger Guyz' mission to redefine the plant-based food industry. 
4. Jasmine Mitchell/@JCarmel
 

 

View this post on Instagram

 
Jasmine Mitchell is a Michigan-based pastry chef and owner whose viral desserts lead over 55,000+ at-home bakers to confidently make tasty and beautiful treats. Her business has continued to grow. Now people who can't bake stalk her social accounts to learn how to bake desserts that are the life of the party. Mitchell offers a variety of vegan and non-vegan treats. She offers multi-level wedding cakes and other custom desserts that will be safe for any vegan partygoers and leave non-vegans ready to convert! 
 

 

View this post on Instagram

 
Chef D.Star started her business from her New York apartment, making savory foods, cakes, pastries, and desserts. The passing of her mother due to health issues made D.Star look at health and food in a different light. Using food as a catalyst, she wanted to learn and teach others how to live a healthy lifestyle. She created techniques to enjoy vegan food without it being boring. She spent years perfecting vegan dishes, including Caribbean, Chinese, Italian, and Soul Food. Chef Star has introduced several high-profile celebrities to the vegan lifestyle through her delicious dishes. When someone jumps on board with veganism because of her food, she exclaims, "THEY HAVE BEEN TURNED OUT." Chef D. Star is currently promoting her line of flavored sauces. 
 

 

View this post on Instagram

 
Entrepreneur Elijah M. Bah launched the first concept for Nûrish JC in Brooklyn in 2019. Bah, who immigrated to New York City from Guinea Conakry in West Africa as a child, began his food industry career as a teen, working at various shops. By his twenties, he garnered the title of "Mayor of Park Slope" for his revered healthy specialty dishes and sandwiches. Through that journey, driving growth for various restaurants and honoring his kitchen skills, he furthered his passion for bringing affordable and robust healthy options to deserving neighbors––his community, which led to the opening of Nûrish BK in 2019. It's beloved for its menu, signature by Kenyan and Swiss Chef Katolla Kasinga, of organic salads, juices, rice and farro bowls, and breakfast items. The fresh-food-centered restaurant has recently opened its second location in the Bergen-Lafayette area of Jersey City. 
 

 

View this post on Instagram

 
Emmy-winning journalist Jacque Reid has curated the modern guide to being vegan and fabulous. Vegan Sexy Cool provides content that educates and inspires you to live a healthier, kinder, more fulfilling life while having a lot of fun. Her site is for vegans, kinda vegans, the "I think I want to be vegans," and the "I'm just curious about vegans." Her mantra as a vegan influencer is "feel good, eat good, be good, and look good." In addition to being a passionate animal advocate and vegan, Emmy award winner Jacque Reid is a multi-media maven. On tv, she's pulling double duty for NBC, hosting two lifestyle shows, New York Live in New York City and The Hub Today in Boston. Both shows give audiences a daily dose of celebrity news and interviews and the best these cities offer in fashion, food, and fun. Jacque is also part of NBC's red carpet team and is often in the studio for breaking entertainment news. The Vegan Sexy Cool brand is Jacque's biggest passion. The Vegan Sexy Cool brand includes a digital lifestyle magazine, a podcast, and influencer dinners.
 

 

View this post on Instagram

 
Romeo's Vegan Burgers is a plant-based restaurant with two locations in Greensboro and Charlotte, NC. They provide a 100% Plant-Based menu consisting of burgers, fries, shakes, and more—the restaurant sources plant-based products from Beyond Meats and Impossible Foods. Romeo's Vegan Burgers provides a hamburger that even none vegans can enjoy. Beyond delicious, their burgers are a great vegan option for those who live a vegan lifestyle but crave that familiar taste. The burgers feature vegan buns, plant-based cheese by Follow Your Heart, and a special vegan sauce. Romeo's Vegan Burgers serves refreshing organic house-made lemonades, tea, and delicious organic shakes blended with soy ice cream. 
 

 

View this post on Instagram

 
Adjoa Courtney, known professionally as "Chef Joya," has a passion for turning basic recipes into exquisite delicacies— a talent that has changed her life. Growing up in Milwaukee, WI, in the heart of the Midwest, and raised vegan since she was seven years old, Joya spent a lot of time in her grandmother's kitchen absorbing the aroma of the food she cooked, along with the wisdom that her grandmother preached. Following the plant-based foundation of the food she grew up on, Joya began to "veganize" traditional recipes that typically contained animal products, which has since become her specialty. She wants her food to remind others transitioning to veganism of the meals they enjoyed before they became vegan. As Chef Joya experimented with different cultural flavors such as Soul Food, African, Afro-Caribbean, and French, her recipes expanded to include cuisines from across the globe. Chef Joya began teaching other chefs how to prepare plant-based meals for their clients, recognizing the need for vegan cuisine in many culinary genres. She is revered by vegans and non-vegans and is arguably one of the best vegan culinary artists in the United States. Chef Joya is currently the private chef to R&B singer Fantasia. 
 

 

View this post on Instagram

 
Las Maris Vegan was originally a creative fruit stand/food service that blossomed into a dynamic food truck. The bright pink truck is usually swarmed with lines as it travels through Modesto and Stockton, CA. The food truck offers a variety of tacos, burritos, quesadillas, and specialty-made drinks. Co-founder Carlos Bryant and his team recently teamed up with vegan tech giant Just Egg and are working on a collaboration truck in Los Angeles. The team is working on the final stages of opening their brick-and-mortar restaurant at the top of 2023.