Ghana in Transit: Pt 5- Sankofa
[vc_row][vc_column][vc_column_text]
Follow a young woman from D.C to Ghana on her journey of adventure, love, humor, sadness, and learning how to overcome life's hurdles.  Stay tuned, a new story will be posted each week.
[/vc_column_text][vc_separator color="orange" border_width="2″][vc_column_text]
Did You Miss Part 1 , Part 2 , Part 3 , or Part 4 –  Click the links Below
[/vc_column_text][/vc_column][/vc_row][vc_row][vc_column][vc_column_text]
Part 5: Sankofa
From a distance, Ghana looks like gold. Gold sparkling in the inky blackness. A grid with dark spots and bright spots splattered across its entirety. You can't help but feel like you are falling into an abstract Starry sky. 
I know I'm being dramatic, but dead ass, this is legitimately how I felt. From JFK to Germany, all I could think about was GH. The land, the ocean, the people. I was eager even though I wasn't feeling the best physically(sore throat), my spirit was on a high that is still unrivaled to this day.  I felt like I had manifested what was going to be a beautiful experience.  With my trip lasting more than ten hours, traveling the same route my ancestors were forced to take on ships. To be utilizing a different element to accomplish a different means on the same track, one that is more positive….is a phenomenon.
When the voice on the plane told us to buckle our seat belts because we were beginning to come back down to earth, I could have sworn I heard something inside me echo, "welcome home" and by the Gawds, it felt like a hug. Shucks when you walk into the airport from the tarmac there is a big beautiful sign that says "Akwaaba" which ironically enough means, the same thing.
Arriving at Kotoka airport on a Saturday night, I stepped off the airplane and had to fight the urge not to kiss the ground. My journey had been a long one. While it technically took a little under a year to manifest tha mothaland, it somehow felt longer. Feeling a relief that I had never experienced in my life, I, Efia Nyame-kye Jendayi Kondo, had done it! I had arrived. I was in the home of my ancestors and I was satisfied. Now all I had to do was get through customs.
Making it through the entire process in under an hour, I collected my items from the circular luggage thing, and mounted them on top of that push cart whatchamacallit, and I walked down and out of the airport and into an outdoor food court area. Big canopy trees in the distance, people milling about in colorful fabrics, skin dark and beautiful, communication ancient and fluid. So transfixed was I that I nearly missed a sign with my name on it.
Holding it was a kind faced man, who introduced himself as my professor for the month. Helping me to carry my bags to the car, we exited the airport, and headed towards campus. In addition to being my professor, he ended up being an excellent introduction to a country that would one day be my home. He pointed out things of importance whilst driving, I leaned my head out the window and tried to take it all in.
It was a beautiful night, and the city was alive. People walking on the sides of the roads, ripe fruit on their heads, yams, perishables, non perishables. You name it, they were carrying it! Art work of various styles and sizes, people  begging, people dressed to the nines going out on the town, people on motorcycles buzzing all around you, bus-van joints called "trotros" packed tight with people heading every which way. The lights, especially the lights, they illuminated the creamy yellow buildings with their bright brown orange fixtures. It was everything I thought it would be. All the pictures I had seen in the internet did not do this place justice though. I was transfixed.
Arriving to the campus some 20 minutes later, I checked into the International student hostile, fondly referred to as "Ish 1." One of the many dorms on the University campus, Ish 1 sits opposite "Ish 2" and is surrounded by lush green grass and foliage. What is not grass, tree, road or building, is clay colored soil.
Fighting the urge to go out and see what the city looked like, I allowed my new peer guides to guide me around the building and show me where everything was, and to introduce me to my new classmates. It was a diverse company that would give me a varied perspective as a student but more importantly as a person of African descent. We were all eager to interact with one another and to foster experiences worth talking about in the future. But there would also be times that would reveal the racial and cultural divides that separates people from different environments. We were there to study the traditions and dances of Ghana through a consortium situation housed at the University. This setup enabled me to experience Ghana in a controlled setting that made it possible for me to travel further into campus, or into the city.
Hungry boots, me and my companions were taken to a popular spot on campus called The Night Market to eat. Occupying a vacant dirt lot surrounded by trees and other buildings, The Night Market is filled with rows and rows of vendors selling anything and everything you need. Tropical fruits piled high, various kinds of foods, appliances, and utilities.
It was truly an experience, and my being a lover of good food and good people, I quickly made friends with a few and settled in eating some Jollof rice. It is like a dirty rice but somehow different and perhaps a little more delicious. I also had some nicely ripened fried plantain. The people were nice and curious. They gave me extra food when I told them my name and asked me if I wanted "pack or rubba." Choosing the rubba, they packed my food tight in a small plastic bag ,handed me a spoon, and asked for "one five."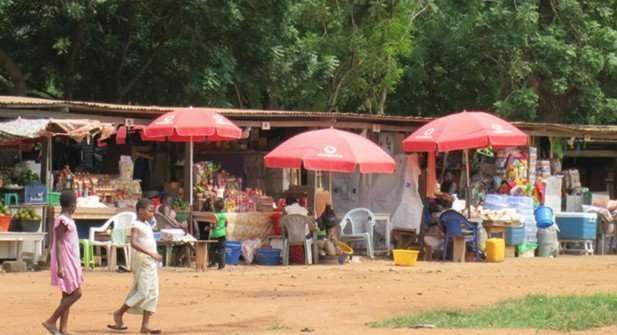 Punishing that good cheap grub in no time, I made arrangements to go to the market the next day with my guides, and decided it was time to wash up and crash. I was beat, and my body needed a victory nap.
Waking up relatively early the next morning, I stepped outside onto my balcony and took in the view laid out before me. It was a marvelous site. Reddish dusty SUN with yellow rays bursting in different directions, Green earth and people in various stages of movement. All of the campus buildings, portions of them outside, little yellow taxis, trotros in the distance. On one end of me was bush, to the front was campus, and to the left was Accra. The Capitol of Ghana, Accra is a steadily developing  metropolis, and with my being a city girl and all, I just knew that I  wouldn't have a hard time getting adjusted.
This proved to be only partially true. While i was accustomed to the hustle and bustle of cities in general, I was not ready for the uniqueness of Accra. Traveling to an area called Jamestown, me and my companions traversed stalls and stalls of goods, at a popular hub called Makola Market.
Unbeknownst to me, Makola would prove to be a valuable resource in my future endeavors, and that this introduction would solidify its importance. If you have never been to a market place, and smelled the market place, and done business with the people, I do not know if I can describe it to you. It is an experience unique unto itself, and only those who have experienced it can fully understand its uniqueness. It could be a market in any tropical place really, as long as there are men carrying threaded beads over their shoulders, and beautifully adorned people with lightweight colorful fabrics adorning their bodies. Not to mention all of the beautiful fabrics that Ghana is known for.
The weaved baskets, and women with their canopy hats selling hot peppers, okra, plantains, and an array of fruits and veggies that would take too long to name.
Makola is one of those places and its own simultaneously. Here I was one day in, and I had already been in a place that was its own microcosm. I didn't know what the rest of my journey held, but I was so  ready to find out.
To be contd………
Playlist
Atumpan- The thing

Vybz Kartel-Summertime

Keche-Sokode

Flavour-Nwa Baby

Davido-Dami Duro
[/vc_column_text][/vc_column][/vc_row]