How To Catch The Attention Of A Black Female Entrepreneur
Let's face it, Black female entrepreneurs are starting to take over the world. From 2007 to 2012, Black owned businesses by Black female entrepreneurs grew 67 percent compared to 27 percent for all other women.  The National Women's Business Council reports that there are currently 1,531,494 Black women owned business in the United States.
Now, who wouldn't want to catch the eye of a Black Female Entrepreneur? They are not only smart but also  extremely hardworking and fierce! Double minority and kicking butt everyday in the world of business.
That is why as a Black man, I wanted to try and help out my brothers that may get the lucky chance to meet one of these extraordinary individuals.  How do you catch the attention of a black female entrepreneur? I went ahead a did the leg  work to ask 5 of them to see how a romantic interest can either get or keep their attention.
Ani Jimenez (Kanary Diamonds)
CEO of Shop Black Biz
Getting my attention is hard, I'm not going to lie. Because I'm so busy, my attention span for dating is short. The key is to KEEP my attention, a man has to be confident enough to be persistent. If I'm busy or have to reschedule, he has to be take the lead on making sure we reschedule. He has to be understanding yet creative. Like one guy I kept putting off showed up to my salon with flowers at lunch time. He waited until my lunch time and we went across to the shake shack lol. To date a female entrepreneur you HAVE to get creative! The now days send a random text don't work for me and it's the quickest way you will not be responded to. I'm too busy for a "wyd" lol.
Ani Jimenez also known by Kanary Diamonds is a serial entrepreneur and song writer. After over 15 years of being in the entertainment industry as an artist and writing music she decided to expand her savvy business skills into entrepreneurship. She has founded 4 companies and she's the current Founder and CEO of "Shop Black Biz" a online black owned business directory and Lavish Nail House a nail salon located in Manhattan beach, CA. Business is her passion, empowering women is her purpose and helping others see their own potential is her mission.
Apryl Beverly
Founder of BAAB
I've been married for more than 10 years to one of the most incredible men in the Universe. While dating has not been my thing for over a decade, I can certainly tell you what keeps me falling in love with my hubby every single day. As a female entrepreneur, my world can get a bit crazy. With traveling to speaking engagements, sharing my life on social media, dealing with a range of clients (and their personalities), I'm not always showing up as "Claire Cosby." He supports me through it all.

I know many female entrepreneurs work crazy schedules, but that's not reality. You see, I vowed years ago not to allow my business to interrupt our weekends, nights or family time. So while accepting a "not-so-normal" work schedule is an excellent characteristic for a guy to have when romantically pursuing a female entrepreneur, it doesn't top my list.

From my perspective, one of the most significant character traits I see in my hubby is his ability to ditch preconceived ideas on how men and women should interact. For example, my husband and I share household responsibilities and we never get caught up on who should do what. When I'm busy, he steps in and I do the same.
Apryl Beverly, The Million-Dollar Word Stylist and founder of BAAB Writing and Marketing Services LLC, crafts compelling copy that has generated over $7 million in revenue for B2B solo entrepreneurs, small business owners and some of the country's top brands.
Known for her action-inducing writing style, she has earned a variety of awards and recognitions including hitting the Amazon Best Seller's List in 3 categories just 24 hours after releasing her first book, Shots Fired! How to Write Copy that Pierces Hearts (And Opens Wallets). Her second book,F.A.S.T. Money! The Easy Way to use Facebook Ads to Hook Smokin' Hot Leads shot to the No. 1 spot on Amazon's Best Seller's List two days before its official release.
Roman Debotch
Owner of Finally Free Media and Finally Real Estate Photography
What catches my attention the most is a great conversation. Regardless of what I do and how busy I am, a man that can carry a conversation, has a quick wit, and is just genuine is very attractive! I think we are all trying to impress people around us, especially somebody we might be interested in romantically, that the real beauty of who we are can stay hidden sometimes. A man that can be himself from the get go, given his true self isn't a horrible human being, is attractive.
Roman Debotch is the owner of Finally Free Media, a video production company based in Orange County, CA. Her passion for everything media is expressed through filmmaking, writing, and photography. She can often be found behind the camera, on a hiking trail, or a movie theater!
Designer/Owner ​of ​Tienel ​Bridal
On ​Relationships:
My ​fiance ​and ​I ​have ​been ​together ​for ​9+ ​years. ​He ​is ​also ​a ​creative ​and ​an ​entrepreneur ​so ​we both ​have ​fast ​paced ​lives. ​It ​can ​be ​a ​gift ​and ​curse ​because ​our ​schedules ​can ​get ​hectic, ​but ​it also ​allows ​us ​to ​understand ​what ​one ​another ​is ​going ​through. ​One ​of ​the ​most ​important qualities ​that ​I ​feel ​has ​kept ​us ​together ​for ​all ​of ​these ​years ​is ​unwavering support ​in ​one another's ​dreams. ​As ​an ​entrepreneur, ​I'm ​always ​taking ​a ​new ​risk, ​and ​no ​matter ​how ​crazy ​my ideas ​are, ​my ​partner ​is ​right ​there ​with ​encouraging ​words, ​to ​remind ​me ​what ​my ​goal ​is ​or ​even just ​to ​give ​me ​a ​hug! ​He ​usually ​sees ​the ​potential ​in ​my ​dreams, ​even ​before ​I ​can.

The ​second ​most ​important ​thing ​to ​me ​is transparency. ​It's ​important ​that ​we ​are ​open ​and honest ​with ​one ​another ​about ​whatever ​may ​be ​on ​our ​minds. ​Lastly, ​I'd ​say humor! ​I ​love ​to ​laugh ​and ​be ​silly. ​I ​look ​forward ​to ​going ​out ​to ​dinner, ​having ​a glass ​of ​wine ​and ​taking ​my ​mind ​off ​of ​anything ​work ​related. ​My ​partner ​knows ​exactly ​what ​to say ​when ​things ​are ​getting ​a ​little ​heavy ​to ​brighten ​my ​mood. ​He ​definitely ​works ​hard ​to ​keep ​a smile ​on ​my ​face!
Tiffany is ​a ​bridal ​designer, ​as ​well ​as ​lifestyle ​blogger. ​She believes ​in ​following ​ones ​heart ​and always ​striving ​to ​make ​the ​life ​you ​envision ​in ​your ​mind ​(your ​dream ​life) ​come ​to ​fruition, whatever ​that ​may ​mean ​for ​you. ​She loves ​fashion ​design, ​but ​there's ​a ​lot ​more ​to ​her! ​She ​introduced ​her ​lifestyle ​page ​and ​blog ​so ​that ​she ​could ​explore ​other creative ​paths ​as ​well, ​as ​she ​love ​music, ​dance, ​inspiring ​others, ​etc. ​Simply ​put, ​she's ​a ​creative being.
Tonya Rapley
Founder of My Fab Finance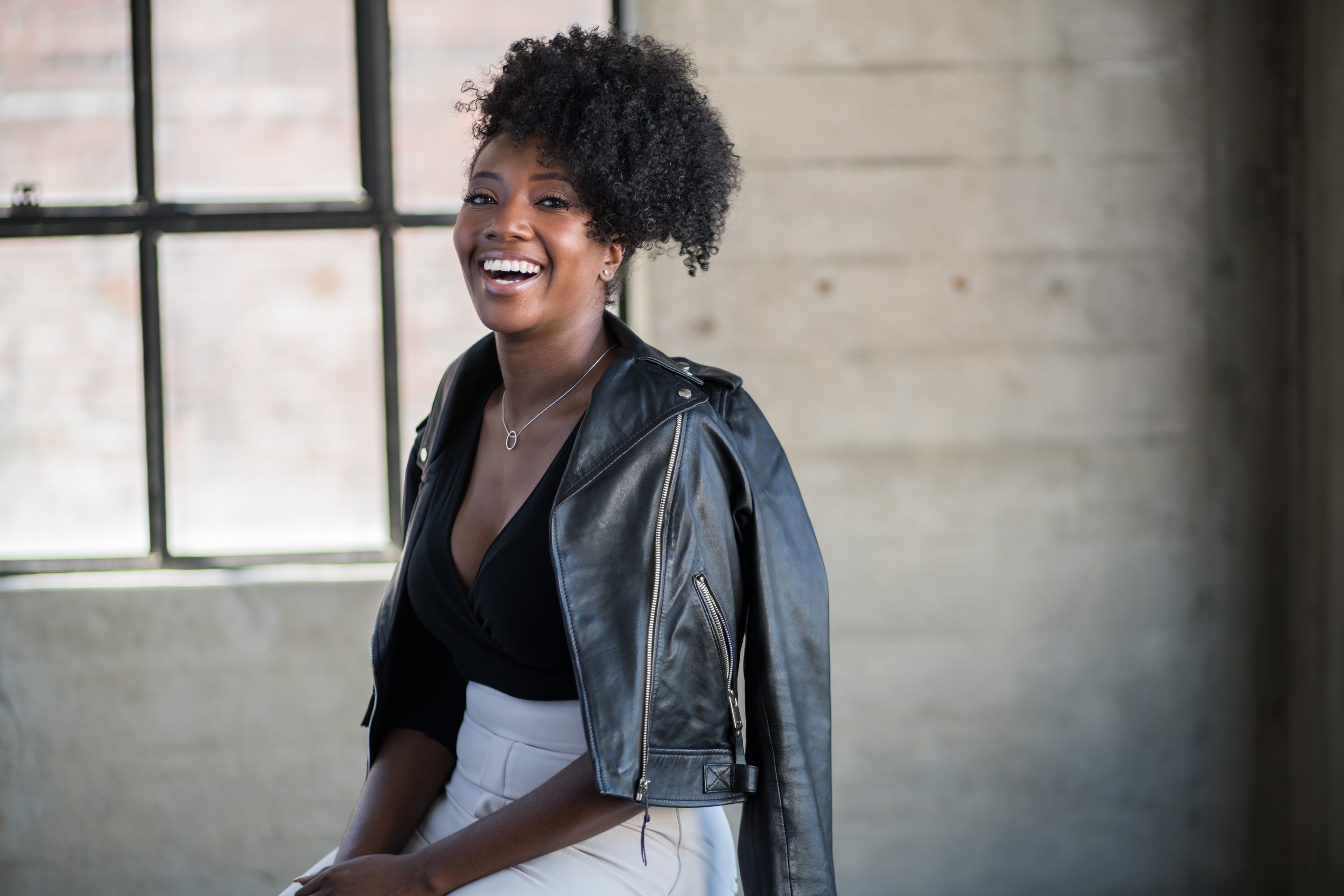 I feel like I'm in an interesting position because I met my husband before I became an entrepreneur. But knowing what I know now and some of the issues, as well as the assets it has brought to my relationship, I can say that the most important thing is someone who understands this lifestyle. So while they may not necessarily be an entrepreneur, they understand the pressure and what it is like to create your own income chart, your own path, and call your shots.

It's also important to have someone who is independent and can work with you or works well without you because entrepreneurship is demanding and the last thing you want to feel like is that you have to choose your relationship or your business which is something that a lot of women and entrepreneurs are faced with. Lastly I would say that someone who is supportive and has emotional intelligence. This is a hard journey and you need support. Be the person who will offer to cook or bring dinner over because you realize she's having a hard day.
Tonya is an entrepreneur, wife, co-founder, domestic violence survivor, and citizen of the world (seriously, she was born in the Philippines). She started My Fab Finance in 2013, at a time when her financial life was out of order. It was time to stop acting like she had it all together and start getting it together.
She's passionate as hell about what she does at My Fab Finance and was named the "New Face of Wealth Building" by Black Enterprise magazine and selected as a modern History Maker by TV One. She was also in Glamour Magazine.