Is Sammy Sosa's Skin Bleaching Self-Hate Or Mental Illness?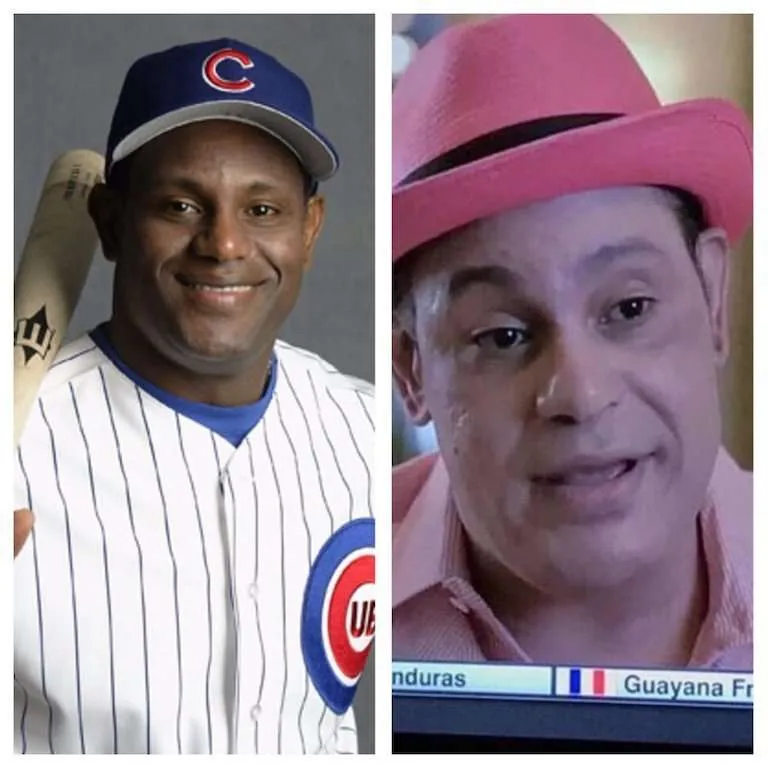 Skin bleaching is a sad part of the beauty industry's reality and in the black community as well.  Sammy Sosa is the most recent use-to-be-brown-skinned celebrity to fall into its grips.
For those of you who don't know, Sammy Sosa is a Dominican former professional baseball right fielder. But since all the skin bleaching started, you might be asking "Is Sammy Sosa white now?"
Sosa's Career 
Sosa started his career with the Texas Rangers, then became a member of the Chicago Cubs in 1992, becoming one of the game's best hitters.
Sosa hit his 400th home run in his 1,354th game and his 5,273rd at-bat, the quickest in National League history. After that, he played with the Chicago Cubs from 1992 up until 2004. Sosa is best known for his time with the Cubs where he became a 7-time All-Star while holding numerous team records.
He finished his career in stints with the Baltimore Orioles and the Texas Rangers. With the Rangers, Sosa hit his 600th career home run to become the fifth player in MLB history to reach that milestone.
Check out these impressive stats:
-Second all-time in-home runs among foreign-born MLB players and is one of only three National League players since 1900 to reach 160 RBIs in a season in 2001
-The only player to have hit 60 or more home runs in a single season three time. Now here's the kicker:
Back in 2009, Sosa appeared at a music awards show looking extremely lighter in his complexion than he had just months earlier.
Sosa's New Look
The chatter around this extreme change in skin tone prompted him to go on a Spanish television station. He denied that he was sick. He said he hated being dark and that he's had rhinoplasty to reduce his ethnic nose.
Sosa's new skin tone wasn't the result of steroid use. Steroids do not change skin tone, but many believed that was the cause. Sosa explained that he uses a moisturizing cream before going to bed and it whitens his skin. He is quoted on Univision's Primer Impacto program as saying that the cream softens his skin and bleached him a bit.
RELATED: Colorism's Toll Within The Black Community 
"What happened was that I had been using the cream for a long time and that, combined with the bright TV lights, made my face look whiter than it really is. I don't think I look like Michael Jackson…I'm not a racist, I live my life happily."
Social media users had a field day. Some poked fun and cracked jokes while others were genuinely concerned for his mental health and sanity.
Why is Sammy Sosa out here looking like Tattoo from Fantasy Island? pic.twitter.com/GfPMAtKgUw

— Tariq Nasheed 🇺🇸 (@tariqnasheed) February 11, 2018
This is what self-hate looks like: Sammy Sosa before and after pic.twitter.com/UsOkhk7zxp

— Little But Talawa (@LittleButTalawa) July 13, 2017
Sammy Sosa out here lookin like Pepto Bismal. pic.twitter.com/1xdKo84Bko

— Waiting To Oxtail (@ThatDudeMCFLY) July 13, 2017
Can I just say that the stuff where people make fun of Sammy Sosa's lighter-skinned appearance makes me deeply uncomfortable? Not even from a racial perspective, but mostly from a health/mental health perspective. Lay off.

— Brett Taylor (@Brett_A_Taylor) November 7, 2017
as a dominican, the sammy sosa pic is a sad reminder of the self-hate and psychological damage of white supremacy that still exist among us.

— alex medina (@mrmedina) July 13, 2017
Is Sammy Sosa bleaching his skin self-hate though? Some say it is, why else would he get a rhinoplasty to get rid of his, as Beyoncé would say, "Negro nose"?
Whatever the cause is, this legendary player was born with dark brown skin in the Dominican Republic 48 years ago.
The Dominican Republic & Colorism 
 According to recent stats, Dominicans are 71% Mixed, 13% Black 14% White, 2% Asians/other.
This is significant because The Dominican Republic has a long history of colorism and hatred of Haitians next door. Haitians are the "darker people" of the small island both countries reside on.
During the Trujillo years, the slaughter of Haitians was widespread. Even darker-complexioned Dominicans who were mistaken for Haitians were often slaughtered.
According to the Institute of Democracy and Justice: "In September 2013, a Constitutional Court in the Dominican Republic (DR) issued a ruling that effectively rendered stateless anyone with foreign ancestry born in 1929 or later."
After receiving backlash from the international community, the DR government instituted a Regularization Plan to register these people and issue them identification cards.
However, thousands were unable to meet the deadline due to fees and requirements to present documents that in many cases do not exist. These documents include ID cards that were confiscated by authorities.
The Deporting of Haitians 
After the deadline passed, the DR government began deporting migrants who did not register in time.
Unfortunately, the criteria for determining who is a migrant is unclear and likely resulted in the deportation of Dominicans of Haitian descent as well. These Dominicans are often categorized as Haitian because of their last names or their skin color.
That's even if many have never been to Haiti and don't speak the language.
Thousands of Dominicans and Haitians also fled from DR to Haiti due to threats of deportation. Violence and other fear-inducing acts from Dominican officials and neighbors chased them out.
Did growing up in the DR impact how Sosa looks at his skin color?  After having it all at one point in time, maybe the last thing he was missing was white skin and a Eurocentric nose? 
Sosa is not the only celebrity accused of bleaching their skin. 
For example, La Toya Jackson and iconic rapper Lil' Kim are accused of doing the same thing to look more Eurocentric. When your career has hit its peak and you feel like you still need more, skin bleaching is actually an affordable option. "I'm going to market it, I'm a businessman," said Sosa, ESPN reports.
The Skin Bleaching Dilemma 
A report released in June by Global Industry Analysts projects that by 2024, sales of skin lighteners will reach $31.2 billion, up from $10 billion in 2015.
According to the report, sales are being "driven by the still rampant dark skin stigma and rigid cultural perception that correlates lighter skin tone with beauty, cultural refinement, and personal success in several communities in Asia, the Middle East, & Africa."
https://www.instagram.com/p/BiAYGsUgasc/?tagged=skinbleaching
In West and South Africa, where a 2016 New York Times report said some 70% of women used lightening cream, the world of skin lightening is a multi-billion-dollar industry.
Following years of billboard ads tagged with ways for women to achieve "perfect white" skin, Ghana's government banned lightening creams and lotions. However, the country has struggled to remove the products from shelves.
In Asia, the skin whitening industry is worth over $13 billion, according to a BBC report. Historically, milky white skin in many Asian countries has been a symbol of nobility, wealth and an aristocratic lifestyle.
Colorism in America
The story of colorism in America is similar. It stems from the days of slavery when the lighter skinned slaves were kept inside the house and the dark slaves were out in the field. That internalized the message that dark skin is bad and light or white skin is good.
This gave birth to Colorism: when people with lighter skin are favored or treated better than people with darker skin.
For many cultures, colorism stems from Eurocentric beauty standards imposed on a society by a European or White colonizer. Countries that were not colonized caught the mentality through round-about brain washing provided through media.
Should we feel sorry for Sammy? Or angry at Sammy?
The reason why celebrities are scrutinized for the controversial things they do is because they have so much influence. Sammy openly bleaching his skin will surly make somebody else that's even considering it comfortable with the idea.
If this rich, famous, talented guy thinks skin bleaching is ok, then why wouldn't it be ok for me too? If he hates his dark skin, why should I love mine? 
Is it self-hate or mental illness? 
On the other hand, is this a mental illness that we should take seriously?
Instead of roasting his new look, should we be concerned that one of the greatest to play the game is suffering from mental illness? A condition that makes him want to bleach away his beautiful brown skin?
Or is he just simply doing what makes him happy and it's neither self-hate nor mental illness?  
I don't see the younger generation following in his footsteps mostly because the younger generation may not know who Sammy Sosa is.
But the older generation, especially darker skinned fans who looked at him as an icon, might take a notice.