Jayda Wayda: The Star's Swift Journey to Millions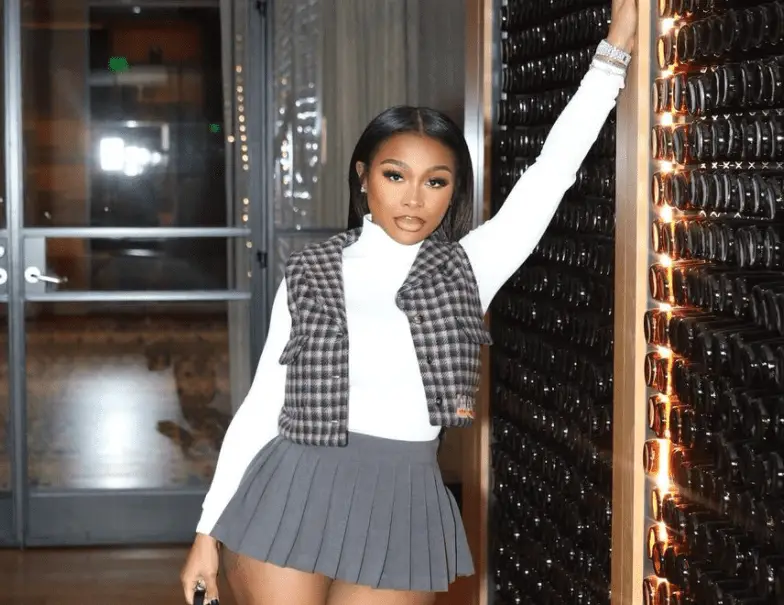 You might known Jayda Wayda in relation to Lil Baby, but the social media star is much more than Lil Baby's girl.
Jayda Wayda, aka Amour Jayda, aka Jayda Ayanna is a famous Instagram star that shot up to fame and millions quickly. Besides being an Instagram influencer, she is also a successful entrepreneur with stores that sell wigs, clothing garments, accessories, and other hair related products. Jayda is also an author providing useful business advice to young entrepreneurs. 
Jayda Wayda became popular on social media rapidly, with special recognition for her book titled '15 Steps To Become A Young Boss'.  She has an online store named 'Amourayda'. On her YouTube channel, she posts tutorials, product reviews, her travel vlog, and beauty tricks.  
#NewProfilePic pic.twitter.com/d3jj8bcES6

— AmourJayda (@JaydaAyanna) May 15, 2018
RELATED: Lauren Simmons: The Only Black Woman in the NYSE
Jayda Wayda's Early Life and Family 
Jayda Wayda was born on 25th September 1997 in Georgia. The birth name of the young millionaire is Jayada Chaeaves.  Many find it confusing when they hear 'Jayda Wayda,' uncertain if it's the same person. Yes, it is the same person. Jayda Wayda is her popular name, but some people still know her as 'Amour Jayda' or 'Jayda Ayanna.' Her mother's name is Tricia Cheaves but not much is known about her father. She has a younger brother named Len and a younger sister named Ammerah. 
Jayda's brother is a social media personality while her sister is a beauty expert, so you can say it all runs in the family.
Jayda Wayda graduated high school in 2015 and quickly entered her current career. Jayda was popular on social media in her hometown of Savannah, Georgia before she exploded on the national scene. But her entrepreneurial spirit started way before social media.
Jayda Wayda recalls selling her grandmother's baked treats at grade school. She took that sprit to Poshmark where she sold her barely worn clothes on the online marketplace. The way Jayda was able to sell her clothes so fast inspired her to start her own clothing line.
RELATED: Blk+Grn: All Natural Marketplace For Black Owned Brands 
Jayda Wayda Early Entrance into the Business World
At the very young age of 16, Jayda Wayda already had her own brand. Her social media following also continued to grow.
Jayda Wayda's fame exploded when it became public that she was dating rapper Lil Baby. Now she has a clothing brand and her own hair brand.
On 4th August 2018, Jayda started her YouTube channel and uploaded her first video, "Welcome to Jayda Cheaves YouTube Channel." Her account quickly grew in subscribers and views, and she has continued to post helpful tips and just fun videos of her family and travel.
Jayda Wayda's "The Young Boss Blueprint" Book
Jayda Wayda was a successful entrepreneur even before she graduated high school. Three years after her graduation, she wrote a book on her journey thus far, which she titled "The Young Boss Blueprint: 15 Important Steps to Become a Young Boss." 
She was inspired to write this book by her fans. Before writing the book, fans would message Jayda Wayda asking questions on what they could do to become millionaires like her.  When she could, she would give replies, but the questions kept on coming, so writing a book was an easy way to answer this question for everyone. 
In "The Young Boss Blueprint"  Jayda shares her story of what becoming an entrepreneur at a young age was like. She explains the importance of enthusiasm, and the ability to complete tasks quickly helps you achieve far greater things in life. In the book, she gave several helpful pieces of advice on how to become a successful entrepreneur. 
Who Is Jayda Wayda Dating?
Jayda Wayda's most famous relationship is of course with rapper Lil Baby. The couple was been on and off for years and have a son together they named Loyal Armani. Jayda is a-dotting mother and shows off her son from time to time on social media. 
https://www.instagram.com/p/CgsnMC-LExD/?hl=en
It's unclear what the status of their relationship is currently as there have been rumors of Lil Baby dating rapper/singer Saweetie. 
Lil Baby surprises Jayda Wayda in a massive display of love in the video below.
Jayda Wayda's Net Worth
As the case is with most influencer's, Jayda Wayda's net worth is unclear. She told a publication that from 2016 to 2018, she made 2.5 million from her hair brand alone. That's not including brand endorsements, her clothing line, YouTube, modeling, and all the other business ventures she has. So it might be safe to say Jayda Wayda's net worth is somewhere between $2 to $5 million if not more than that.
Jayda Wayda's Future Business Plans
Jayda Wayda would like to have her own hair salon, store, spa all in one building. And she doesn't just want to own stores in the US, but she wants to take over the world. She believes it will be a two-story building so you can get all the products and services you need in one stop. 
To achieve this, Jayda Wayda has three rules she keeps on her mind all the time.
Stay consistent 

Focus on yourself

Be Yourself
Jayda Wayda's Social Media
Jayda Wayda is very active on social media as that is a major source of her income. She has an Instagram, TikTok, and Twitter accounts as well as a very popular YouTube channel.
You can follow Jayda Wayda on the following:
Jayda Wayda Instagram: https://www.instagram.com/jaydacheaves/?hl=en
Jayda Wayda Twitter: https://twitter.com/wayddamin
Jayda Wayda TikTok: https://www.tiktok.com/@jaydafnwayda?lang=en
Jayda Wayda YouTube: https://www.youtube.com/@JaydaCheaves