K. Michelle's Ever Changing Looks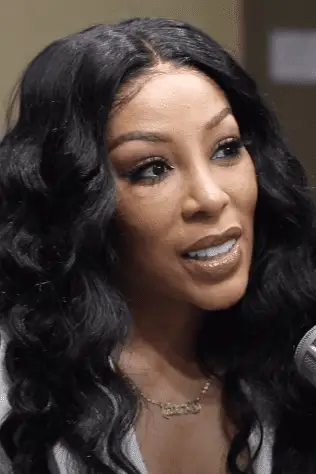 Have you seen K Michelle new look? Are you surprised by the singer's ever changing looks?
In 2021, K. Michelle posted a selfie on Instagram with tongues wagging. In the picture, her nose looked different, her jaw line looked more chiseled, and her brow looked different. 
Many claimed that she underwent procedures to change her facial features because she looked different.
https://www.instagram.com/p/CYkHV6uONg1/?utm_source=ig_embed&ig_rid=9aff83e5-8ba1-4215-bda2-cb406a3280c7
Perhaps the claims are not too far-fetched. In 2018, K. Michelle had a nose job. However, the singer has denied making any changes to her face in recent times. 
Replying to all the rumors on social media over a facelift, K Michelle said, "Clearly, it's me. I've been this color forever. I've been doing a TV show. I've been in the studio every day. So I don't know possibly when I would have had time to get a facelift or- in two days when y'all have seen me already on live. Y'all are crazy. Do you see this is me? ''
RELATED: 25 Sexiest Videos in Black Culture
Who is K. Michelle?
Kimberly Michelle Pate, more commonly known as K. Michelle, is an American singer and actress. Her fame exploded when she appeared in Love & Hip Hop: Atlanta. In addition to Love & Hip Hop: Atlanta, she has made appearances on Love & Hip Hop: New York and Love & Hip Hop: Hollywood
K. Michelle was born in 1982 and raised in Memphis, Tennessee. She has always been interested in music and took piano, guitar, and voice lessons at a very young age.
The star singer has released several albums. Most of these albums have gone on to be huge successes. As a result, K. Michelle has several awards and nominations to her name.
While the upward progression of her music career seems constant, one thing that has not remained constant about K. Michelle is her looks. 
It is always alleged that K. Michelle has undergone one surgical procedure or the other to alter her looks. What could be the reason for K. Michelle's ever-changing looks?
Michelle's Butt Implant
Butt implants have been popular for the past several years. However, some people may find it difficult to talk about their butt implants publicly. This has not been the case with K. Michelle. She is as real as they get with her butt implants. 
In an interview on The Real, she mentioned that she has always been curvy, but it just wasn't enough. She thought she wanted more. She mentioned that she surgically enhanced her hips, butt, and teeth. 
K Michelle's Butt Implant Disaster 
In the same interview on The Real, K. Michelle recounted the challenges she faced due to her butt implants. She explained that she was experiencing severe pain, which she suspected was Lupus. 
However, when she went for a medical check-up, she discovered that her butt implants were the reason for her pain. Her legs could no longer support the weight of her butt comfortably.
https://www.instagram.com/p/CieDpmJOcu8/
The silicone K. Michelle injected into her butt spread to other parts of her body after five years. They were damaging the tissue in these parts of her body and causing discomfort.
The challenges the popular singer has faced with her butt implants have made her very vocal about the dangers of butt implants. She feels the possible side effects are not talked about enough. 
K Michelle's Butt Implants Removal
Since the beginning of 2018, K. Michelle has had at least four surgeries to remove her butt implants. Removing butt implants is no walk in the park. 
The singer said no doctor wanted to come close to her butt when she started having complications. Most of them stated that it was just too risky.
Fortunately, Michelle found a doctor that was willing to take the risk. The first surgical procedure she tried to remove her implants was liposuction.  However, it was not successful. It only increased the spread of the silicone in her body. She had to undergo three more surgeries. 
The healing process was even more complicated if the removal process was difficult. K. Michelle couldn't take her bath without a nurse's assistance several weeks after her surgeries.
https://www.instagram.com/tv/CaEK1pzlDxO/
K. Michelle took to her Instagram page to share pictures of her natural curves after her implants were removed. She seemed both relieved and proud. 
In an interview with People, she said, ''I'm happy with my body. It is nowhere near the ideal I had before, but when it's all said and done, it will be my body.''
"My Killer Body" with K. Michelle
In February 2022, K. Michelle started a TV show called My Killer Body with K. Michelle. This show aims to portray how plastic surgery affects different people's lives. 
Each episode will feature two patients needing help after cosmetic surgery. Most people featured in the show are trying to reverse cosmetic procedures that pose a threat to their lives.
https://www.instagram.com/tv/CZvSOo3lEFc/
Dr. Adam. J. Rubinstein is a surgeon on the show that reverses botched plastic surgeries. In an interview, he said, "This issue has been the focus of my career and practice. I am honored to help raise awareness about the growing number of problems in the world of plastic surgery.'' 
My Killer Body with K. Michelle has over 2.6 million viewers. This makes it the most viewed show on Lifetime in three years.
What Fans are saying about K. Michelle's Ever-Changing Looks
Fans always have a lot to say about K. Michelle's ever-changing looks. One fan commented beneath a picture of K. Michelle, "she does not look the same at all.'' 
Fans have also accused her of trying to lighten her skin. However, she has repeatedly stated that she has never bleached her skin. K. Michelle has blamed the lighter appearance of her skin in some pictures on filters and lighting.
While Michelle's ever-changing looks trigger most fans, others couldn't care less. 
One of her fans commented, "You look TOTALLY different. (Hispanic). You look MUCH better, though. The old nose was big, and the old jawline was hard.  The teeth were too big… You use the look like Chance from VH1 REAL CHANCE AT LOVE (rip), But now you look absolutely gorgeous!! If I had the money, id tweaks it too until I was happy!!''
Has K. Michelle Abandoned the Idea of Plastic Surgery?
K. Michelle has been very vocal about the dangers of plastic surgery. Does this mean she has completely abandoned the idea of plastic surgery? 
In a recent interview with Essence, she said, "I'm going through a difficult decision. My doctor feels like I probably need two more reconstructions and that is for cosmetic, not health.  So for me, I battle. Some days I'm like, 'I'm never going back to that table!' But then I might put on something and then a dent from my reconstruction is there and I say, 'I'm going to get this fixed.' I'm human. I go back and forth."