Ms Parker from 'Friday' Still Stuns at 70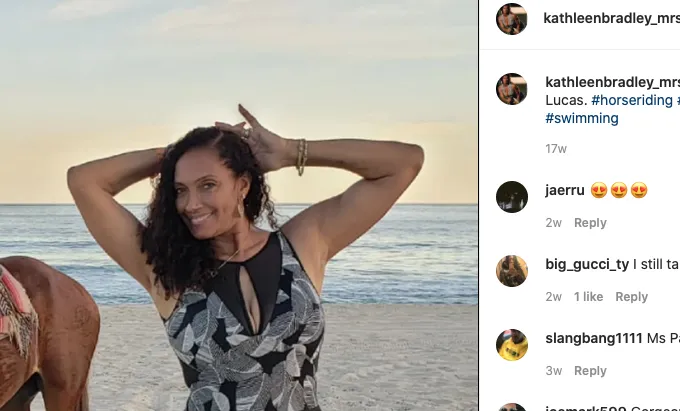 "Heyyy, Ms Parker!" How can anybody forget that phrase and the beauty, Ms Parker from Friday!
Kathleen Joann Bradley played the character Ms Parker in the classic comedy 'Friday'. The movie also features stars Ice Cube (Craig) and Chris Tucker (Smokey). Mrs Parker was a tall, beautiful Black woman in her 40s. She played the role of a sultry woman catching the eyes of men in her neighborhood.
If you grew up in the 90s, some of her memorable scenes should be coming to your mind just about now. 
You may ask, where is she now? Well, Ms Parker is now in her 70s and still killing it. The mother of two and a grandmother never stopped looking stunning. 
About Kathleen Bradley aka Ms Parker
The veteran Hollywood star is an actress, a former singer, a host and former model. She was born on 10th January 1951 in Girard, Ohio. As a model, she is best known as Barker's Beauty on the daytime game show The Price is Right. 
Her talent, beauty, humorous, and generous ways have won her many friends and fans in the entertainment/TV industry. 
RELATED: Shante Broadus: 10 Things to Know About Snoop Dogg's Wife
Kathleen Bradley's Early Life & Rise to Fame
Kathleen got interested in acting after a trip to the theatre with her mother. She started her acting career as early as age 8 in her hometown. At 18, she left Ohio and moved to Los Angeles after graduating from high school. Kathleen took parts in plays, attended modeling classes, and enrolled in pageant shows. That's when she started modeling and won many beauty titles, including Miss Black California in 1971.
She also had a talent for singing. Kathleen was part of the 'Destination' disco group. They had a hit single with a remake of Curtis Mayfield's Move on up.  Later, she formed a singing group known as "The Love Machine." The group comprises of six other upcoming female singers. They were able to perform on stage with many famous entertainers. Some of them included Tom Jones, Julio Iglesias, Duke Ellington, and Sammy Davis Jr. 
Kathleen spent 8 years with the group and decided to leave after getting married to Bill Overton in 1981. She gave birth to her first child, Cheyenne Maree Overton, on 24th August 1982. But unfortunately, she parted ways with her husband the following year.
Happy Sunny. God is good. pic.twitter.com/aRapK8zUT0

— Kathleen Bradley (@Kathleenbradle) September 28, 2019
After five years as a single parent, Kathleen married Terrence Redd, her longtime boyfriend. The couple gave birth to a son on the 3rd of November 1989. He was named after his father.
While she was married, Kathleen never allowed marriage and motherhood to stop her from pursuing her dream. In 1990, she got her big break and became the first African-American Barker's Beauty on the "The Price is Right" show. 
Kathleen stayed on the show from December 1990 to 2000. That's when she made a name for herself in the movies – "Perfume" and "Friday" in 1991 and 1995, respectively. Her most famous role of course is being Ms Parker from Friday. 
Kathleen's career on "The Price is Right" came to an end in 2000. Apparently, things got sour between Kathleen and the then host of the show, Bob Barker. According to Kathleen, Bob fired her after she and some other 'Barker's Beauties' had to testify against him for sacking Holly Hollstrom, another 'Beauty' fellow. 
Diane Parkinson, who used to work with Bob, sued him for sexual harassment. And allegedly, Bob fired Hollstrom for refusing to play along with his plot to tarnish the image of Diane. It appeared that Kathleen's testimony didn't go well with Bob, and he decided to lay her off.
Kathleen's 2014 tell-all book, "Backstage at The Price is Right: Memoirs of a Barker Beauty", lays out all the dirt. It took Kathleen seven years to write the book. 
Life after 'The Price is Right'
Kathleen's career didn't end with the Bob Barker saga. She went on to feature in other shows such as "Access Hollywood", "Grey's Anatomy", "Family Feud", "E!", "A House Divided", and many more.   In 2015, Kathleen also served on 'Showtime', a half-hour sitcom, as a consultant. The show was about the first African-American model to feature on a popular game show in 1990.
Where's Ms Parker Now?
Presently, Kathleen is co-hosting two new talk shows, "Once Upon a Lifetime People and Pioneers" and "For Women". The "For Women" show is a deliberative discussion among four concerned women. They reach out and empower women from all walks of life.
Kathleen continues to promote her book. And in between her busy schedule, she features in movies, voiceovers and TV appearances. 
https://www.instagram.com/p/BStk_tuACGl/?utm_source=ig_embed&ig_rid=05b3aed6-d51d-44bc-a991-256e31f3cb50
At 70, the Veteran actress, a mother of two and a grandmother, is still working hard and turning heads. From the look of things, she's not ready to retire yet. She was recently seen on set to shoot a movie titled "Daughters of Dolomite."
What's the secret behind Ms Parker's lasting beauty? 
From photos on her Instagram page, it seems as though age has never caught up with Ms Parker from Friday. She still looks as flawless and as stunning as ever. Unfortunately, we don't really know what her beauty secret is, but from her IG page, it seems like Ms Parker enjoys golfing and and an active lifestyle. Golfing can be a great way to get some exercise in and also destress. Could that be her secret?