Most Exotic Places to Travel to Without a Passport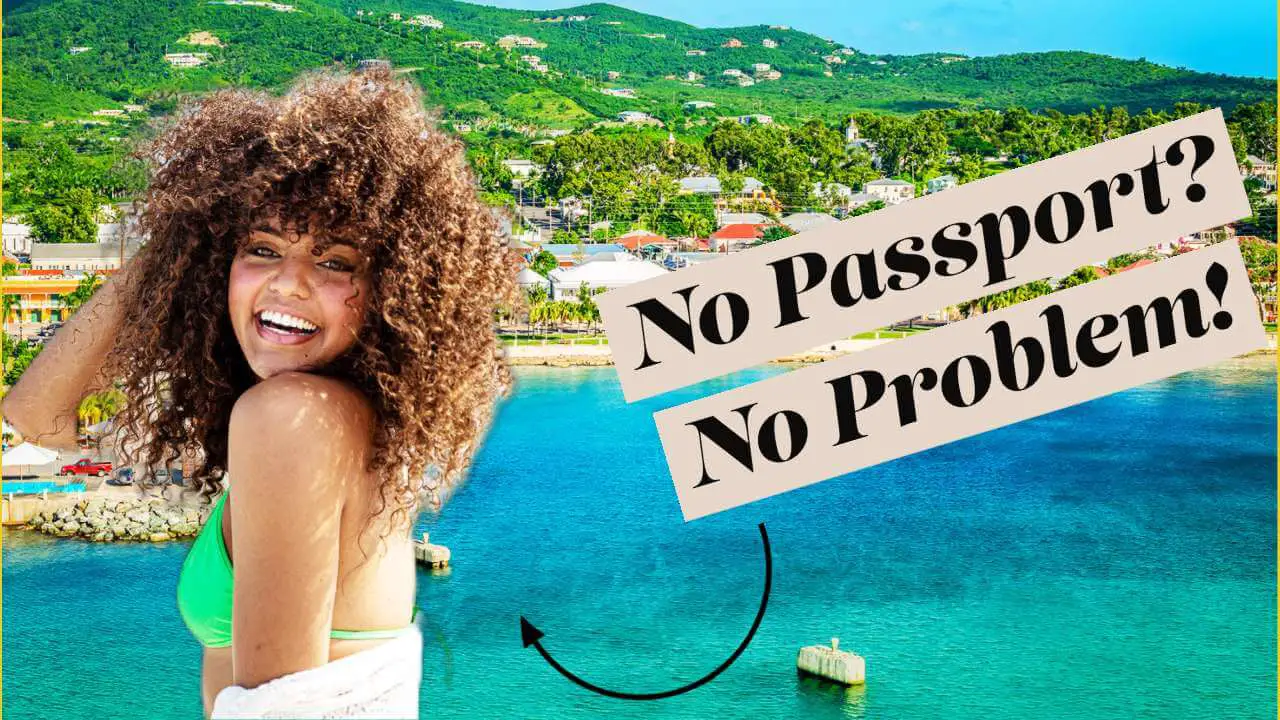 Travel season is upon us but not everyone is ready for it. In the last few years, getting a new passport or renewing your expiring passport has been taking much, much longer and more expensive too. But what if you don't need your passport at all? 
There are two reasons why you don't need a passport to visit these exotic places. They are either US territories or you're visiting them on a closed loop cruise. A closed loop cruise is a cruise that starts and ends at a port in the US, so what you will need is a government issued ID and birth certificate to prove citizenship if you don't have a passport. 
Let's first look at far away, exotic places that are US territories. 
WATCH our video below on this topic.
1. Puerto Rico 
If you don't know by now, Puerto Rico is an unincorporated territory of the United States with official commonwealth status. The island was acquired by the US in 1898 following the Spanish-American war and Puerto Ricans have been US citizens since 1917. 
Besides being a beautiful Caribbean island you can travel to without a passport, Puerto Rico is also very accessible from mainland USA with several fairly inexpensive airfare from several airlines like Southwest and JetBlue, especially if you live in the East Coast. 
The island of Puerto Rico has something for everyone, whether you want to spend the day away as a beach bum or you want to trek through the island's 19 state forests and 5 wildlife refuges, including the only tropical rainforest in the U.S. National Forest System. For the foodies in your group, this island of over 3 million residents has more than 4000 restaurants representing every type of cuisine. To make your travels smooth, the US dollar is used throughout the island and English is also widely spoken. 
RELATED: These 9 Cities Will Pay You To Move There
2. Guam
If you're seeking a vacation in Micronesia that requires no passport, then Guam might be the perfect location for you. Guam is an organized, unincorporated territory of the United States in the Micronesia subregion of the Pacific Ocean. The island is the westernmost point and territory of the United States and has US Navy, Coast Guard, and Air Force bases. The population of the island is only about 170,000 as of 2021.
Guam is popular among divers and is great for snorkeling. If you love hiking, Two Lover point, a cliff-side lookout, offers some amazing panoramas from 400 feet above the Philippines Sea. The downside to Guam is that flights from mainland USA don't come cheap and often involve multiple stops. But you'll have bragging rights of visiting a place not too many people have been to and all without a passport. 
3. American Samoa
This is one exotic Polynesian island that's very close to other famous pacific islands but doesn't get as much traffic. American Samoa is an unincorporated territory of five volcanic islands and is located between Fiji and the Cook Islands. The tourism infrastructure isn't very strong here and hotels and restaurant options are scant, which might be a dream come true or a nightmare depending on what type of traveler you are. 
Uncrowded beaches are common here as is the authentic Samoan culture. Again, flights here are not cheap and connect through Hawaii. 
4. US Virgin Islands
We're back in the Caribbean Sea with the US Virgin Islands, which are made up of 3 main islands plus a scattering of smaller isles. The 3 main islands are St. Thomas, St. Croix, and St. John and they collectively see around 2.6 million visitors each year. Which island you choose to visit depends on what you're looking for from your exotic vacation. 
St. John is known for great diving and tropical parks. St. Thomas is best for those who love to shop as it has countless boutiques and jewelers. The island also has two busy cruise terminals. On the other hand, St. Croix is popular among luxury travelers and honeymooners. You can have one exotic and incredible vacation without a passport regardless of which island you choose to visit. 
5. Northern Mariana Islands
You likely have never heard of these collection of islands and that makes for an intriguing vacation spot. The Northern Mariana Islands are a U.S. commonwealth in the Pacific ocean and are made up of 14 islands. These Micronesian islands have a very interesting history having been governed by Spanish colonists in the 16th century and later on by Japanese forces during WWII. They have been governed by the U.S. since 1944. 
Saipan is the largest island of the Marianas. It's home to several war memorials and museums along with sandy shores and mountainous landscapes. If you're looking for extreme fun, you can go diving in the Grotto, a limestone cavern that's home to sea turtles and reef sharks. 
The Mariana Islands have seen a huge decline in population in the last 2 decades partly due to a drop in tourism. It's estimated that the island currently has around 55,000 residents. Flying to the Northern Mariana Islands will not come cheap or easy as you will likely make at least 2 stops flying from mainland USA. Those stops are often in Hawaii and Guam. There are plenty of accommodations once you get there and most of them are priced surprisingly cheap for the luxury they provide, some of them with incredible views. 
Closed Loop Cruises With No Passport
Now let's get into incredible places you can visit without a passport on closed loop cruises. Although passports are not required on these cruises they're always recommended as you will be visiting foreign countries. You don't want to be stranded in a foreign country without a passport in case you miss your boat. 
Some of these stunning places include Bermuda. 
Bermuda is a British overseas territory known for its pink-sand beaches and boutique lined streets. This is a popular destination for closed-loop cruises departing from the Northeast. 
You can see the Dominican Republic without a passport on one of these closed loop cruises. Most cruises stop in Santo Domingo or Punta Cana. 
You can fly directly to the US Virgin Islands but you can't do the same with the British Virgin Islands, unless you're on one of these closed-loop cruises. In fact, many such cruises visiting St. Thomas and the US Virgin Islands also make a pit stop in Tortola within the British Virgin Islands. 
And then there is the Bahamas, one of the most popular, accessible, and affordable cruise destinations from the US. You don't need a passport here if it's a closed loop cruise, which most of them are. You can even do a 2 day cruise from Miami to the Bahamas. It doesn't get much more convenient and affordable than that! 
Other Caribbean closed-loop cruise destinations that don't require a passport include Jamaica, Belize, Costa Rica, The Cayman Islands, and Turks and Caicos. 
As all these cruise stops are in foreign nations, rules can change anytimes, so always check the requirements before booking a trip.