33 Fabulous Short Hair Styles for Black Women This Season
We are officially in Summer! As many of us are hitting the beach and traveling, the hair woes of black women grows in the hot and humid season. What's one option for easier hair maintenance this season? A big chop!
Below is a list of some fabulous, stunning, gorgeous short hair styles for black women we have gathered for this season.
Rock any of these styles at your discretion. 
1.

Side Swept Bangs with short hair
Classy, and sleek with a touch of sophistication are a few words to describe the side sweep bangs. What's great about this style is the fact that it has a special way of highlighting and emphasizing facial features and you can spice it up a notch by changing the hair color. So if you feel daring, you can go for red or maybe blonde for softer effects.
 2. Regular Pixie Cut
The pixie hairdo is amazing, and a classic, for several reasons. There's the fact that it sits pretty with little maintenance and secondly. And it stays out of your face while accentuating your facial features. So you can apply latest makeup trends knowing your hair won't get in your way.
https://www.instagram.com/p/BzHEfMaj2eP/
3. Blonde Pixie 
How about spicing up your pixie hair up do with some coloring?  Go on, try curly blonde pixie.
https://www.instagram.com/p/By2U2ZWA0g_/
RELATED: 15 Unique Feed-In Braids Styles We Love
3.

Mohawk
If you're a lady who loves to look daring with a touch of fabulous, then go on and lower the sides of your hair while leaving the top voluminous
https://www.instagram.com/p/1ldgB4hAie/
  4. Shaved Head 
Get your hair as low as you can for extremely low hair maintenance. 
5. Timeless And Fashionable Bob
The bob has been around for quite some time, and we dare say that it's not bowing out anytime soon. Celebrities like Rihanna have effortlessly pulled off the classy bob look effortlessly. 
https://www.instagram.com/p/Bkhrq64HdvE/
6.

Short Wavy Bob
We simply nickname this the bob with some swag. All you have to do to get this look is to inform your stylist to touch up your regular bob by adding some waves to it. 

7. Bob with deep side swoop 
Looking out for a style that takes your appeal through the roof and screams grown woman?Try twinning with Gabrielle in her recent hair cut. It's a classy bob with a deep side swoop. And it mixes the wavy bob too. 
https://www.instagram.com/p/BylzAnVlDtl/
8.

The Bantu Knot
Ready for some fun in the sun? Try the bantu knot on your short to medium length hair. 
https://www.instagram.com/p/BzG51qqhmZZ/
RELATED: 25 Black Hairstyles from Around the World to Try!
9.

A Short Natural Hair With Bright Coloring
If you are looking for something that screams unique and beautiful, then you can let your natural hair grow into a low afro and dye it into whatever bright color you love. 
https://www.instagram.com/p/BrlAJTQnbcG/
10.
Angled Bob
If you have thick mane and you are looking for the perfect hairstyle, then angled bobs would be just perfect. 
https://www.instagram.com/p/BzEXpjHAw82/
 11.

The Undercut
This hairstyle was rocked by RiRi herself, and she looked terrific. To twin with her, simply keep the sides short and the top voluminous and long with glorious curls.
https://www.instagram.com/p/BzGvaGuBkS7/
12.

Asymmetrical Bob
Similar to the other Bob hairstyles, but taking the asymmetry to a whole other level. 
https://www.instagram.com/p/ByqSnPSAhIO/
13. High-Low Bob
Short on the back, long on the front gives you high bob cut. 
14. Short Afro
Why not keep it simple with a classic: short afro! 

15. Short Hair With Chopped Layers
All you need to do for this look is to comb your hair back, give it a big cut and ensure it has layers running from front to back.
https://www.instagram.com/p/BxSTFO-FC-v/
RELATED: Nappily Ever After: The Empowerment of Natural Hair  
16.

Faded Glory Cut
Don't let the name scare you. This style is much like the Mohawk except that the top should be a lot more voluminous and should have glorious curls and highlights. Remember to cut the hair at the back slightly lower than the top frontal hair.
https://www.instagram.com/p/BHD0z1QBR6t/
17.

Curly Pixie Mohawk
Instead of shaving your sides like the Mohawk, just slightly lower them and sleek them down. Ensure to introduce some waves.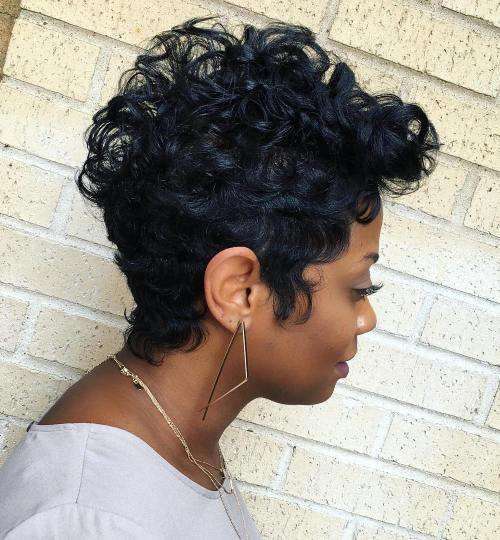 18. Full Fro 
Your midsize afro can be picked to perfection or left to look a little messy. Either way, it's a knockout, and classic, style for black women with short hair. 
19. Platinum bowl cut
Oh, you thought the bowl cut was for kids? Nope, it's for everybody. Add a sparking platinum to it and it's a winner! 
https://www.instagram.com/p/Byq7qCbAZYJ/
RELATED: New Study Shows Hair Care Products Targeted to Black Community Contain Harmful Chemicals 
20. Afro with Fade
Afro in the middle, fade on the edges! Give a classic afro an edge with a nice fade. 
https://www.instagram.com/p/BsnpWuqhkWe/
21. Curly Afro with Designed Edges 
https://www.instagram.com/p/BxmcWEthLH_/
For this style, keep your top hair longer in order to curl it. Then the sides get shaved and a design can be added for extra flare. 
21. Low cut with design 
The cut is lower and the design is more pronounced in this style. 
https://www.instagram.com/p/BrinIwzhdyI/
22. Short Dread Locks, aka Baby Locks
Who said read locks have to be long? You can keep yours nice and short. 
23. Tapered Cuts With Crisp Edges
You will need a barber for this one. Taper your sides, get crisp edges and leave the top with hair enough to do some jelly curls. This can be rocked with short to medium length hair. 
https://www.instagram.com/p/By-VVYnghXe/
24. Feathered Side Swept Pixie Cut
Make your pixie cut slightly longer than usual and create feathered layers at the front.
25. 

 

Faux Hawk Haircut
This style has daring written all over it. To achieve it, lower your sides and the back. Let some curved edges drop at the sides of your ears. Then let the top stand just like punk rockers, or let your natural hair tumble to one side. 
https://www.instagram.com/p/Byd-PzMhUmC/
26. 

A Bob With Bangs
This would always be a timeless and chic classic that is capable of making you all shades of fabulous.
https://www.instagram.com/p/By18slXiQX1/
27.

Spiky Pixie
Halle berry made this look popular years ago and it remains a popular one. 
https://www.instagram.com/p/BnuXLochgxh/
 28. Short & Violet 
Let that inner colorfulness shine through your hair! This is a great hair color for black women too. 
29. Tight curls with bangs
Fun and flirtatious, this style is perfect for black women with short or medium length curly hair. 
30. Blonde Pixie with Curls
If platinum blonde is the color of your choice, try this pixie cut and incorporate some curls for volume and fun. 
https://www.instagram.com/p/BzIR4P1BcDo/
31. Side-parted Afro
Add a part to a classic style for some extra flare. 
32. Short twists
This protective hairstyle is perfect short natural hairstyle for black women. Rock it when you want to give your hair a break from daily maintenance. Or, it can be a permanent style! 
33. Waves for days! 
Let the waves shine! This is a great way to keep your super short hairstyle interesting.  
Let us know which short hairstyle for black women you love in the comments below.