Sydel Curry: The Curry Sister You Might Not Know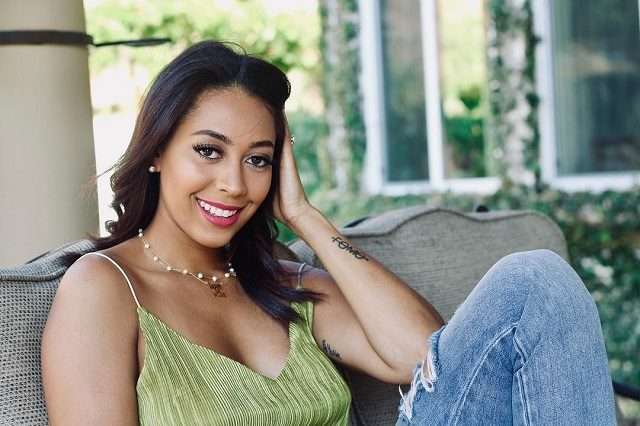 You know the name Curry. Nowadays, basketball and Curry go hand and hand like, well, hand and gloves. But do you know the name Sydel Curry?
She is a former athlete building her own brand through social media and various ventures. For those of you who don't know, we will be introducing you to the Curry sister in this article.
Who is Sydel Curry?
Sydel Curry is the baby sister of basketball stars Steph Curry and Seth Curry. Although born into the world of basketball (their father Dell Curry was also a basketball player), Sydel choice of sports was volleyball. She is a former Division I athlete and retired from volleyball in 2017.
Sydel was born in Charlotte, NA on October 20th, 1994 to Sonya and Dell Curry. She is the youngest sibling in the Curry family and the only girl. As the boys took after their dad in playing basketball, Sydel took after her mother Sonya and took up volleyball.
Sydel led her high school, Charlotte Christian School, to two Southern Section Division IV titles and was named NSCAA High School All-American and Parade Magazine All-American.
"As a volleyball player, I would say I add a sense of calmness to the court but also a sense of competitiveness because I love to win," Sydel  said about her love for volleyball. "I work really hard to be the best I can be and to also allow my teammates to excel, as well. Being a setter, that's a huge part of what I do and that's what I love to do."
Sydel attended Elon University where she continued to play volleyball. However, due to several injuries, she had to retire from the game of volleyball in 2017.
When announcing her retirement from volleyball, Sydel said: ""I never thought that my first grown up decision about my future would be something so difficult. I have dedicated so much of my life, my identity to my sport. As an athlete and a competitor, I will always want to put my sport before a lot of things. As much as I want nothing more than to have played my 5th year I know that some things, like injuries, are out of my control and I put all of that in God's hands. This is an unexpected end to an amazing chapter that I thank God for every single day."
RELATED: These Black Celebrity Kids Are Paving Their Own Path 
Sydel Curry and Damion Lee
After almost five years of dating, Sydel Curry and NBA player Damion Lee got engaged in 2018. The pair started dating back when Sydel was still in college. Damion plays for the Golden State Worriers alongside her brother Steph Curry.
According to Sydel, she knew Damion was the one when they first started dating. They went on their first four dates in just five days.
https://www.instagram.com/p/BsUReDYAKSl/
"The engagement definitely caught me as a surprise [because] I thought that it would take him forever to ask me to marry him because it felt like it took him forever to ask me to be his girlfriend. But we had talked about," Sydel told Essence. "We both told each other that we loved each other and wanted to get married eventually when the time came. And so the fact that we are engaged, I'm not surprised because I knew it would get there eventually."
Sydel and Damion got married on September 1, 2018 in a beautiful celebration of love in Charlotte, North Carolina. The massive wedding party included nine bridesmaids and nine groomsmen, all looking fashionable in black.
https://www.instagram.com/p/BnPxuIDhS95/
RELATED: How Kevin Hart Turned Rejection to Net Worth of $200 Million
Sydel Curry's Passion for Mental Health
Sydel Curry has long been passionate about advocating for mental health. She graduated with a Master's degree in Psychology and wants to devote her life to the field. More specifically, she wants to be a family therapist.
"I want to be a marriage and family therapist. I've always had a passion for people and knew I wanted to be a counselor," Sydel told The Undefeated.  "It's important that we really nurture ourselves and relationships, and sometimes we need someone to lead the way. I've had a counselor — since a bad relationship I was in, out of high school — and she has really helped me. So I want to be that for someone/others."
In an effort to de-stigmatized mental health issues, Sydel has openly spoken about her anxiety issues and often talks about mental well being on her YouTube channel.
RELATED: Tika Sumpter: The Rise of the Sassy & Beautiful Actress 
Sydel Curry's Many Ventures
Sydel and sister-in-law Ayesha Curry launched their own wine called Domaine Curry recently. "Ayesha and I wanted to do a project together that explains our relationship and explains the women in our family," Sydel said. "The 2015 vintage is called Femme 31. In Proverbs 31, it talks about the virtuous woman. There's a Scripture there that explains how a woman gains her earnings in the field and plants her vineyard. The virtuous woman takes care of her family and herself, just like the women in our family. We wanted to make something we can pass on to (nieces) Riley, Ryan and future daughter and all of the Curry women."
https://www.instagram.com/p/BuzbnSgg-wr/?utm_source=ig_embed
The relationship between these two is heartwarming. Ayesha was Sydel's matron of honor and Sydel often comes to the defense of Ayesha whenever there is any criticism of her famous and talented sister-in-law. Ayesha was by Sydel's side as she picked her wedding dress on Say Yes to the Dress. 
RELATED: Maia Campbell: What Happened to the '90s Star?
Sydel's Growing Influence
Sydel has an impressive following on social media that continues to grow. She shares her passion for fashion, family, and mental health to her over 700k followers on Instagram and YouTube.
What is most attractive about Sydel is her openness when it comes to sharing the ups and downs of life in the public eye. And when she needs to defend her family against hate on social media, she is not shy about it.
Once, she confronted a Cleveland fan that attacked her family, including her niece Riley, on Twitter. When the fan told Sydel and family to leave Cleveland, Sydel was quick to respond. Their public back and forth led to the firing on the Cleveland fan.
Moral of the story? Don't mess with Sydel and the Curry family.
https://www.instagram.com/p/B9QSu0LHWEk/