The Incredible Story Behind The Oldest Known Portraits Of A Black Couple In America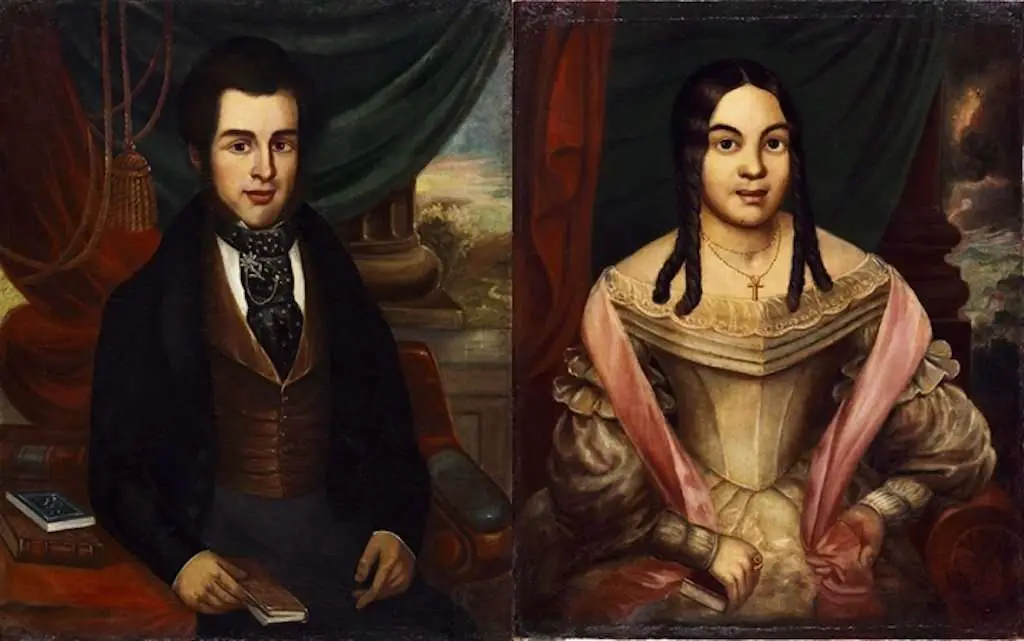 The oldest known portraits of a black couple was found under the mattress of a family descendant of the Montiers, a prominent black family from Philadelphia. And it connects back to the first mayor of Philadelphia, Humphrey Morrey.
Humphrey Morrey owned slaves. One of the slaves he freed upon his death in 1715 was a young woman named Cremona Satterthwaite. Although freed, Cremona continued to work for the Morrey family as a house servant, where she began a romantic relationship with Humphrey's son, Richard. They had a common law marriage that produced five children, among them Cremona Jr.
Cremona Jr's son, Hiram, wed Elizabeth Brown, who was also of mixed background, when they were both in their early twenties. To celebrate their marriage, they sat down for portraits by artist Franklin R. Street in 1841. The paintings were done elegantly on an oil canvas, complete with books to demonstrate the couple was literate. The Montiers were land owners, a rare accomplishment in the 1800s for a black family, and prominent figures in their community.
RELATED: Georgetown Enslaved Her Ancestors. This Grandma Is Now A Freshman At The University 
Fast forward to the late 20th century and we find Bill Pickens, a great-great grandson of Hiram Charles and Elizabeth Brown Montier. He grew up hearing about the incredible stories of his family from his mother and was well aware of the prominence of the Montier family.
In the late 1990s, a portrait of Hiram and Elizabeth was discovered under the bed of Bill's great-uncle Joe. Bill and his wife Patricia took possession of the paintings and finally decided to share them with the world in 2009, following an important event in US history: the election of the first black president in America.
The Pickens' decided to loan the painting to the Philadelphia Museum of Art, where it is currently in display.
A new documentary, The Montiers: An American Story, delves into this family's incredible history. Speaking on why he decided to share the portraits with the public, Bill Pickens said he wanted young people to understand that "even in 1840, black folks were doing their thing." The film premiered at the Philadelphia Museum of Art on March 14 and the descendants of the Montiers family came to celebrate their family.
Watch The Montiers: An American Story here.