Yung Miami's Net Worth And Rise to Stardom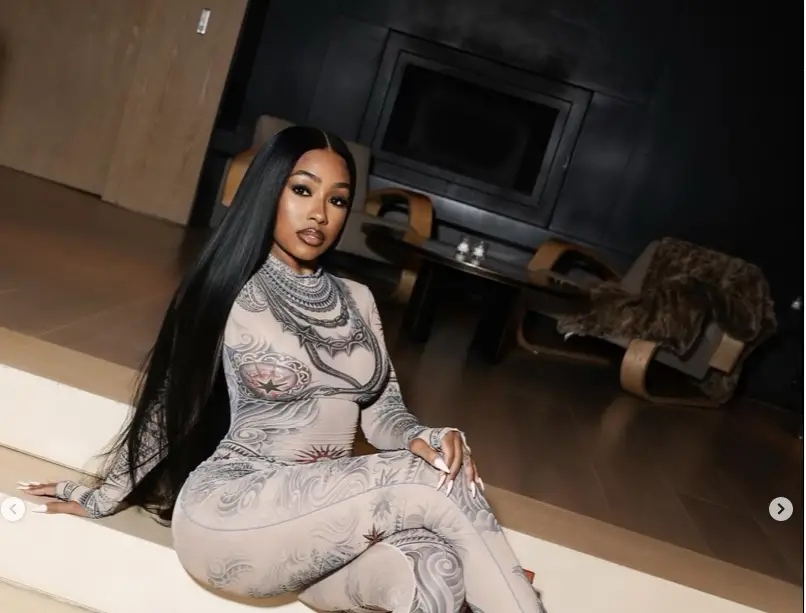 Yung Miami, whose real name is Caresha Romeka Brownlee, is a popular
rapper, fashion designer, and social media influencer. Her meteoric rise to fame is
phenomenal; that explains why people keep asking about Yung Miami's net worth.

Born in Miami, Florida in February 1994, Yung Miami has always been passionate about
music. According to her, she fell in love with trap music at a very young age. But before she started rapping, she was an instagram influencer who had her own fashion line. And she has over 30 million followers across social media platforms.
Yung Miami's Break Through With City Girls
Yung Miami officially started her rapping career as a member of the City Girls group. It's a
rap duo she started with her friend, Jatavia Shakara Johnson popularly known as JT.
However, people started noticing Yung Miami and JT when they made an uncredited
appearance on Drake's chart-topping single "In My Feelings" in 2018.
Over time, people fell in love with their infectious and unapologetic lyrics, and more
importantly their energetic performances. The duo's meteoric rise to fame started with their debut single "Fuck Dat Nigga". It was like a diss track towards their ex-boyfriends for being stingy towards them.
Yung Miami leveraged her social media followers to promote the song. And within a short
while, it went viral. It caught the attention of Pierre "Pee" Thomas, who later signed them to his label, Quality Control Music.
Interestingly, after signing to Quality Control Music, the duo ranked as the most famous
upcoming artist of the week. So, in 2018, they released their debut studio album "Period." The album gained instant popularity.
RELATED: ishowspeed: The Teenage Streamer Making Millions
Later that year, they released their sophomore album "Girl Code." It helped them secure
their position in the rapping industry as they featured rappers like Cardi B and Lil Baby.
Yung Miami Rapping Career When JT was in Prison
In 2018, Yung Miami's friend and rapping partner, JT got arrested and charged for identity
theft. It was a challenging moment for the group. But Yung Miami held down the fort and became the Solo City Girl. She made relentless efforts to ensure that their name "City Girls" remained relevant in the industry.
So, she recorded songs alone and even made appearances alone. In fact, she went the
extra mile to promote the group's music. Sometimes, she would go to strip clubs and pay a
DJ to play the song.
The efforts she made during her time as Solo City Girl contributed greatly to Yung Miami's
Net Worth. How she remained loyal and dedicated to their journey, even when her friend was in jail endeared a lot of fans to her.
Yung Miami's Business Ventures
Yung Miami's net worth is not from music alone; she has several other business ventures.
Over the years, the hip hop artist partners with iconic fashion brands like "Savage x Fenty"
and Fashion Nova.
These partnerships earned her lots of endorsement deals and increased her streams of
income.

Yung Miami's Net Worth
Now it's time to answer the question, what's Yung Miami's net worth? According to multiple
online sources like Forbes and Bloomberg, Yung Miami has a net worth of $5 million.
Her rapping career as well as her social media presence, with over 30 million followers across social media platforms, has helped her build this fortune.
At some point in her career, she had over $10 million. Unfortunately, she had legal issues
with another artist that ate into her net worth. She settled out of court and paid the artist a whopping sum of $5 million.
Yung Miami's Philanthropy and Community Involvement
Even though Yung Miami is now very successful, she still remembers where she came
from. Since she came to the limelight in the music scene, Yung Miami has been giving back to her community. And she uses her social media platforms to raise awareness on various social issues affecting her community.
In fact, she once donated $25,000 to a Florida based NGO. The organization helps
women who were formerly imprisoned to reintegrate back into the society. Yung Miami takes humanitarian related causes very seriously. That explains why she always
engages in volunteer activities and gives back to the needy during holiday seasons.
Yung Miami's Kids and Relationships
Apart from being a singer, a rapper, a fashionista, and social media influencer, Yung Miami is also a dedicated mother of two. She has a son and a daughter.
Jai Malik Wiggins Jr. is Yung Miami and her late ex-boyfriend, Jai Wiggins' first child. He
was born on the 26th of June, 2013 when his parents were in a rocky relationship that ended
in 2015. Yung Miami had to file a temporary restraining order after their separation due to alleged physical harassment by Jai Wiggins.
It was rumored that Jai punched Yung Miami in the face and she suffered severe injuries
on her face and lips. As a result, the court granted her full custody of her son. Jai Wiggins died in 2020 after sustaining severe injuries during a shoot off.
Yung Miami's second child is Summer Miami Luellen. She was born on the 16th of October,
2019. Summer Miami Luellen's father is Joshua Howard Luellen, popularly known as Southside. He's a record producer and is famous for some of his hit songs like Wai a Pao Baby and Save Me.
Yung Miami and Southside were in a relationship between 2018 and 2020. Although Yung Miami and Southside are no longer together, they have been co-parenting their daughter.
Yung Miami's Relationship with Diddy
Yung Miami and Diddy were first linked in 2021 and they confirmed they were dating in June 2022.
The two had an open relationship and Yung Miami told XXL that their relationship confuses some people. She said, "People don't know what dating means. He's single, I'm single, but we're dating. That's what I mean when I say we go together. When we're together, we're together. We're having the time of our lives, but we're still single."
By April 2023, it was reported that Yung Miami and Diddy had separated. In an interview with The Cut, Yung Miami said, "We're still friends! We're still good friends! But we're single. Thats not my man."