10 Best Tourist Destinations in England You Never Thought About
Ten Best Tourist destinations in England – get your backpack ready! England might not strike you at first as the best tourism destination right now. More so, considering it making the headlines over Brexit and other not so pleasant news. England – tourism? You might be tempted to look elsewhere.
Hey! You have the world at your feet to pick any travel location of interest. Or maybe you do a wild goose chase like in the days of yore, by sticking a pin into a map. Well, going with the travel expert opinion at Lonely Planet, I did wait to read this article and get a better-researched travel guide for the holidays.
After careful polls at Lonely Planet, using social media and other expert opinions, England turns out the best tourist destinations in the world after Bhutan for 2020. England has a small African American population of less than 4%. However, blacks can enjoy the best of the holiday in England's luxurious tourism estate. So, here is what to expect when on a voyage to the world's second-best tourist destination, England.
Top 10 Must-See Tourist Destinations in England
The English Coastline
The English coastline once provided a source of defense against invasion in England. But now it has become one of the best tourist destinations in England. The tourism spot offers endless opportunities for fun-lovers in a tranquil location. It's exciting for taking a walk, building sandcastles, dolphin-spotting, consuming spicy fish and chips, or taking a peek at marine life. What's more, the coastline has an abundance of fossils at the cliffs, all at the seaside.
Once the entire England Coast Path becomes fully opened, you would have 2,795 miles of Britain's epic coastline to contend. You should have more spectacles to see at the lonely lighthouses, white beaches, and steep headlands. The coastline network will incorporate the shorelines of South West, Scotland, and Wales in 2020. By then, you did be dealing with the longest coastline in all of Europe.
England has a long list of epic structures to keep you wowed all through your visit. Top on the list is the Tower of London, one of the best tourist destinations in England you must visit. For a World Heritage Site with 18 acres of floor space, I dare say you should get pre-occupied for a couple of hours. The Tower of London houses a treasure vault, palace, prison, menagerie, observatory, etc. 
At the center of the magnificent edifice is the White Tower. The Tower dates back to 1078 during the reign of William the Conqueror and now holds several exhibitions like the Line of Kings with its dazzling display of royal armor. Other things to see once there include the Yeoman Warder Tours, Crown Jewels, Royal Mint.  
You can't get enough of the splendor of nature, visiting some of the best tourist destinations in England. One top destination in mind is the English Stonehenge. The Stonehenge is one of Europe's most notable pre-historic monuments. Please include ticket fees (timed ticket) in your budget and plan purchasing early enough. That also goes to tell you the high traffic of visitors to the henge. 
The Stonehenge presents over 3,000 to 1,500 BC history of the stone. However, the available audio-visual explanations and more will help make the tour a complete knowledgeable experience. The Stonehenge is at the Salisbury Plain, Shrewton, Wiltshire
The Canterbury Cathedral is more than just a religious building or home of the Archbishop of Canterbury. The structure represents the cradle of the English church or Christianity. This World Heritage site is a wonder and world tourist destination in England. Located at the heart of Canterbury, the Cathedral location was where St. Augustine in 597 lead Anglo Saxon unbelievers to Christianity. 
Besides a visit to the Cathedral, medieval Canterbury city has its share of beautiful structures, entertainment, and popular culture. You can get a feel of medieval England – the Chaucer, England during the Roman empire, go shopping, see the galleries, and more. Locate the Cathedral at 11 Precincts, Canterbury.
You can head out to Abbey Chambers, Abbey Churchyard Baths, to see one of the best tourist destinations in England. The Roman Baths is a small but charming English city with its over 2,000 years Roman Baths that utilizes the city's hot spring. Another notable feature of Roman Bath is the honey-colored Georgian Townhouses. You can get a full view of townhouses at the Royal Crescent. 
The Roman Baths are one of the few cities with the World Heritage status. What else should you expect from a city with exquisite structures or architectural designs and historic lining? Take time out to explore the bathhouse countryside- Mendip Hills, Avon Valley, and other exciting Somerset landmarks.
Are you tired of building castles in the air? Well, now its time to see the physical Warwick castle at the River Avon, Warwick. I must warn you, Warwick castle is breathtaking, so get a grip of yourself! The Warwick castle for a tourist destination in England will genuinely give you an impressive medieval experience. The castle stands tall with over 900 years of existence, providing beautiful scenery for a reenactment of medieval events. Hence, it has been a favorite location for fairs, festivals, and concerts. 
Good news! From Warwick, you could make a brief stopover at Manchester, Liverpool, Stratford-upon-Avon. There is more about England you should see before you make the journey back home. And did I forget to mention Cotswolds? 
The Cotswolds
If you didn't see the Cotswolds, then your tourist destinations in England trip were half achieved, I must say! Cotwolds is at the Alexandra Warehouse, Llanthoney Road, Gloucester, and seats on a 787 square miles of property with some of England's loveliest counties. Counties like Warwickshire, Worcestershire, Gloucestershire, Oxfordshire, Somerset, and Wiltshire. 
The Cotwolds is known as the Area of Outstanding Natural Beauty in England because of its rare collection of limestone grassland. Also, it has rich beech woodland and habitat, a team of quaint towns and villages from the past. You would enjoy the trip better on foot on a 10-mile walk across the Vale of Evesham and Severn Valley. Some of the towns to visit are the Chipping Norton, Castle Comber, and Tetbury. 
The York Minster lay at the heart of York and sandwiched between half-timber houses, shops, churches, and medieval guildhalls. Within the city is a stretch of three miles of impressive town walls. You can walk on those walls to see how magnificent this medieval, romantic city looks. Other exciting places to see in Yorkshire include the most visited tourist destinations in England; National Railway Museum. You could also check out towns like Beverley, Durham, North York Moors, Yorkshire, and Dales to experience the glamour of the cities.
Museum and Gallery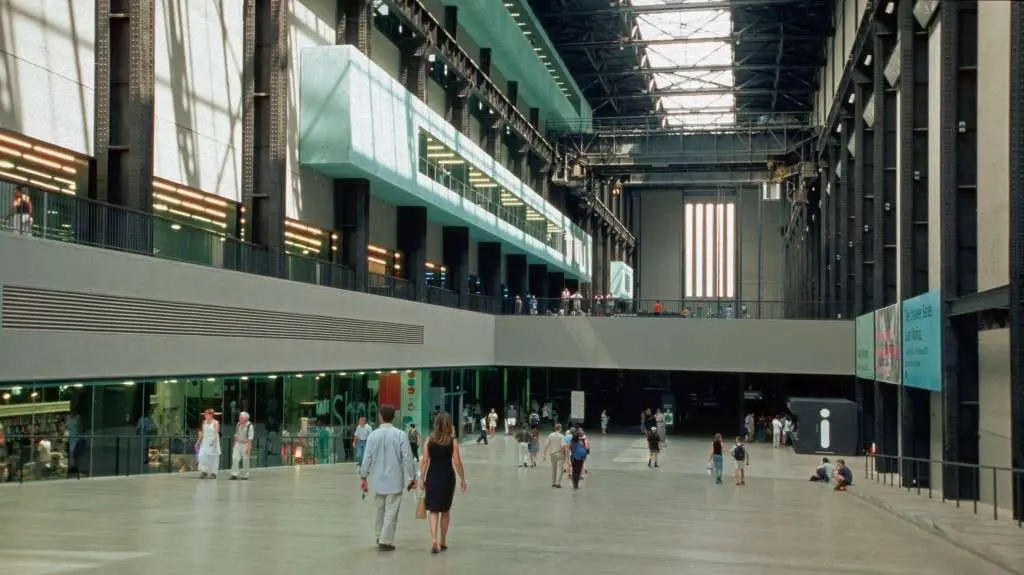 Tate Modern is an impressive inclusion in the list of must-visit tourist destinations in England. Its exhilarating natural wonders and structures would make your trip a minus without even a brief stop here. So, head out to the Bankside, London, to see one of England's most visited tourist destinations to date. The museum houses magnificent contemporary arts like works on paper, paintings, installations, films, sculptures, etc. Art pieces to look out for include famous names like Rothko, Picasso, Matisse, Dali, and Modigliani. 
Also, remember to experience first-hand the museum's 360-degree view to see the River Thames and London Skyline.
National Gallery, Trafalgar Square, London, is the second most visited museum in London. It has one of the most robust collections of paintings in the world from 1260 to 1920 European paintings. You will find works from notable Italian artists like Leonardo da Vinci, Fra Angelico, Correggio, Tintoretto, Titian, Bellini, Giotto, and Veronese. 
Lake District National Park
It's a fact that Lake District National Park is one of the best tourist destinations in England you need to see. The lake has over 12 out of the total lakes in England stretching over 2,000 miles. Other lakes to see are the Scafell Pike with 3,210 feet, and England's highest mountain. Also, go on a cruise on Lake Ullswater and Windermere. 
You will find more tourist destinations in England than you can explore in a single visit. But if you need more suggestions, the British Museum with over 13 million artifacts from across the world is in Great Russell Street to check out. Also, the Royal Museums Greenwich at the King William Walk, Greenwich, London, would make an excellent choice to explore. However, always remember to get your backpack and other travel gears intact before the trip. Also, you could consider traveling in a Campervan for a more relaxed and splendid trip.
Also, Check Related Stories:
Top 10 World Travel Destinations to See in Your Lifetime
These are the Best Times to Visit Africa by Season
Skeleton Coast: African Most Untamed Coast
The First-Ever All Black American Team Expedition Team Climbs Mount Kilimanjaro