25 Black Hairstyles from Around the World to Try!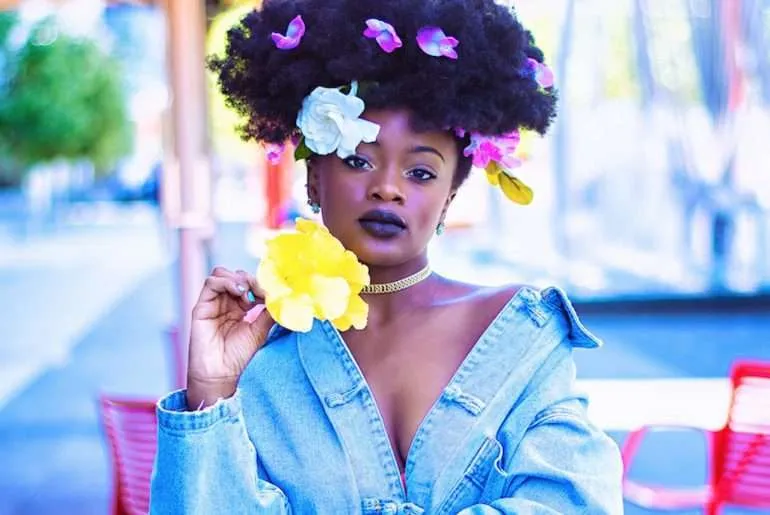 Who's ready to explore the world of black hairstyles?? 
If you're anything like us, then you are obsessed with scrolling through Instagram, looking for what the rest of the world is rocking in the world of fashion. And when it comes to black hairstyles, social media is filled with inspirational looks, curtsy of style influencers and everyday people jut putting their best looks forward.
If you are an adventurous soul, we have 25 black hairstyles from around the world for you to try, in no particular order. 
Let's start with our neighbor to the north, Canada! 
1. Half buns from Canada
https://www.instagram.com/p/BgrGZE_nOac/?taken-by=14.free
The great thing about buns is they can be achieved whether your hair is straight, braided, or in its natural form (given your hair is long enough to be tied up).
What we love about this look is the casualness of it while still looking very polished. It is a style you can rock at the beach or for a meeting. If you're having your hair braided in long singles for the summer (or any season), this is definitely a look to try out. 
2. Afro with shaved side from Brazil
https://www.instagram.com/p/BkOnMSkhhwK/?tagged=blackbrazilian
Afros are a classic look for natural black hair because it is the most natural state of black hair at most lengths.
If you are tired of wearing the same type of afro, why not spice it up by shaving your sides? The shave can be of a small section as pictured above or can be of the whole side. Go bold and add designs on it too! 
3. Shuruba (traditional braids) from Ethiopia
https://www.instagram.com/p/BjTC7xQnewi/?taken-by=habeshaweddings
Braids are known as Shuruba in Amharic (the primary language of Ethiopia). The traditional braids shown above are a common look for the Tigre tribe in the north and are usually sported by brides for part of their wedding celebration.
Skinny and thick cornrows are alternated almost all the way to the back and then the rest of the hair is left unbraided. It is often decorated with gold for the bride. 
4. Upside-down French braid from France
https://www.instagram.com/p/BM_3wVPB0z9/?utm_source=ig_embed
This upside down French braid is such a classic and beautiful look that will never go out of style. The trick is getting it right while braiding from the back of your head to the front.  It doesn't hurt to have a friend help you out on this one, but you can get it done yourself too.
Learn how to braid this on yourself and all the fun ways you can style the front in the video below. 
5. The massive side-ponytail from Ghana

 
https://www.instagram.com/p/Bjm7y1RAw7-/?taken-by=abiba_locks
If you have a formal event to attend, why not try this massive side ponytail? Yes, it looks a bit intimidating but it is a great formal look for naturalistas. It will compliment any look, formal or not, and will definitely be a show stopper. Ghanian actress Lydia Forson rocked this look at an award show and slayyyyy'd! 
RELATED: New Study Shows Hair Care Products Targeted To Black Community Contain Harmful Chemicals 
6. The Finger-Coiled Pixie from Kenya
https://www.instagram.com/p/BFjiciSpFru/?utm_source=ig_embed
This is such a fresh and cool look!
This perfect short hairstyle for black women is hip and fairly easy to maintain. 
The finger-coiled pixie is a winner for any occasion and any season. To make this short haircut look even more fierce, add designs to the shaved part of your hair. Or rock it with a bold color you can switch out when seasons change or simply when you feel like it. 
7. Twisted goddess from Nigeria
https://www.instagram.com/p/BhWxllMjuG5/?taken-by=makemesalon
Warning: this hair style is not for the faint of heart! But, it is probably one of the most glamorous looks you can pull off with your long single twists. Can't you just imagine walking into a ballroom, working the red carpet, or walking down the aisle looking like a goddess?! Yasssss! 
8. Colorful head wrap with a peek from Colombia 
https://www.instagram.com/p/BjIRcr-BLE7/?taken-by=marian_conene
Sometimes, just a peak of hair is enough, especially if styled with a beautiful wrap as shown above.
Go for colorful wraps for Spring and Summer and do muted colors for Fall and Winter. And compliment the bold wrap with other bold accessaries! 
This is one of our favorite hairstyles for natural hair because you can be lazy with it 🙂 
9. Layered locks from Jamaica
https://www.instagram.com/p/BbZ3fRjFx0s/?utm_source=ig_embed
If you have locks you have been wearing in the same length for years, spice up the look by layering them.
This look will give your locks a fun and fresh look. Layering is by no means reserved for straight hair only. 
10. Sleek two-braid with long extensions From Bermuda  
https://www.instagram.com/p/BUKosFqADxX/?hl=en&taken-by=rochelle_nm
This is an easy style you can rock in between different looks or when you don't have hours to spend on doing your hair.
Do a normal two braid and add extensions to the ends for a fun look. Just make sure to have the braids tight and slick to make this look effortless but polished. 
11. Feed-in ponytail from England
https://www.instagram.com/p/Bp2uaSunRXG/
We love cornrows because they are so versatile.
This feed-in ponytail perfect if you're in a mood to whip around your hair from time to time but still have it stay put. This is also a great style for kids, whether they're in school or out for the summer. 
RELATED: The Top 3 Short Natural Hairstyles We Are Currently Loving 
12. Colorful locks from Japan
https://www.instagram.com/p/BkJCABDHD9J/?tagged=blackinjapan
Color, color, color!
Experiment with it and have fun with it, especially when the hair is not yours, and you don't have to worry about damaging it. So, pick the hair color of your dreams!
Colorful twists and locks have made a splash into the fashion industry and don't seem to be going anywhere anytime soon. Celebrities like Alicia Keys have also embraced this exciting look. 
13. The Fulani with afro from South Africa
When AfroPunk comes into town, the ladies of South Africa show off their most interesting hairstyles.
We absolutely adore this Fulani style for mixing braids, afro, and beads! It is even more beautiful when worn with a smile. 
14. The Fulani with side ponytails from Gabon 
https://www.instagram.com/p/BjPWF-4H2JI/?tagged=gabonesegirl
Fulani braids are as diverse as the Fula people, the group the style is named after.
The Fula people, aka Fulani or Fulbe, are one of the largest ethnic groups in the Sahel and West Africa. This look, sported by a Gabonese beauty, is fit for an African princess, regardless of where she might reside. 
RELATED: What Swapping Straight Hair For Braids Taught This Woman About Beauty 
15. Curls with bangz from U.S.A 
https://www.instagram.com/p/Bcs7YWKhAFp/?taken-by=naturallynella
Although beautifully moisturized curls with different pattern can be achieved in different ways, they all have one thing in common: they are simply gorgeous.
When you pair these beautiful natural curls with bangs, the result is stu-nning!
If you're nervous about cutting bangs on your natural hair, watch the video below for a trick on how to achieve the look without the chop. 
16. Updo with a shaved side from Tanzania 
https://www.instagram.com/p/BjnD5NplYGB/?taken-by=rubie_dela_fuente
The updo with a shaved size is a red hot look!
You can add highlights in your braids to make this hot look even hotter or keep it simply one color. Either way, you are bound to garner compliments anywhere you rock this look. 
17. Short afro from Portugal 
https://www.instagram.com/p/Bg_o-LVBBJf/?taken-by=mariina_pina
Short, simple, and lovely! What else can be said about this beautiful natural black hair sported by a natural beauty from Portugal?
This is another simple short natural hairstyle we absolutely love!
If you have short hair and often do protective styling, let your hair breath from time to time in a stylish mini-afro. Accessories in bold pieces to balance out the simple look.  
RELATED: These Natural Hair Advocates Will Help You Embrace Yours 
18. Shaved head from Mali 
https://www.instagram.com/p/BrxtLkWnqUY/
Make the Dora Milaje of Wakanda proud by shaving it all off!
You don't have to be looking for a fresh start to try out a shaved head, because it is a beautiful style of its own and not simply a "transitional" look.
It is a total emancipation from the beauty standard that brainwashed us to believe long hair is necessary to make a woman beautiful.  Look at this black beauty from Mali rocking a shaved head in all her glory and femininity. 
19. Golden locks from Russia 
https://www.instagram.com/p/BWvi5VonHFy/?taken-by=jusya_madness
Golden locks can be added as highlights or be the main show of your style.
Either way, they are a great way to add color to your hairstyle, especially if you're not ready to cross over to unconventional colors like blue and purple. 
20.  Turban from Italy 
https://www.instagram.com/p/BpOxWccghCr/
Turbans have long been a go to accessary and a religious staple, but they have made a huge comeback recently in the black hair world. 
You can keep it colorful or in neutral colors to match your wardrobe. 
21. Pom Poms/Twin Buns from Senegal 
https://www.instagram.com/p/BsIth_qAPaK/
This is such a fun hairstyle for naturalistas of any age. 
Although we think of pom pom styles more fitting for younger girls, it actually can be worn by young adults and even older women with a little bit of an adjustment. 
22. Headband Twisties with Donut Bun from India 
https://www.instagram.com/p/Bntf3OXFDWP/
Simple to do and beautiful to look at!
This hairdo is a do for an office day or an evening out. Since everything else about the style is simple, you can make the headband the star of the show. This is one of our favorite short black hairstyles.
23. Slanted Up-do from Australia 
https://www.instagram.com/p/Bp_napqAi_-/
Up-dos might be a classic look but they don't have to be generic or boring.
Like this natural hair goddess from Australia, you can add a twist to your up-do by making it a statement piece. 
24. Loose waves from Bolivia 
https://www.instagram.com/p/BrLIM0HAYAE/
If you have long hair but never have rocked waves, it just might be the time to try it out. Just look how breezy and beautiful it looks on this Bolivian slayer. 
25. The Side Swoop from Mexico 
https://www.instagram.com/p/BrdmknoBqn6/
If you've always loved the swoop over look but thought you would need straight hair to pull it off, this Mexican beauty is here to show you that it can be done with curly hair too.
Try it with a twist out, braid out, or a wash and go. 
Which international style has captured your interest? Let us know below!