Empowering Social Media Photos from The Racial Justice & Black Women March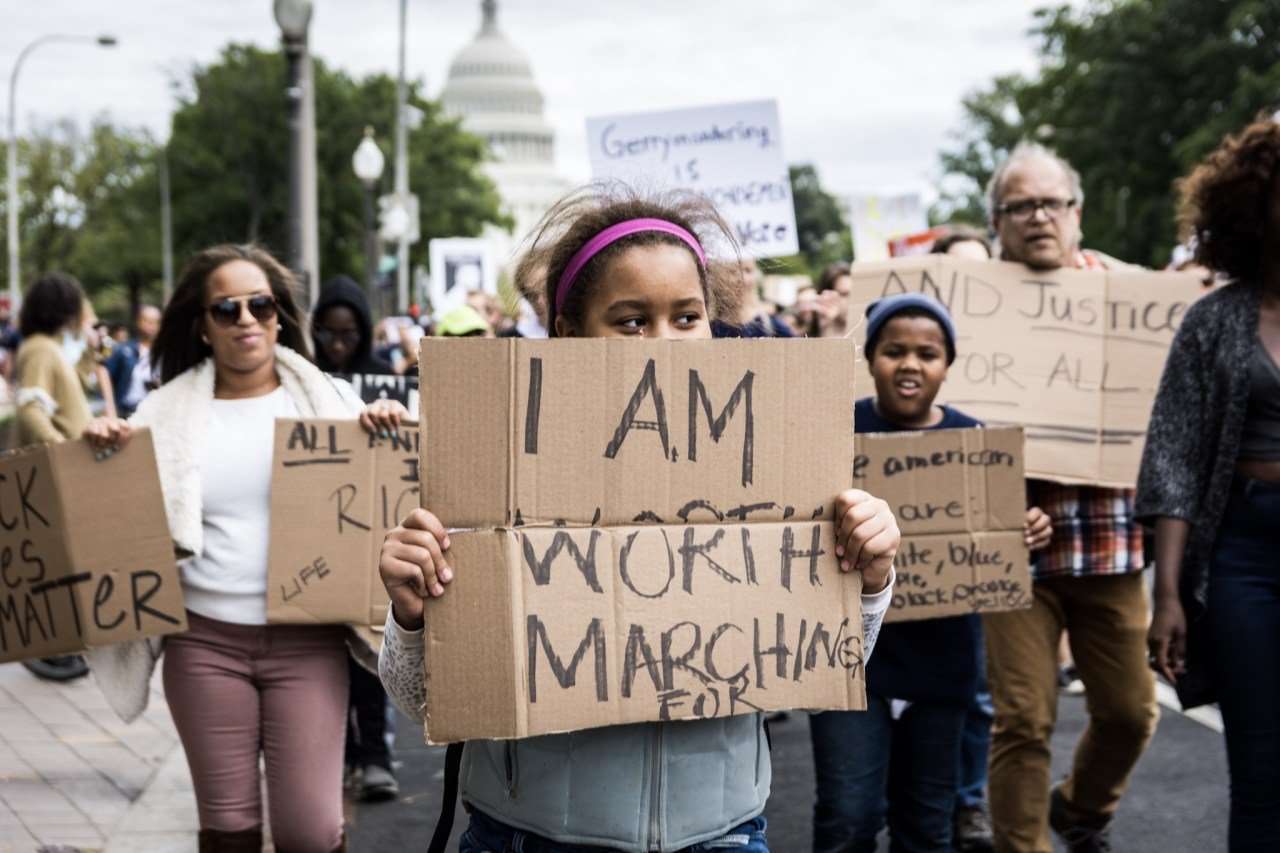 This past Saturday, September 30th, two marches for two overlapping causes came together for one large demonstration in Washington D.C. The March for Racial Justice and the March for Black Women coordinated to start out marching separately and meet up to march past the Department of Justice headquarters and to the National Mall.
Speakers at the rallies included Gloria Steinem, Linda Sarsour, and Valerie Castile. Although marches for racial justice have been going on consistently since Black Lives Matter and police shooting of unarmed black men took center stage few years ago, President Trump's recent comments about Charlottesville and NFL players who protest has reinvigorated the issue.
The rallies fell on the anniversary of the three day massacre of over 100 black activists in Arkansas that took place in 1919. The Elaine Massacre escalated into a mob violence from a conflict that began on the night of September 30th when black sharecroppers attended a meeting of the Progressive Farmers and Household Union of America in order to obtain better payments for their cotton crops.  This is just one example of the racial justice movement that has taken on various fronts, from labor exploitation to police shootings.
As the struggle continues, social media has blessed us with the ability to share the movement with anybody around the world that is willing to be a part of it. Whether the marches take place in D.C or LA, we can follow what is going on instantly and feel part of a larger group that is seeking equality and justice for not just blacks but for immigrants, the LGBTQ community, and Native Americans.
Here are some of the most empowering social media photos from the March for Racial Justice and March for Black Women.
https://www.instagram.com/p/BZwwNUVhCUK/?tagged=m4bw
https://www.instagram.com/p/BZugpoEAXUi/?tagged=m4bw
An attack on one of us is an attack on all of us. Who's next?
https://www.instagram.com/p/BZubMdWldCp/?tagged=m4bw
#takeaknee for racial justice. Let's keep in mind that taking a knee was about police shooting of unarmed black men and racial injustice. It is not solely about defying President Trump.
https://www.instagram.com/p/BZuG3ODn-tL/?tagged=m4bw
We love parents who take their kids to rallies. Teach them young!
https://www.instagram.com/p/BZt_Ug9l2S1/?tagged=m4bw
Last but not least, racial justice is not just a black issues. It's a human issue.