The Life and Death of Freeda Foreman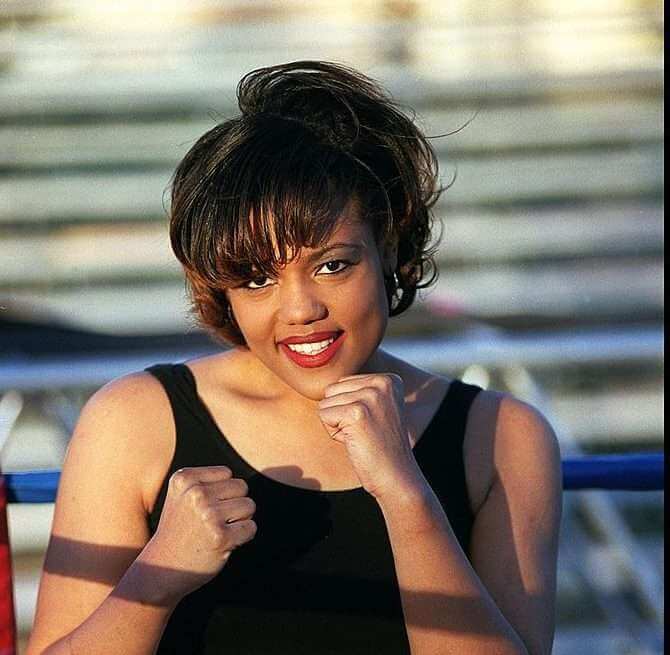 Freeda Foreman grew up with a famous father. Much like her boxing father, she wanted to be a boxer herself. And she achieved it.
Unfortunately, Freeda Foreman's life came to an abrupt end at the prime of life. She was found dead in her apartment in Houston, Texas, on March 10, 2019. Before her death, she was a lively person, a retired boxer, boxing promoter, and a television personality.
Freeda's Early Life
Freeda was born in Texas on October 16, 1976. Her family seems to have a thing for the name 'George' as five of her brothers go by that name. Freeda's middle name was also George. Besides the five brothers, Freeda also had six sisters.
Her dad, George Foreman, had been in two failed marriages before his marriage to Freeda's mother, Andrea Skeete. The couple got married in 1982, and they stayed together for a few years before another divorce.
Freeda Foreman's Life in the Ring
The 5 feet 8 inches middleweight boxer entered the ring at the age of 24. Freeda was quite impressive as she had five straight wins from her initial set of matches.
You could say boxing was in her genes, with an international heavyweight boxing champ for a dad.
However, the proceeding matches ended in three knockouts. And Freeda Foreman's stay in the boxing ring came to a sudden end. She retired barely 18 months into her boxing career. Houston Chronicle reported that Freeda lost out of a boxing competition in the sixth round and said her goodbyes to the game forever.
Freeda said during a New York Times interview that her decision to leave the sports was influenced by her dad not entirely supporting her love for boxing. TMZ reports also agreed with this view but added that Freeda's dad paid her off boxing.
"Dad never wanted any of his kids to see him fight. He always protected us from that world," Freeda told the London Mirror. "With five brothers, there were plenty of fights at home. When Dad was home, we'd run around the house, play fighting and I'd beat up on my three younger brothers!"
On the other hand, Freeda admitted that her dad's love and support is what kept her going as a boxer until her retirement. She, therefore, moved unto boxing promotions as a career. At the time Freeda entered boxing, other famous daughters of boxers were also making a name for them selves in the ring.  Laila Ali, the daughter of Muhammad Ali, and Joe Frazier's daughter Jacqui Frazier-Lyde were both competing in boxing at the time.
Freeda Foreman wasn't the only family member who took to boxing as a career in the past. Her brother, George III, while in his teenage years joined his dad and sister in the ring for a short while before quitting. He now runs a boxing gym in Boston.
RELATED: Marquise Jackson and His Complicated Relationship With Father 50 Cent
Life Outside the Ring for Freeda Foreman
Media Appearance
Freeda's life didn't all start and end in the boxing ring. George Foreman's daughter also had her days as a TV personality. In 2002, Freeda appeared in a television documentary movie about her dad, 'Relatively Speaking: George Foreman.'
Other television involvement includes a voice over for the animated TV series "King of the Hill" released in 2003, and appearances in 'Beyond the Glory,' and '10 Things Every Guy Should Experience', both released in 2004.
Freeda Foreman's Marital Life, Family, and Social Pursuit
Besides her family live and boxing, Freeda was also passionate about social justice issues.
In an earlier tweet before her death, she stated that "aside from my love of family, being a good mother, wife, and friend, I aspire to make a positive difference in our American Criminal Justice System."
Her passion for justice influenced Freeda's decision to study Criminal Justice at Sam Houston State University, Huntsville, Texas. She also attended the Lone Star Community College as well as Texas Southern University.
She was married to Eric Carr and had two girls from the union. Freeda also had three grandchildren (her husband's).
RELATED: Sydel Curry: The Curry Sister You Might Not Know
Freeda Foreman's Death: What Happened?
Freeda Foreman was reportedly found dead in her apartment in Houston, Texas, on March 10, 2019 under questionable circumstances. According to the autopsy reports from the Harris County Institute of Forensic Sciences, Texas, Freeda died March 8 due to suicide.
Freeda hung herself and died due to asphyxiation. A member of the family discovered her corpse at her Texas home on March 10.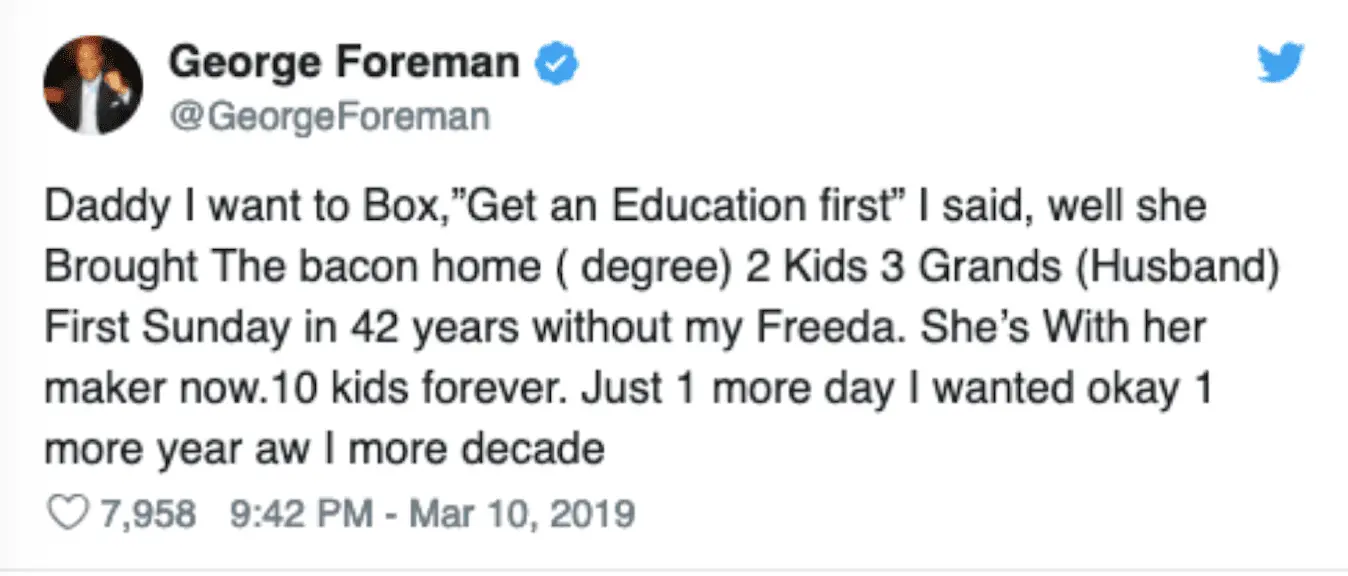 As of this point, it is unclear why Freeda might have taken her own life. Although boxing is associated with Chronic Traumatic Encephalopathy (CTE), no testes were conducted on Freeda.
CTE is a progressive degenerative disease of the brain found in people with a history of repetitive brain trauma. It has been known that boxing can cause CTE since the 1920s. However, a person can only be diagnosed with it after death as the damage to the brain can only be found out during autopsy.
Although George Foreman took to Twitter to express his grieve over his daughter's passing, he has not publicly talked about the matter since.
Also, Check Related Stories: