15 Black Lottery Winners: Bankruptcy, Scam, Murders
Every year millions of Americans try their luck by spending millions on lottery tickets. We all know the chances of winning is incredibly slim but some hit it and hit it big! Some use these winnings to create generational wealth while others battle the curse of the lottery.
Here are just 15 stories of Black lottery winners, some found glory and others met demise.
Watch our videos based on these stories below:
1. Jonathan Vargas
Jonahtan was only 19 years old when he won a $35 million Powerball Jackpot in Gaston, South Carolina in 2008. He had played most of the numbers based on birthdays of family members and their ages and it worked. He chose to take a lump sum of $17.3 million after taxes and he had great plans for that new found fortune. 
One of his plans was to do something in the entertainment industry. He then created Wrestlicious Takedown, an all female wrestling sketch comedy TV show where he appeared under the name "JV Rich". He also had a reality show where 20 women competed for his love. The reality show was filmed in his mansion but it seems the wrestling endeavor fizzled out within a year. Jonathan also made other investing blunders and disappeared from the public eye. 
2. Pearlie Mae Smith
Pearlie Mae Smith and her seven children won a massive $429 million jackpot in 2016. The Trenton, New Jersey family did not play the lottery regularly and it is said that Ms Smith, a church pastor, used "divine intervention" to choose the numbers for the winning Powerball ticket. 
The family chose to take the lump sum of $284 million and split it eight ways. They made the smart move to consult with a life coach and meet with previous jackpot winners to learn from their experience. They paid off some debts and mortgages, took a family vacation, and established the Smith Family Foundation. They also gave 10% of the winnings to the Calvary Pentecostal Church where Pearlie Mae Smith is the pastor. 
The Smith Family Foundation was started with $8 million of the prize money and it had already made over $700,000 in donations in 2016 alone. The goal of the foundation is to empower and transform the city of Trenton. I'm happy to report the foundation is still going strong. That's how you use lottery winnings! 
3. Yancy Hicks
Yance Hicks was working at McDonald's for 26 years when he won $1 million in 2008 in Chicago. Although Hicks's winnings is not as big as other lottery winners, what matters more is what he did with it. He continued to work at McDonald's for four more months until he figured out what to do with his winnings. 
He bought his dream car, a red corvette for $30,000 cash, paid for his daughter's college, and then proceeded to buy a Subway restaurant. He also bought his first house and became his own boss. "Winning a million doesn't mean you can go buy a mansion in the Caribbean" said Hicks. "It gives you a chance to get a nice solid foundation and you can work from there." 
4. Curtis Sharp 
Curtis Sharp Jr, a former maintenance worker from New Jersey, won $5 million way back in 1982. The larger than life character that is Curtis Sharp showed up with both his wife and his girlfriend to claim the prize. He went from getting around $1,200 a month to getting $239,000 a year for 20 years, but he kept working at his job for 8 more years to receive a pension.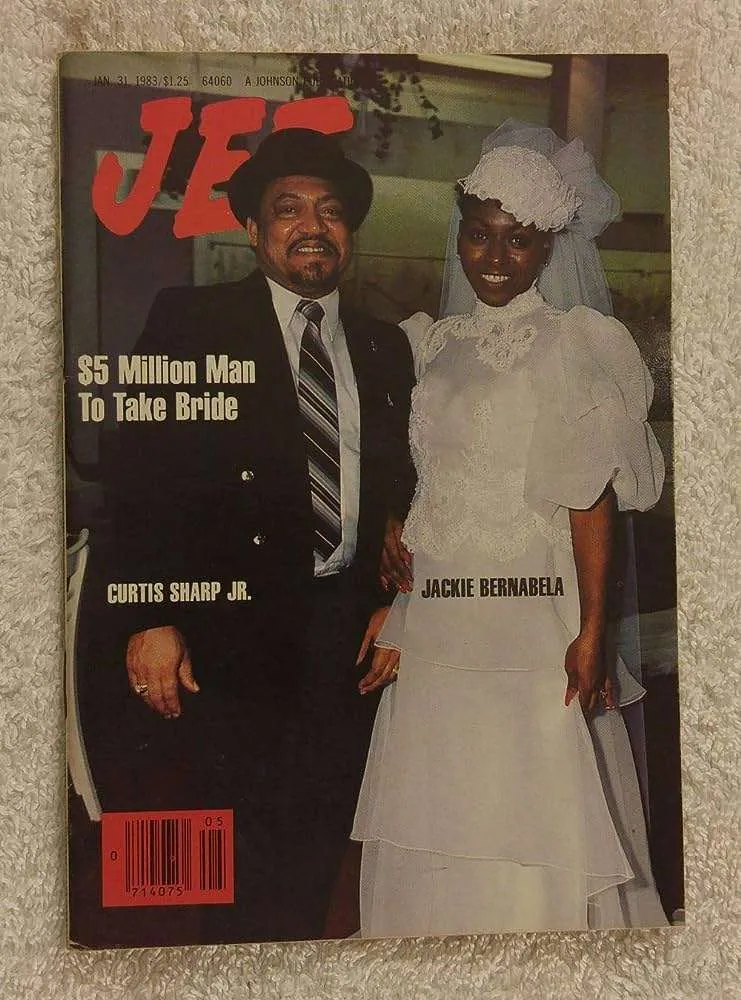 As the years passed, most of Sharp's money was wasted on gambling, cars, alcohol, and drug benders, as he told The New York Post. He eventually went broke but had his pension and social security to fall back on, which paid him $2,600 a month. Sharp eventually moved to Tennessee and became a Baptist minister, a lifestyle he said suited him better. He passed away at 82 in 2020 in Nashville. 
RELATED: This is What (Actually) Makes You Middle Class in America
5. Cynthia Stafford
Cynthia Stafford was a single mother of five kids when she won a whopping $112 million in the California Mega Millions lottery in 2007. She had adopted his brother's 5 children when he was tragically killed in a car accident. 
Cynthia told ABC news that she knew she would win the lottery and even visualized the exact amount of money she wanted to win. She ended up taking the lump sum option of $45 million after taxes and shared her winnings with her family. 
Some of Cynthia's spendings include giving $1 million to charity, buying a new house, and buying $200,000 worth of handbags. She also bought two Bentley's and a convertible on top of having a family car. 
But the good times didn't last. Cynthia was forced to file for bankruptcy in 2016 after bad investments. She published a book titled Seeing: How to Visualize Your Way to SUccess Using The Law of Attraction's Proven Methods To Create The Life Of Your Dreams! She offers visualizing coaching. 
6. Abraham Shakespeare
Then there is the truly tragic story of Abraham Lee Shakespeare. Shakespeare was a laborer from Florida who won a $30 million lottery jackpot in 2006. He chose to take the one time lump sum payment of $17 million. He then moved to a gated community where he bought a $1 million home. His other purchases include a Rolex from a pawnshop and a Nissan Altima. 
He had reportedly grown frustrated with the number of people asking him for money, both people he knew and strangers. In November of 2009, Shakespeare's family reported him missing and an investigation led to his body, which was discovered buried under a newly constructed concrete slab.
A former business partner, Dorice "Dee Dee" Moore was convicted of his murder and is currently serving a life sentence. She told many stories of what happened to Shakespeare after making it seem like he had left town. Moore allegedly had been stealing from Shakespeare since she gave control of a business she helped Shakespeare launch. 
7. Doris Murray
This is yet another tragic story. Doris Murray won $5 million in Georgia in 2007 on her 41st birthday. The mother of four chose to stay in her modest home and took the annual payout of $175,000 instead of a lump sum payment. She had planned to put most of the money in a trust fund for her grandchildren. 
In 2008, Doris was found in her home without a pulse. Her boyfriend was then arrested for stabbing her to death. Reportedly a fight broke out between the couple when Doris tried to end the relationship. 
Doris' lottery winnings will be paid out to whoever she designated in her will. 
8. Willis Willis 
The story of Willis Willis, yes, that's his real name, is one of good luck and bad luck, The good luck is that Willis won a $1 million jackpot In Grand Prairie, Texas in 2009. The bad luck is he was scammed out of his money before he even got his winnings!
The story goes that Willis went back to the convenience store where he bought his lottery ticket with his winning ticket but he didn't know he had actually won. The clerk checked the ticket, told Willis he won $2, yes $2!, and kept the winning ticket to himself. Suspicion was only raised when that clerk quit his job abruptly and told coworkers he's moving back to Nepal to help his cousin run a business. 
The convenience store then alerted the Texas Lottery commission, which investigated the case and figured out the scam. By that time the clerk had already fled the country. Authorities were able to collect $400,000 from bank accounts and friends and families of the clerk out of $750,000 cash he got. 
Willis proceeded to sue the clerk, the Texas Lottery Commission, and the convenience store. He moved to El Paso, bought a modest home, and is living "a simple life." 
9. Solomon Jackson Jr.
This retired South Carolina state employee only spent $2 on a lottery ticket that ended up winning him $260 million in 2009. The lifelong Columbia, South Carolina resident had a 1 in 195 million chance of winning, 1 in 195 million! Wow! He chose to take the lump sum amount of $130 million. 
Jackson proceeded to donate a whopping $10 million to his alma mater Morris College, which was the largest donation in the college's history. Multiple campus buildings were built with that donation, including a health center, an administration building, and 2 residence halls. But that's not the only donation Jackson gave to schools. He also donated $1.7 million to the University of South Carolina, $1.25 million to Midland Technical College, and $1 million to the South Carolina State Museum. 
Not much is known about how Jackson spent money on himself but he did say when he won the lottery that he was already retired and had a good income so much of the money would be spent on others. 
10.  Marie Holmes
Marie Holmes was a single mother of four when she hit the jackpot at 26 in North Carolina in 2014. Her odds of winning were 1 in 175 million to win the $188 million jackpot and she hit it. She chose to receive a lump sum and took home $87.9 million after taxes. 
Marie's then boyfriend and father to her 2 daughters, Lamarr McDow, was arrested on drug charges 2 months before she won the lottery. It's been reported that she spent $21 million of her winnings to bail McDow out of jail several times. The couple even appeared on an episode of "Iyanla: Fix My Life" before McDow went to prison. 
After the couple broke up in 2017, McDow sued Marie from prison for giving away several luxury gifts she had given him, including an automotive restoration shop, a truck, luxury clothing and jewelry, and 77 acres of land. Marie's lawyer argued that McDow never really owned any of the items and everything was under Marie's name. The case was eventually dismissed. 
While appearing on Iyanla: Fix My Life, Maire had confessed that the mansion she bought, a plantation,  was in disarray and she was burning through her winnings bankrolling allowances for relatives. 
11. Bryon Woods
Bryon and wife Barbara Woods won $49 million in the Texas lottery in 2003. He was a diesel mechanic working nights and she was working at a convenience store. In fact, Barbara is the one who sold the winning tickets to Bryon. He has been playing the lottery for a long time, spending up to $30 a week on it. 
They decided on an annuity, which gave them an initial check for $2.9 million and a payout of $1.95 million a year for 24 years.  
Since their winnings, the couple have invested in various businesses, including real estate, gourmet coffee shops, but what they are most known for is the TeePee Motel. The TeePee Motel was built in 1942 and served travelers heading across Texas on State Highway 60. It had been closed for 15 years and was waiting to be demolished when the couple took interest in it. They bought it, renovated it, and re-opened it. 
12. Marva Wilson
Playing the lottery was one of Marva Wilson's favorite pastimes. Her favorite hobby paid off when she won $2 million playing the Missouri Lottery in 2008. Two years after winning the lottery, Marva was scammed out of some of her winnings by a woman she trusted. The woman, Freya Pearson, was supposed to do Marva's taxes and help her put a lien on a house. But what Freya ended up doing was tricking Marva into transferring more than $400,000 into a bank account she had set up. 
Freya was sentenced to 5 years in prison for fraud, money laundering, tax evasion, and other charges. Unfortunately, Marva was not able to get any of her money back. She had planned to send her grandkids to college with the money. 
13. Miguel Pilgram
Miguel Pilgram won $52 million playing the Florida Lottery in 2010. He opted to take a lump sum payment in the amount of $29 million. He created the Pilgram Group, a company that focuses on commercial and residential real estate in the Fort Lauderdale area. 
He also invested his winnings to revive Sistrunk Boulevard, a part of downtown Fort Lauderdale that was once home to thriving Black businesses. Miguel established the Pilgram Family Foundation, focusing on educational programs, scholarships, and community development initiatives. 
14. Jeffrey Dampier 
We're moving from Miguel Pilgram's glorious lottery story to Jeffrey's tragic one. Jeffrey Dampier was working as a security guard in Chicago when he won $20 million in the Illinois state lottery in 1996. Jefferey got a divorce from his wife after winning the lottery and split the prize money 50/50. He eventually got married to a woman named Crystal Jackson and moved to Tampa bay, Florida. 
Jeffrey spent lavishly on his new wife and her family. He was especially generous to his new wife's sister, Victoria Jackson, when she fell on hard times. That was because Jeffrey was having an affair with her! But the story takes an even darker turn when a man Victoria was dating, Nathaniel, wanted to get his hands on Jeffrey's money. 
Victoria and Nathaniel then lured Jeffrey to their apartment, forced him into a van, and tried to convince him to hand over his money. When Jeffrey didn't cooperate, they shot and killed him and left his body in the van at a deserted road. The couple was arrested a few days later and sentenced to life in prison. 
15. David Johnson
And for our last story, we're heading over to Brooklyn for one of the biggest lotto wins. David Johnson, a truck driver, won a $298.3 million jackpot in 2018, the second-largest Powerball win in the history of the New York Lottery. The Jamaican native had been playing the lottery for a long time in hopes of hitting it big and he finally did! 
David chose to take home the lump sum payout, which was $114 million after taxes. He told reporters he would quit his job right away and buy his dream car, a red porsche. He made an appearance on Jimmy Kimmel Live four months after winning the lottery and said he had spent about $29 million in 3 months, mostly giving his kids money. He also took a nice vacation to Florida with his wife, flying first class. He told Jimmy now he spends his days doing nothing and kicking back and watching Maury. Oh, the joys of winning the lottery!