Bessie Coleman: The Incredible & Tragic Life of First Black Woman Pilot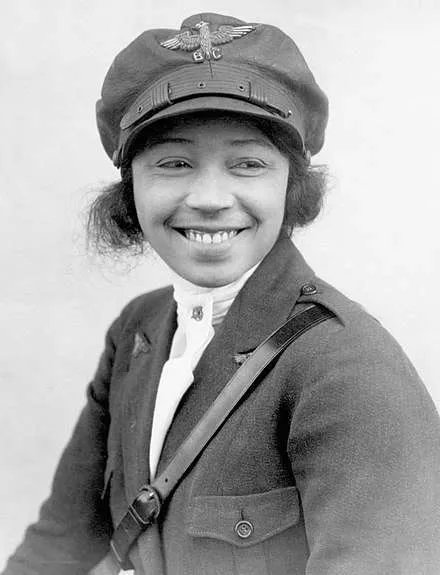 She was popularly and affectionately known as Queen Bess and Brave Bessie. She went from the cotton fields to the skies to compete in dangerous air shows, becoming the first black woman to hold a pilot license. Her name was Bessie Coleman.
Bessie Coleman might be a hero to some due to becoming the very first African American and Native American woman to earn her pilot's license, but her life story is filled with triumphs that would make her the symbol of overcoming obstacles.
It all began in the deep South in 1892.
Bessie Coleman's Rough Beginnings
Born on January 26, 1892 in Atlanta, Texas, Bessie was the tenth of thirteen children. Out of thirteen, only nine of George and Susan Coleman's children survived past childhood. Bessie's family moved to Waxahachie, Texas when she turned two and lived as sharecroppers.
When she turned six, Bessie began attending a segregated, one-room school. She had to walk four miles each day to attend the school. By the tie she concluded her elementary education at the school, Bessie had become an outstanding student, excelling in reading and math.
Bessie then moved on to attend Missionary Baptist Church School on scholarship when she turned 12 and enrolled in Oklahoma Colored Agricultural and Normal University in Langston, Oklahoma when she turned 18.
RELATED: Auntie Fee: The Story and Life of the Foul-Mouthed Chef 
However, the money Bessie had saved up to attend college run after after she completed just one term, and she was forced to return home to work the acorn fields. It had been years since her father, George Coleman, left his family to return to Oklahoma for better opportunities.
After years of working the fields, Bessie moved to Chicago at the age of 24. She lived with her brothers in the city and worked as a manicurist at the White Sox Barber Shop.
Bessie was introduced to her life's passion while working at the barber shop.
Bessie Falls For Flying
While working at the barber shop, Bessie began hearing stories of flying during WWI from pilots coming back home. She was immediately intrigued. Not too long after, she decided to become a pilot. Bessie took a second job at a chili parlor to save money for flight school.
However, a problem arose for Bessie. At the time, no flight schools in the U.S. were admitting women or blacks. Another option for her was brought up for Bessie. She could study abroad to get her pilot's license.
Robert S. Abbot, a lawyer and publisher of the Chicago Defender, encouraged Bessie to study abroad. Not only that, Abbot published about Bessie's ambitions in his newspaper. Bessie then received a scholarship from the newspaper itself and banker Jesse Binga.
In her preparation to study in France, Bessie took a French-language class at the Berlitz Language School in Chicago. On November 20, 1920, she traveled to Paris to earn her pilot's license.
On June 15th, 1921 Bessie Coleman became the first black woman to earn an aviation pilot's license and first black person to earn an international aviation license from the Federation Aeronautique Internationale.
RELATED: The Silent Parade of 1917: Why the Forgotten March Matters
Bessie Flies!
When Bessie returned home to the U.S. in September 1921, she was a media sensation.
But in order to make a living as a pilot, Bessie would have to enter the dangerous world of stunt flying. Since commercial flights were not in effect yet, Bessie would perform tricks in the air for paying audiences. In order to succeed in this highly competitive arena, Bessie would need more training. Again, nobody in the U.S. was willing to train Bessie. She returned to France in February of 1922 to receive more advanced training.
Bessie then traveled to the Netherlands and Germany to meet aircraft designers and receive more training.
After returning to the U.S., Bessie became a popular attraction at air shows. She mostly flew Curtiss JN-4 biplanes and other army surplus aircrafts left over from WWI.
Bessie's first air show took place on September 3, 1922. The event was honoring veterans of the all-black 369th Infantry Regiment of World War I. The event was sponsored by the Chicago Defender newspaper. The show was a huge success and Bessie went on to perform at multiple airshows thereafter.
Although she was widely admired and was immensely popular, some media criticized Bessie for her flamboyant style. That criticism did not deter Bessie's success as a skilled and daring pilot. On February 22, 1923, Bessie suffered an injury when her plane stalled and crashed. She broke a leg and three ribs.
RELATED: Harriet Jacobs: Tales of a Slave Girl turned Influential Author 
Bessie Coleman's Activism
Aside from being a talented pilot, Bessie was also an outspoken activist who traveled throughout the U.S. to promote aviation in the African American community. Her aim was to combat racism and bring others into the field she was passionate about. She also refused to participate in aviation events that did not allow the attendance of African Americans.
She was offered a role in a feature-length film that was being financed by the African American Seminole Film Producing Company. She accepted the role, hoping it would further advance her career by brining her more exposure. But she quickly dropped out when she learned the first scene of the movie would have her "appear in tattered clothes, with a walking stick and a pack on her back." She hated the image that would promote about blacks.
"Clearly … [Bessie's] walking off the movie set was a statement of principle. Opportunist though she was about her career, she was never an opportunist about race. She had no intention of perpetuating the derogatory image most whites had of most blacks", wrote Doris Rich in the book Queen Bess: Daredevil Aviator.
While on a speaking tour in Orlando, Florida, Bessie met Rev. Hezakiah Hill and his wife Viola. They convinced Bessie to stay in Orlando and she opened a beauty shop locally to earn extra money. Her goal was to buy her own plane.
Bessie was able to purchase a Curtiss JN-4 in Dallas.
RELATED: 5 Commonly Misunderstood Civil Rights Movement Facts 
Bessie's Tragic Ending
Queen Bess endured many obstacles from childhood on to finally be able to pursue her dreams of flying. She finally saved enough money to buy her own plane, but that plane would turn out to be the source of her tragic ending.
After purchasing her plane in Dallas, Bessie had her mechanic William D. Wills fly the plane to Florida. While en route, Wills encountered several problems with the plane and had to land twice before making it to Florida. He concluded the plane was poorly maintained.
Once they learned about the issues with the plane, Bessie family and friends warned her that the plane should not be flown. But Bessie had an airshow to prepare for.
On April 30, 1926, Bessie and Willis took to the skies in the plane with Willis flying the plane. About ten minutes into the flight, the plane unexpectedly went into a dive at 3,000 feet above the ground. Bessie was thrown out of the plane because she was not wearing her seatbelt at the time and died immediately upon hitting the ground. Willies died when the plane crashed and burst into flames.
Bessie's body was sent to Chicago where 10,000 mourners attended the ceremonies, which were led by activist Ida B. Wells.
Bessie Coleman's Legacy
Although she was taken from this world with so much yet to accomplish, Bessie's legacy lives on at airports, schools, museums, and more around the country. There is a public library in Chicago named in Bessie's honor and several roads named after her at airports in Chicago, Tampa, Frankfurt, and Oakland, California.
There are also several Bessie Coleman Scholarship Awards established for high school seniors planning a career in aviation. In 1995, The U.S. Postal Service issued a stamp honoring Bessie. She was inducted into the National Women's Hall of Fame in 2001 and the National Aviation Hall of Fame in 2006.