93 Best Black Comedians to check out when you need a laugh (2023)!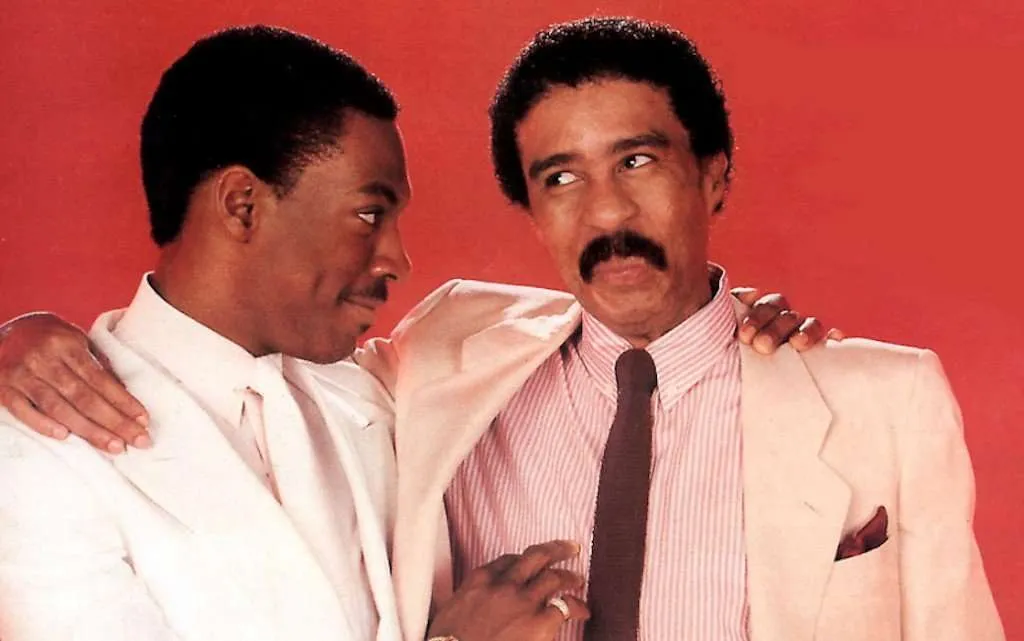 Black stand up comedy has a deep and interesting history. What many believe is a modern form of entertainment actually has deep roots that stretch all the way back to Africa. The art of telling jokes to deal with pain, tell stories, and speak out against oppression is still seen all over the continent today.
When the Africans were brought to America in and before the 1600s (all the way to the 1900s) they carried with them many of the traditions past down by their ancestors, including the art of comedy.
During slavery, blacks continued to use this tradition of comedy to pass stories/ messages, to "talk trash" one another, and even deal with harsh realities
My Comedy Comes from pain. I can't stand to see someone hurting – Bernie Mac
It wasn't until the late 19th century and the beginning of the end of slavery that you started to notice a shift in not only black comedy, but comedy all over the world.
With blacks slowly gaining their freedom, this somewhat underground style of comedy that we now call stand up started to make its way to the forefront of entertainment.
Chitlin Circuits, a group of venues in the south, east and midwest of the United States, provided African American comedians at the time a safe space to show their talents to a wider audience. These comedians even start to become stars.
It was an uphill battle with many earlier black comedians having to play into stereotypes or wear blackface. Comedians like Bert Williams and Moma Mabley were some of the first. After that, there is a long legacy of great black comedians.
So here is our list of 93 Black Comedians for you to check out when you need a laugh.
Warning Explicit Video Content Below
BLACK COMEDIANS
Bert Williams – (November 12,1874 – MARCH 4, 1922)

Ok, Bert Williams is probably not technically a stand up comedian as you would view them today. But he is definitely worth mentioning on this list because he paved the way for all comedians that came after him. Many times having to wear blackface to fit in, he became one of the premier black comics/entertainers during the Vaudeville era. He was so popular that he was able to become the first black person to take a lead role on a broadway stage. He was also a bestselling black recording artist before 1920, described by many as the best living comic at the time (not just black comic), and was the first black person to make more money than a US President.

"He has done more for our race than I have. He has smiled his way into people's hearts; I have been obliged to fight my way." – Booker T. Washington

Moms Mabley (Loretta Mary Aiken)  ( March 19,1894 – May 23, 1975)

Moms Mabley is another pioneer of the modern style of black stand up comedy . She was one of the most popular comics on the chitlin circuit, the first black female to work at the Apollo Theater, and the first black female to perform at Carnegie Hall. With her friendly and warm persona, she was able to tackle real issues and even promote political change. Without Moms Madley, comedy would not be what is today.

Check out her documentary on HBO – Moms Mabley: I Got Somethin' to Tell You

Nipsey Russell (September 15 , 1918 – October 2, 2005)

Ever wondered who the Tin Man was in the Movie The Wiz? It was Nipsey Russell, a famous stand up comedian known for his stand-up and comical poems.

LaWanda Page (October 19, 1920 – September 14, 2002)

Another early fearless explicit black comedian.  She was Aunt Esther in Sandford and Sons.

Redd Foxx (December 9, 1922 – October 11, 1991)

Redd Foxx was a groundbreaking comic in both stand up and television, known for his xxx rated comedy and popular show Sanford and Son.

Crazy Fact – Redd Foxx and Malcom X used to hustle stealing together when they were younger.

Wildman Steve (September 10, 1925 – September 1,2004)

A lot of people have not heard of Wildman Steve, but he is hilarious! He got his start in local clubs alongside other comics like Redd Foxx.

Sammy Davis Jr. (December 8, 1925 – May 16,1990)

Known as Mr Show Business, there was pretty much nothing that Sammy Davis Jr. could not do. He was a singer, musician, dancer, actor, and comedian. From the age of 3, he was performing along side his father and uncle. Sammy starred in seven Broadway shows and appeared in 23 films. He is definitely one of the greatest pop icons of the 20th century.

Dick Gregory (October 12, 1932 – August 19,2017)

Not just a comic. More like a revolutionary! Dick Gregory was a pioneer of  jokes that highlight civil rights, activism, and social awareness.  Gregory ran for President of the United States in 1968.

Godfrey Cambridge (February 26 , 1933 – November 29, 1976)

In 1965, Time Magazine said Godfrey was "one of the country's four most celebrated Negro comedians", alongside Bill Cosby, Dick Gregory, and Nipsey Russell.

Flip Wilson

Long before "The Dave Chapelle Show" and "The Chris Rock Show", there was another great show called "The Flip Wilson Show". At the time it was the second highest rated show on network television. Time Magazine once called him "TV's first black superstar".

Bill Cosby (February July 12, 1937)

Regardless of how things have turned out for Bill Cosby, he is undoubtedly one of the most famous comics of all time. He is best known for the show "The Cosby Show", which was one of the most popular shows in American television history for the better part of 10 years. He also was the first black actor to have a leading role in a television show. 

Reynaldo Rey (January 27, 1940)

Hilarious actor, comedian, and TV personality.

Richard Pryor (December 1, 1940 – December 10, 2005)

Many comics refer to Richard Pryor as the funniest comic of all time. A true icon! There is probably not a comic alive today that he didn't inspire.

Paul Mooney (August 4, 1941)

What else do you need to say than he was one of the writers for Richard Pryor. He's a BlackExcellence.com favorite.

John Witherspoon (January 27, 1942)

John Witherspoon is best known for his role in Friday and TV shows like the Wayans Bros.

George Wallace (July 21, 1952)

He got his start as a writer for Redd Foxx in the 70's, and has been a Las Vegas headliner for over 10 years. He is also an accomplished actor.

Robin Harris (August 30, 1953 – March 1, 1990)

If you haven't seen the classic "BeBe Kids", then we probably can't talk to you. He was also in Spike Lee's classic Do the Right Thing. 

Whoopi Goldberg (November 13, 1955)

Goldberg  is one of the few comic / entertainers in history who is an EGOT ( Emmy, Grammy, Academy Award, and Tony Award). She is an accomplished actress, comedienne, author, and television host. 

Arsenio Hall (February 12 1956)

Arsenio Hall is best known for hosting a hit show from 1989 until 1994 called, of course, The Arsenio Hall Show.

David Alan Grier (June 30, 1956)

Most famous for his role in In Living Color, Grier has went on to be in movies like Boomerang, Jumanji, 3 Strikes, Stuart Little etc….

Sinbad (November 10, 1956)

Sinbad has a long history in comedy stretch all the way back to The Redd Foxx Show. He has also been a part of The Cosby Show, A different World and his own show The Sinbad Show. 

Steve Harvey (Broderick Stephen Harvey)  (January 17, 1957)

There are no limits to what Steve Harvey is able to do. He was part of the second biggest grossing comic special of all time (Kings of Comedy), a television host (Family Feud, Miss Universe Pageant, etc.), producer, radio personality (Steve Harvey Show), and a successful author. 

Robert Townsend (February 6, 1957)

Robert Townsend is just as talented as a director as he is a comedian. He directed Hollywood Shuffle, Eddie Murphy's Raw, and The Meteor Man. He also directed and starred in The Five Heartbeats. He has worked with big names like Halley Berry, Denzel Washington, and Beyonce.

Bernie Mac (October 5, 1957 – August 9, 2008)

What can you say about Bernie Mac. It took him a little while to make it on the scene, but once he did, the world was never the same. He is known as a comedian's favorite comic.

Keenen Ivory Wayans (June 8, 1958)

Keenen Ivory Wayans has went on to create careers for all his brothers, sisters, and even their children. He is the creator of the hit TV series "In Living Color". Until 2005, he also had the highest grossing film directed by an African American.

Luenell Campbell (March 12, 1959)

Luenell's work in television, film and music videos has created a cult like following. She has toured with Katt Williams and appeared in blockbuster movies like Borat.

Charlie Murphy (July 12, 1959 – April 12, 2017)

Charlie Murphy became a house hold name when he became as cast member on the Chapelle Show (starring Dave Chapelle). He is also an actor and the older brother of Eddie Murphy.

Don Curry (September 5, 1959)

Best known as Uncle Elroy in Next Friday and Friday After Next.

Damon Wayans ( September 4, 1960 )

Another member of the extraordinary Wayans Family, Damon has stared in countless movies and has had lead roles in television.

Eddie Murphy (April 3, 1961)

A comic that needs no introduction. He is one of the world's most popular comics of all time. Eddie has the #1 grossing stand up film of all time and has went on to star in instant classic movies.

D.L. Hughley (March 6, 1963)

Hughley is a member of The Original Kings of Comedy alongside Steve Harvey, Bernie Mac, and Cedric The Entertainer. He was the original host of ComicView, and has starred in a large list of movies. He is also a talented political commentator.

EarthQuake (May 29, 1963)

Earthquake is a comedian that took his career into his own hands. He opened his own comedy club in Dallas, TX before he was asked to join the Russell Simmons Def Comedy Jam Tour. Now he is an actor, voice artist and radio show host.

Sheryl Underwood (October 28, 1963)

Sheryl Underwood has been killing the stage ever since she became the first female finalist in the Miller Lite Comedy Search in 1989. Since then, she has been acting and hosting TV shows. 

Tommy Davidson (November 10, 1963)

Tommy Davidson won an amateur stand up competition at the Apollo Theater in 1987. He went on to star in In Living Color and then other huge movies like Ace Ventura, Booty Call, and TV shows.

Wanda Sykes ( March 7, 1964)

Wanda Sykes got her start on Def Comedy Jam. She got her big break when she opened for Chris Rock.  She went on to star in movies and TV shows.

Cedric the Entertainer (April 24, 1964)

Cedric the Entertainer is an accomplished Actor/ Comedian and a member of The Original Kings of Comedy. 

J.B. Smoove (December 16, 1964)

J.B. Smoove is another comedian that got his start on Def Comedy Jam. Since then, he has been seen on HBO's Curb Your Enthusiasm, B.E.T, Saturday Night Live, and in movies.

Chris Rock (February 7, 1965)

One of the most popular comedians of our times, Chris Rock is not only an accomplished comedian, but also an actor, writer, producer and director. He as won multiple Emmys and Grammy Awards.

Bruce Bruce (February 9, 1965)

Bruce Bruce was a host on BET's popular show ComicView and has went on to appear on TV shows and films.

Bill Bellamy (April 7, 1965)

The man who came up with the term "Booty Call" got his start on Def Comedy Jam. Later becoming a host on MTV.

Martin Lawrence (April 16, 1965)

Damn Gina! Martin had a hit sitcom named after himself and starred in a multiple movies such as House Party, Boomerang, Bad Boys, Big Momma's House and more. We are eagerly awaiting Bad Boys III, if it will ever be made. 

Arnez J (1966)

Arnez J is a very physical comedian that continues to evolve with time. He is also a co-host on the number one morning show in Chicago.

Sommore (May 15, 1966)

Another one of the stars of the Queen of Comedies Tour, Sommore is
one of the leading ladies in comedy.

Sherri Evonne Shepherd (April 22, 1967)

Sherri Shepherd has been seen on The Jamie Foxx Show, Less than Perfect, and Everybody Loves Raymond. She was also a co-host on The View.

Leslie Jones (September 7, 1967)

Leslie Jones is a cast member and writer on Saturday Night Live. She has also starred in the movie Ghostbusters recently.

Mo'Nique (December 11, 1967)

The legendary Mo'nique!  She was part of the Queens of Comedy, had a hit TV series call The Parkers, and even won an Academy Award for Best Supporting Actress.

Jamie Foxx (December 13, 1967)

Seriously, what can this Comedian / Actor/ Singer not do?? Probably one of the most talented people ever! He is an extremely successful actor having won an Academy Award and a Golden Globe for his performance in the movie Ray. He is a Grammy Award winning musician with 4 albums in the top ten, and obviously an established comedian.

DeyRay Davis (February 26, 1968)

Comic turned movie star/actor. DeRay got his start performing on Cedric the Entertainer's tour.

Faizon Love (June 14, 1968)

Faizon Love is a comedian/actor who has been in a lot of big movies like The Meteor Man, Friday, Elf, Couples Retreat, and even Bebe's Kids.

Corey Holcomb (June 23, 1968)

Holcomb has appeared on sitcoms such as Half & Half, Everybody Hates Chris, and The Cleveland Show.

Eddie Griffin (July 15, 1968)

The wild Eddie Griffin! He has been in over 50 movies on top of his comedy specials. 

Tracy Morgan (November 10, 1968)

Morgan got his start on television as Hustle Man in the hit show Martin. He also had a long stretch on Saturday Night Live and 30 Rock.

Lavell Crawford (November 11, 1968)

One of the kings of Big Boy Comedy!  Lavell Crawford has made some appearances in TV (Breaking Bad) the movie Ridiculous. 

Patrice O'Neal  (December 7, 1969 – November 29,2011)

This comedian truly left us too early. In our opinion, he is one of the funniest comedians that a lot of people didn't get a chance to check out.

Anthony Anderson (August 15, 1970)

Anthony Anderson is another comedian turned mega superstar. He has been a part of hit TV shows and hit movies like Transformers and The Departed.

Rodney Perry (September 15, 1970)

He was a co-host on BET's late night talk show The Mo'Nique Show.

Donell Rawlings (October 23, 1970)

Donell Rawlings is best known for being a cast member on The Chappelle Show. He was also a cast member on the HBO show The Wire.

Mike Epps (November 18, 1970)

Mike Epps is most famous for playing Day Day Jones in the movies Next Friday and Friday After Next, but he has a long list of movies and is also an epic stand up comedian. 

Shawn Wayans (January 19, 1971)

Starring alongside his brother Marlon, Shawn he has gone on to make a lot of blockbuster hits like Scary Movie, White Chicks, and Don't Be a Menace to South Central.

Keegan-Michael Key (March 22, 1971)

One half of the famous Key and Peele duo. Keegan-Michael Key is an Actor, comedian,writer and producer.

Chris Tucker (August 31, 1971)

Chris Tucker has been a part of some of the biggest moments in comedy history. He was the stand out in the legendary movie "Friday", was a co-star in the hit movie serious Rush Hour, and was also a star in the movie Fifth Element. Interestingly, he was also in a Michael Jackson music video for You rock my World and Tupac's California Love.

Katt Willams (September 2, 1971)

Everyone's favorite bad boy comedian.

Craig Robinson (October 25, 1971)

Craig Robinson became a household name after his role in the hit TV show The Office.

Deon Cole (January 9, 1972)

One of the writers of The Tonight Show with Conan O'Brien.

Marlon Wayans (July 23, 1972)

Marlon Wayans (part of the legendary Wayans family) is another one of the most recognizable faces in the comedy world. He has been apart of a numerous of Blockbuster movies (Scary Movie, White Chicks, Little Man, etc.). He has also been a part of some classic tv shows (The Wayans Bros., In Living Color etc.. )

Wayne Brady (June 2, 1972)

One of the kings of improv! He is also an actor, singer, and a game show host.

Finesse Mitchell (June 12, 1972)

You may not have heard of Finesse Mitchell but we went to see him live and he is hilarious! He has appeared on Saturday Night Live.

Michael Blackson (November 28, 1972)

Hello Muthasuckas! Blackson has appeared in a lot of movies and is a bit of a social media sensation. 

Dave Chappelle (August 24, 1973)

I mean who isn't a fan of Dave Chappelle?? Dave Chapelle is probably already a living legend and will go down as one of the best stand up comics of all time.

Kamau Bell (January 26,1973)

Best known as the host of CNN original series United Shades of America.

Tony Rock (June 30, 1974)

Tony Rock is not only the younger brother of Chris Rock, he is also an accomplished comedian. He has been in movies like Think like a Man, is a host on All Def Comedy and co-star on the network series "Living Biblically".

Aries Spears (April 3, 1975)

One of the most talented celebrity impressions ever. He also is one of the longest serving cast members of MAD TV.

Wyatt Cenac (April 19, 1976)

Wyatt Cenac is an actor and Emmy Award winning writer.

Lil Duval (June 12, 1977)

A comedian that is defiantly living his best life. Duval is a hilarious comedian and also had the #1 song "Smile". 

Jordan Haworth Peele (February 21, 1979)

Jordan Peele is a famous comedian turned big director. He won an Academy Award for Best Original Screenplay for Get Out.

Kevin Hart ( July 6, 1979)

Hart has risen to become of the most successful and hardworking comedians ever. At the time of writing this article, he has not only one but three of the highest grossing stand up specials ever. He is also one of the highest paid comedians Hollywood has ever seen.

Tiffany Haddish (December 3, 1979)

Who could hate on Tiffany Haddish?! Since a young age. she was in and out of foster care and even homeless. Now she is one of the top comedians in the country! 

Lil Rel (December 17, 1979)

Lil Rel is another up and coming favorite in comedy. He recently also made the jump to film acting in the huge hit movie "Get Out"

Amanda Seales (July 1, 1981)

You have probably seen her in HBO's show Insecure.

Tone Bell  (August 10, 1982)

Tone Bell won the NBC Stand Up for Diversity Talent Search.

Hannibal Buress (February 4, 1983)

Buress was listed as Variety Magazine's "Ten Comics to watch in 2010". This unbelievable funny man is also a writer on Saturday Night Live. 

Ron Funches (March 12, 1983)

Ron Funches didn't start perusing comedy until he was 23. He has gone on to appear in a numerous of TV shows.

Eric Andre (April 4, 1983)

Eric Andre is a comedian, actor, and TV host. He has his own show on Adult Swim.

Michael Che (May 19, 1983)

In 2013, Variety called Che one of "10 Comics to Watch" and Rolling Stone named him one of "The 50 Funniest People."

Donald Glover (September 25, 1983)

Donald Glover is a young super talent. He is already an accomplished actor, comedian, singer, writer, producer, director, rapper, and even DJ. He has also won an Emmy and Golden Globe for his work on the show Atlanta.

Trevor Noah (February 20th, 1984)

It takes a super talented man to take over a show like Comedy Central's The Daily Show. That talented person is Trevor Noah. Hailing from South Africa, Trevor started off as a comedian and now is a writer, producer, actor and television host.

Phoebe Robinson (September 28, 1984)

Actress and writer, Phoebe has appeared on Last Comic Standing, The Today Show, Late Night with Seth Meyers, and Comedy Central.

Sasheer Zamata (May 6, 1986)

Cast Member on Saturday Night Live.

Nicole Byer (August 29, 1986)

Nicole Byer is a comedian and actress. She is also the host of the Netflix reality show Nailed It.

Jerrod Carmichael (June 22, 1987)

Jerrod Carmichael has created so much noise in the comedy world that Spike Lee even directed one of his stand ups.

Jay Pharoah (October 14, 1987)

Another comedian who's a Saturday Night Live alumni. He is famous for his spot on impressions of Eddie Murphy, Chris Rock, Jay Z, 50 Cent and more.

King Bach (June 26, 1988)

What would this list be without one social media comedian turned future superstar. King Bach was ranked number one on Vine for followers. He was a recurring cast member on Wild'n Out, had a role in the movie Fifty Shades of Black and has a movie on Netflix titled Where's the Money.

Jermaine Fowler (May 16, 1988)

Jermaine Fowler started off touring the country performing at comedy clubs and colleges. Now, he is the star and executive producer of the CBS sitcom Superior Donuts.

Jaboukie Young – White (July 24, 1994)

One of the youngest up and coming comedians in the game. He was a finalist at the 2016 NYC Devil Cup Stand Up Festival.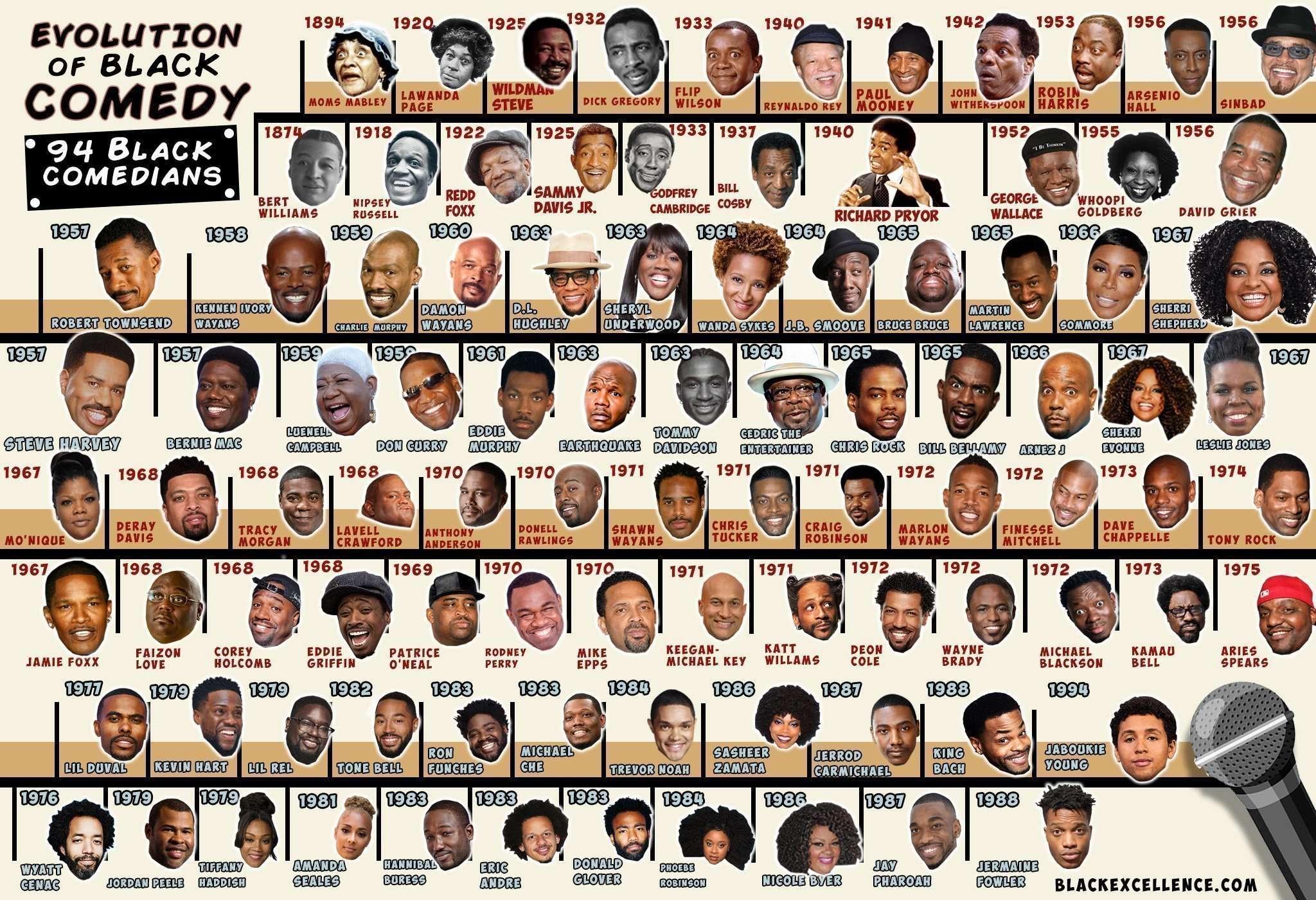 Share this Image On Your Site

So there it is. 93 black comedians plus a bonus we had to add later.
Let us know if someone you love didn't make the list.