25 Black-Owned Clothing Brands To Check Out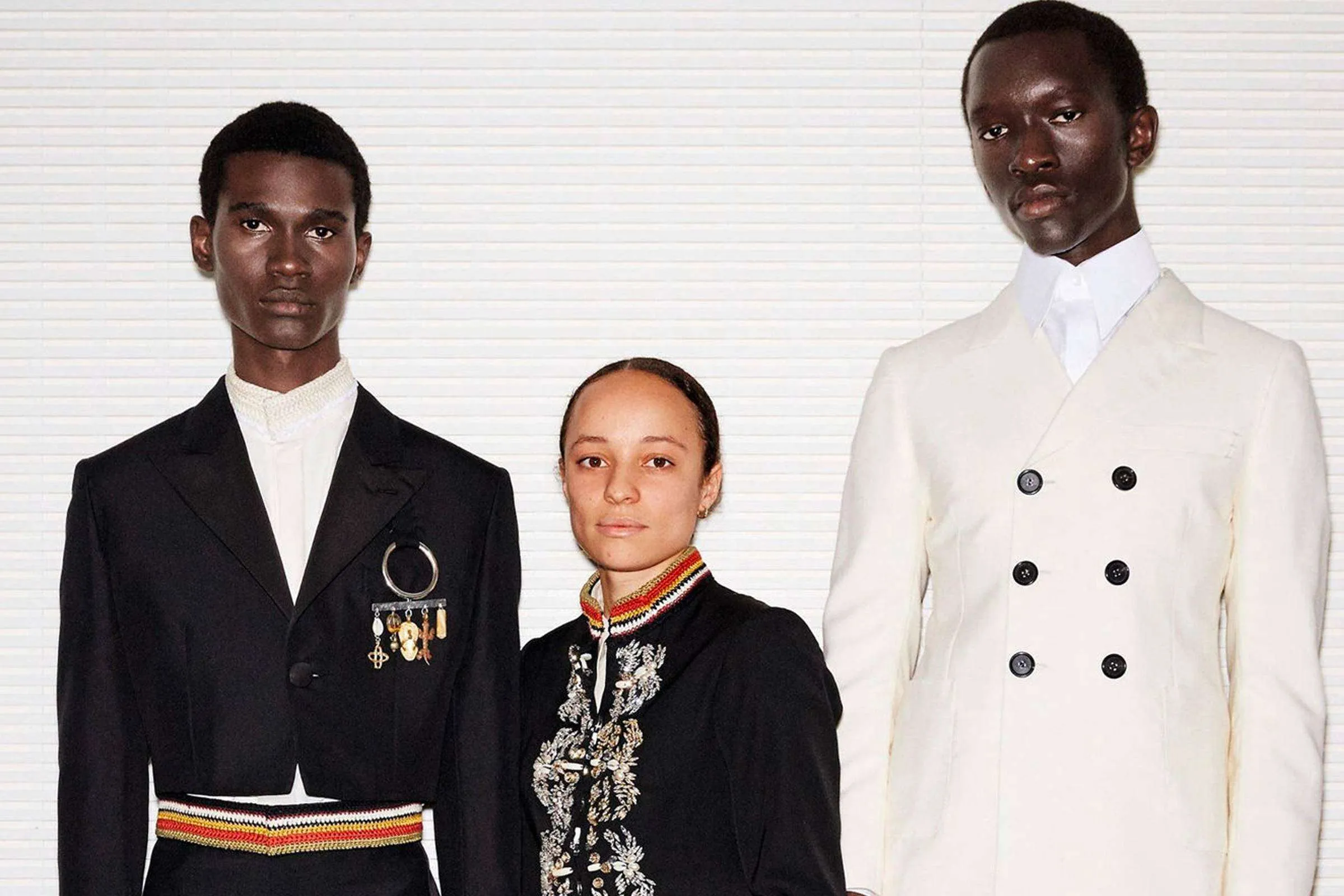 Black culture has had so much influence on popular fashion, and yet, black owned clothing brands seem to take the back seat when it comes to the lime light.
Yes, we had the likes of FUBU and Sean John in the '90s and early 2000s, but they have taken up such a tiny percentage of the market for all the influence we have had. 
What gives? 
Well, it's time for us to introduce you to just 25 of the many black owned clothing brands. Some you might have heard of and some you haven't. But non will disappoint you.  
After they've mastered the art of flawlessly tailoring menswear, this emerging brand decided to spoil women as well. Thus, they currently have a lot of stunning pieces in their portfolio including impeccable pants, blazers, and bold tops. High fashion via European and African influences. 
2. Ashya 
If you love belt bags, you definitely have to check out what Ashya has to offer. Their items are perfect for stylish getaways and looking on-point on the go.  
RELATED: New Heritage Brand aims to stay relevant 
3. Duro Olowu 
Duro Olowu is famous for his feminine clothing with a twist. The brand's mixed prints on tailored dresses, suitings, etc. are renowned and highly appreciated. Not to mention that Michelle Obama wore the designer's creations a few times.  
4.

Off-White c/o Virgil Abloh

 
Virgil Abloh's clothes are proudly worn by celebs like Offset, Rihanna, and Beyoncé. The Off-White laid-back designs are ideal for creating the effortless yet carefully picked look that all of us love. Therefore, this black owned clothing brand has take off into the mainstream fashion world. 
5. 10 Deep 
This brand was developed by Scott Sasso, back in 1995. 10 Deep's clothes take a different approach to workwear and sports, engaging with the continuously changing style.  
RELATED: The Black Consumer: A Fascinating Look At Our Spending Habits, By The Numbers 
6. Maki Oh 
Maki Oh's items nicely incorporate African elements into contemporary designs. That's probably one of the main reasons why the brand is loved and celebrated by stars like Solange Knowles and Lupita Nyong'o. 
7. Cushine 
https://www.instagram.com/p/BvmUNrJFIAf/
The brand got all eyes on it when their sexy, sleek dresses entered the runaways. Nowadays, Cushine also has intricate items that will easily fit into every part of one's life. Fans of this line include LaLa Anthony, Kerry Washington, and Jada Pinkett Smith.  
RELATED: African Head Wraps: A Brief History 
8. Undra Celeste 
Undra Celeste is best-known for the versatile dresses, original skirts, and chic shirts available at pocket-friendly prices. The brand is great for those with busy lifestyles who need contemporary clothes that don't require effort to look spotless. 
9. Stella Jean 
https://www.instagram.com/p/BuRmW5vnubo/
When talking about Stella Jean's collections, we're automatically thinking of the Creole heritage that's always highlighted by the clothes. The brand's designs are fun, bright and feature playful patterns. 
10. Armando Cabral 
https://www.instagram.com/p/Brcb2YnHubf/
The luxury footwear signed by Armando Cabral is perfect for guys who want to look fly and stylish. The brand offers a wide range of options, from casual, weekend-ready pieces to red-carpet designs.  
11.

Brother Vellies

 
Brother Vellies is an eco-friendly line with unique accessories handmade in African countries like Morocco, South Africa, Kenya, and Ethiopia.  
12. Want les Essentiels 
https://www.instagram.com/p/BvWue33AeCC/
Those who love traveling in style should certainly check out this brand. Want les Essentiels has pieces like duffel bags, sleek luggage and other nice gadgets that will keep you looking cool for an affordable price. 
13. YEMA 
This brand has a great story: in 2016, two friends, while still in college, started a business for community service. Their items are meant to help African children in need. That's why, all their clothes are colorful and have different meanings: purple for passion, blue for opportunities, etc.  
14. LaQuan Smith 
https://www.instagram.com/p/Bt4PxgxldQi/
LaQuan Smith is one of the most famous international designers at the moment. All the trending celebrities love the brand's clothes and, what's even more interesting, the young fashion icon managed to build this line from the ground up.  
15.

Nubian Skin

 
Nubian Skin was one of the very first brands to touch on the fact that nude doesn't only mean beige. Their multi-tone shoes and lingerie are complimenting brown skin, highlighting its beauty and glow.  
16. Tracy Reese 
https://www.instagram.com/p/Bbz2q43HS92/
Tracy Reese's dresses are colorful, featuring flowy designs. Michelle Obama is one of the fans of this playful brand.  
17. Pyer Moss 
This amazing brand's designs are inspired by the hip-hop scene and '90s outfits. Plus, their runaway presentations are very powerful, speaking to the socio-economic and political climate.  
18. Andrea Iymah 
https://www.instagram.com/p/BwDRyMVgRWA/
This brand became popular on social media thanks to their swimwear with African cultural elements. However, their custom and ready-to-wear dresses are also well-worth checking out.  
19. Mint Swim 
https://www.instagram.com/p/Bl9471VFuxN/
Mint Swim's swimsuits are made out of some top-quality fabrics and are available in a wide range of sizes. The designs are created to stand out, grab attention, and win admiration.  This black owned clothing brand aims to be inclusive. 
20. Romeo Hunte New York 
Hunte is the master of outerwear that flawlessly combines masculinity and femininity. Besides that, the brand's collections also feature everyday styles for men and cool-girl denim clothes for women.  
21. Fanm Djanm 
This brand started as a head wrap collection back in 2014 and grew into a lifestyle line. In Haitian Kreyol, Fanm Djanm means strong woman, and the company has the mission to encourage women to wear bold prints. 
22. Lemlem 
Lemlem is an African brand that was founded by Liya Kebede, a renowned supermodel. The main collection's soft cotton clothes are all handwoven in Ethiopia. Additionally, Lemlem deserves love and respect for focusing on creating jobs in Ethiopia. This is one of many black owned clothing brands doing good in the community.
23. Muehleder 
https://www.instagram.com/p/Bt1YbcoF7-p/
Neoprene is just one of the unusual, yet cool-looking fabrics used by this brand to create their statement dresses. Muehleder also has trendy leather clothes and shimmering outfits for cool events and bustling nights out.  
24. Public School 
https://www.instagram.com/p/BrRTe_7HTy-/
Public School's slogan, to find perfection in imperfection, accurately describes its clothes' vibe. Slouchy sweatshirts, oversized hoodies and the iconic Nike collaborations for sneakers made the brand famous, placing it as one of the most visible players of the "anti-fashion" movement.  
25. William Okpo 
William Okpo was founded by two ambitious sisters who combine American culture with their own Nigerian style. Thus, the mix results in some eye-pleasing women's ready to wear collections with fashion-forward clothes that will make you stand out.  
So, which one of these black owned clothing brands do you support? Let us know in the comments.