15 of Bria Myles' Sexiest Looks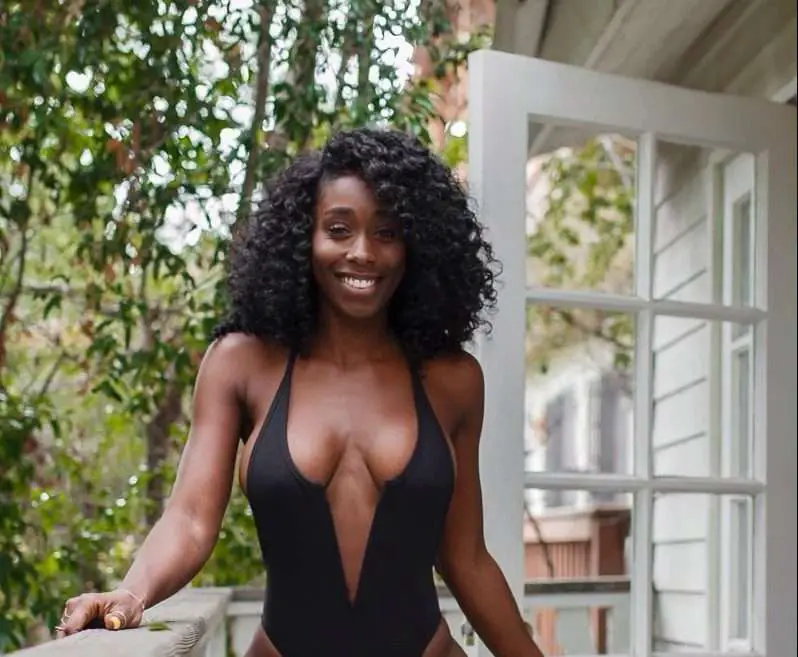 Bria Myles, the sexy Los Angeles born model, has successfully turned herself into one a stand out fashionista. And we are not complaining.
Born in 1984, Bria Myles started turning heads when she appeared in music videos and magazines. But before she became a popular model, she was a backup dancer for the likes of R. Kelly and Ying Yong Twins. She also made an appearance in Real Husbands of Hollywood in 2013 and Prizefighter in 2008.
And just like other models, some of Bria's looks stand out more than others.  On that note, here is a list of Bria Myles' 15 hottest looks that we absolutely love!
1. The blue dress
Posted by Fashion Bomb Daily in January 2014, this blue dress is fitted from top to bottom, making it show off every curve in Bria's body. Brilliant choice as it really shows off her hour glass figure.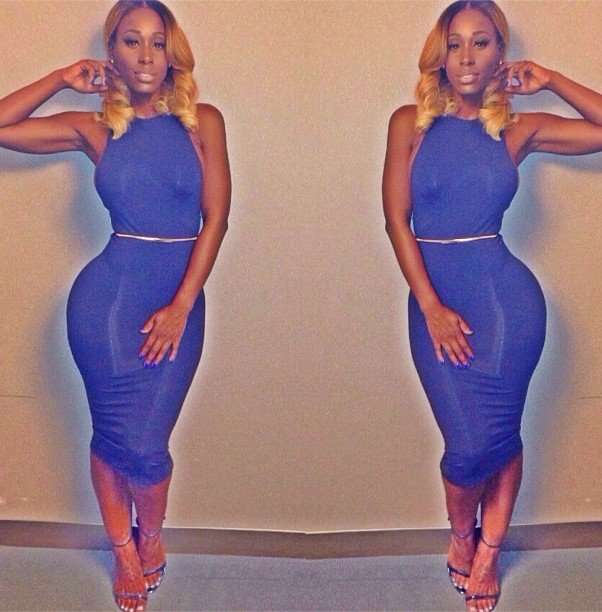 2. White active wear, top and bottom
Nothing could be hotter under the sun than Bria in this outfit from Pretty Little Thing. Makes you want to step up your workout outfit game, doesn't it?
If you follow Bria on social media, you know she takes her fitness seriously. This outfit is one of her many sexy workout wear that, we imagine, make working out more fun.
https://www.instagram.com/p/BXqjhDTACTh/
RELATED: Sydel Curry: The Curry Sister You Might Not Know
3. Leather Jumpsuit 
Ok, nothing about the combination and leather and jumpsuit sounds practical, but it's sure nice to look at when it's on Ms. Bria. This cream color jumpsuit is skintight and doesn't seem like it allows for any type of movement. It's better off on her than us.
4. Black off shoulder dress with fur coat
Maybe it's the lighting, maybe it's the beautiful compliment to Bria's skin, but this look is just hot! The off-shoulder dress, the chain, the fur, it's all just right.
Who's ready to go shopping dressed like this? We're in!
5. Cool Denim 
Denim on denim can be a tricky look to pull off. But this cool denim look on Bria Myles is so refreshing that it made us take a second look at our denim gear. If only we can pull it off as flawlessly as Bria.
She looks like she's ready for a laid back date in the city. We just love it!
https://www.instagram.com/p/BsDX86shg4u/
6. Navy blue jumpsuit
When you have them thick thighs, a stretchy material can be crucial to some outfits. This is one of those outfits! All the cuts in this outfit are all in the right places, keeping it classy but still super sexy.
https://www.instagram.com/p/BvbNewQB_6Z/
7. Little Black Swimsuit
Forget the little black dress, we're all about this little black swimsuit on Bria! The one-piece swimsuit hugs her in all the right places tho we're not sure if it's actually swim friendly.
8. The Bald and Beautiful
Bria debuted a bald look back in the summer of 2019, and she was just perfection! Her bald debut was simply glowing. Although this look as become more and more popular, it doesn't always look as fitting as this.
https://www.instagram.com/p/BzprJaAB8rf/
9. Ghanian inspired dress
In 2017, Bria did a campaign for the US based Ghanian fashion brand Yere's Collection. One of our favorite looks from this campaign is the yellow and blue dress pictured below. It is classy enough to wear to a Spring wedding and sexy enough to turn heads.
RELATED: Tika Sumpter: The Rise of the Sassy & Beautiful Actress 
10. Little Pink Dress
This lingerie inspired dress is super cute and simple. Aside from the color looking incredible on Bria's chocolate skin, the dress actually looks comfortable and easy to rock with various accessaries.
https://www.instagram.com/p/BuIJS8fFI3f/
11. Boyish but sexy
What we love about this look is that it reminds us of the '90s when TLC rocked baggy pants in the bottom but kept the top sexy. This military meets model look is fun and perfect for a girls night out.
https://www.instagram.com/p/Bt5VeyvgmKw/
12. Red-hot Jumpsuit
Can anybody else wear a jumpsuit better than Bria Myles? We doubt it. This red hot look is a winner among winners.
https://www.instagram.com/p/BtZKuLOAXtX/
RELATED: Maia Campbell: What Happened to the '90s Star? 
13. The striped dress
Black and white is a classic combination. With this black and white stripped dress, Bria kept it both classic and classy.
https://www.instagram.com/p/Bl6YFr1nfJX/
14. Yellow Bikini
Ok, honestly, what we love the most about this post is the caption. Bria looks phenomenal in her yellow bikini while on vacation in Cabo San Lucas. Her flawless skin is freshly kissed by the sun and, from the caption, it will only continue to get kissed more and more.
https://www.instagram.com/p/Bijil2PnXCi/
15. Nude Dress
This dress will make you take a double look. No, she's not naked. The skin look alike and skin-tight dress is flooring on Bria. Wow, just wow!
Which one of these hot Bria Miles looks is your favorite?