Samuel L Jackson and His Love for Anime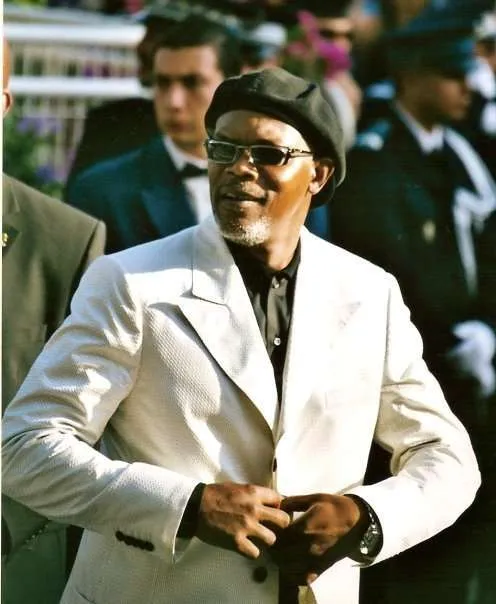 Anime lovers are very intense about their love for the specific type of animation.  Among those is Hollywood star and forever cool guy Samuel L Jackson.
Samuel L Jackson's love for anime first came to light some years ago when he made an appearance on the Wired's series of Auto-Complete Interviews.
So, if you are an anime fan, then hitch a ride into Sam's anime love story.
What's the Samuel L Jackson Anime Story
?
The Auto-Complete interview features Samuel conducting Google search in his name. 'Does Samuel L. Jackson…'. 
The search usually results in a related query on the celebrity, and he responds to the top Google searches. 
So the question pops, 'does Samuel L Jackson like anime,' and he goes; 'Yes I do,' 'Hentai too'! What you get next is a deep-throated laughter from the famous actor and legend. 
Just in case you are not an anime fan, anime refers to Japanese animated films. Anime means animation, as used in Japan. 
Samuel, no doubt, likes adult anime with racy themes and has featured in series of anime movies. He also has the intention to create anime with intriguing ideas or activities for others. 
RELATED: You can Now Have Samuel L Jackson Iconic Voice in Your House
How Many Samuel L Jackson Anime Films Are Out There?
Afro Samurai: Resurrection
Funny and cursing, Jackson has several anime films to his credit. The first Samuel L. Jackson anime voice-over began with the Afro Samurai: Resurrection in 2008. In the series, he plays the voice of Afro and Ninja Ninja (his side-kick). He also adapted the Afro Samurai video game. 
Afro Samurai is a Japanese animated series co-produced by Samuel Jackson and aired on Spike TV. It is an anachronistic (street fighter) anime about Afro, who is a young samurai. His quest to avenge the murder of this dad fuels a series of unfolding events in the story. 
The anime character as created by Takashi Okazaki used an original manga referred to as Nou Nou Nou.
The manga is an adaptation for the American audience, as created by Okazaki. Celebrities featured in the anime series include Samuel L Jackson, Kelly Hu, and Ron Perlman. The series also starred Lucy Liu, who played the role of Sio, a lead character and antagonist.
Jackson in 'The Boondocks'
In this Samuel L Jackson anime, he played the role (voice) of Gin Rummy in the 2005 American T.V. series The Boondocks. Sam made his first appearance in the episode: A Date with the Health Inspector. 
The Boondocks is an adult animation and sitcom that revolves around activities in a suburb in Woodcrest. The story is a satirical comedy depicting the conflict in a white suburb and involving the Freemans, a black family. It deals with stereotypes, racial issues, cultural blending and conflicts, social class issues, and more.
Gin Rummy, played by Samuel L Jackson, is trigger-happy ex-military personnel who served in Iraq. He became a hired gun at the Wuncler Industries and had Wuncler III as a best friend. The story referred to social and political issues relating to Donald Rumsfeld, George W. Bush, and Saddam Hussein. 
Rummy prefers analog ways to the use of technology because he thinks it is unreliable. But Wuncler loves the use of technology. Rummy is a major wigger in the series, in addition to Cindy McPhearson and Ed Wuncler III. 
Samuel L Jackson in 'Astro Boy'
Samuel L. Jackson voice-acted the character ZOG in the Astro Boy released in 2009. Freddie Highmore played the role of Astro Boy, a robot and android with super-strength and human emotions. He was an android replica thrown away by an angry creator. 
Astro Boy takes a leap into the future in Metro City to rescue his family and friends from trouble. He requires his super flying and X-ray vision to survive in the world of humans and help his loved ones.
The Astro Boy story was created in April 2003 but came from an earlier Japanese manga aired in 1963. Story creation was by Osamu Tezuka, the Manga, and David Bowers (Writer and Director). 
Notable voice-actors in Astro Boy include Nicolas Cage, Kristen Bell, Samuel L. Jackson, and more. Although the character doesn't look so much like him, Samuel L. Jackson anime, it adds spice to the plot. 
Samuel L Jackson in the 'Kite'
In 2014, Jackson starred in Kite, an adaptation of a controversial anime series by Yasuomi Umetsu. Kite is a graphic series anime created in 1999 but brought to life in 2014. It revolves around the young girl and orphan Sawa, whose life experiences forced her to become an assassin.
Samuel L Jackson anime known as Lieutenant Karl Aker is a corrupt police officer and Sawa's caregiver. The storyline is filled with suspense and intrigues, generating many comments and reactions from anime fans. Sawa became a victim of sexual molestation as a police officer brutally rapes and abuses the minor.
With the gruesome murder of her parents, Sawa joins forces with her dad's ex-partner to locating their murdering. Now, she has to confront men of the underworld notorious for their human trafficking escapades.
Samuel L Jackson's Other Animated Films & Video Games
Jackson played Frozone and Lucius Best in The Incredibles in 2004 and The Incredibles 2 in 2018. Also, he was Mace Windu in the 'Star Wars: Prequel trilogy' series and the animated film 'The Clone Wars' in 2008.  Turbo came out in 2013 with Samuel playing Whiplash. Samuel Jackson voice-acted as the father of kai and known as Tendai in the Zambezi and released in 2012. It is a 3D computer-animated film with Tendai as a peregrine falcon.
As for video games, he took the role of Frank Tenpenny in Grand Theft Auto: San Andreas video game in 2004. 
Samuel L Jackson's appearance and personality played out (with permission) as Nick Fury in the Marvel Comics ultimate version. After that production, he did a cameo appearance as Fury for Iron Man in 2008 for Marvel Cinematic Universal Films. He continued the role of Fury in eleven Marvel productions and was a guest star in Agents of SHIELD series.  
Nick Fury comic character films include Iron Man, Iron Man2, Captain American: The First Avenger, The Avengers, Thor. Other Captain America series includes Captain America: The Winter Soldier, Avengers: Infinity War Avengers: Age of Ultron and Captain Marvel. The last two Marvel Comics include Spider-Man: Far From Home and Avengers: Endgame.  
The 2nd Highest Grossing Actor of all time! 
Samuel Leroy Jackson is a seasoned American actor and movie producer. He is an only child born on December 21, 1948 in Washington D.C. 
Due to his outstanding performance on the screen, Samuel has numerous awards to his credit. He is the 2nd highest-grossing movie actor of all time, with over $7 billion in 2011 from the U.S. Box Office. He grossed over $16.7 billion from the worldwide box office as of 2011.
Part of his nominations includes the Academy Award for Best Supporting Actor in Quentin Tarantino's 1993 Pulp Fiction. To date, Samuel L Jackson has participated in over 150 movies.
Interestingly, he was featured as a stand-in for Bill Cosby in The Cosby Show.
As the new decade unfolds, should anime fans expect more Samuel L. Jackson anime films from the iconic actor? This question only time, Jackson and the movie industry can answer.