These Black Celebrities Wore Stunning Wedding Dresses! #3 Wore 3!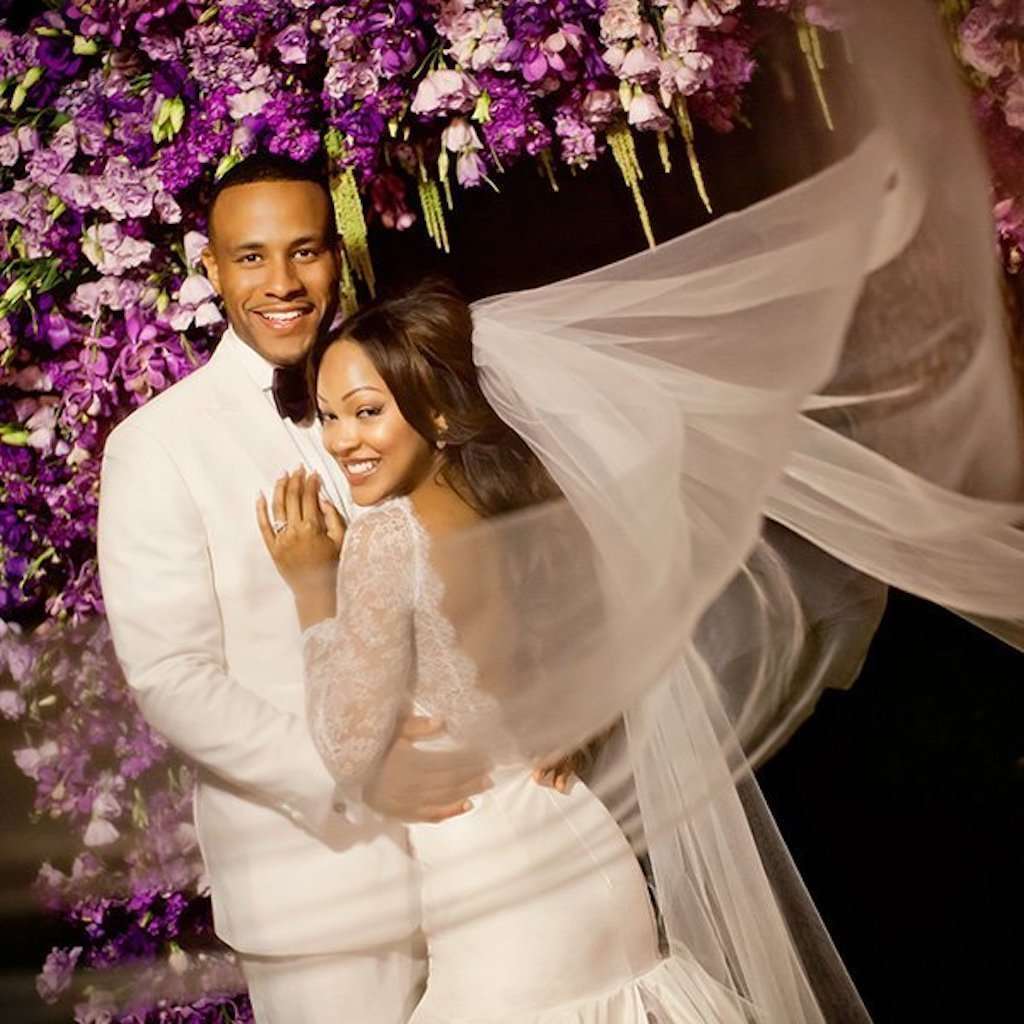 Planning a wedding or simply love wedding fashion? Well, let us serenade you with gorgeous black celebrities that wore stunning wedding dresses.
From the simple and classy to the extravagant and bold, you will find a dress that will make your heart skip a beat on this list. 
We start with the wedding of Mr. and Mrs. Kevin Hart! 
1. Eniko Parrish 
Mrs Hart stunned not in one but two wedding dresses!
The first dress was for the ceremony and her bridal portraits while the second one wowed guests at the reception. Both wedding dresses were designed by famed wedding gown designer Vera Wang. 
The couple shared their vows in front of 200 guests that included the who is who of black Hollywood. 
A flowing hairdo with a vail accompanied the first dress while Eniko wore an updo with the second dress. 
https://www.instagram.com/p/BJ36gCZDJhb/?tagged=kevinhartwedding
https://www.instagram.com/p/BJLFeWxhCPD/?tagged=kevinhartwedding
2. Jada Pinkett Smith
When you're as powerful and as mesmerizing as Jada is, you can keep the dress simple.
Recently, Jada and Will discussed how stressful the wedding was for Jada. She shared how unhappy she was, as she was dealing with a difficult first trimester during an episode of Red Table Talk.
Well, they had us fooled!
Looking at those blinding smiles, you wouldn't guess anything was wrong in the ever bright world of the Smiths. 
We absolutely adore these two! 

RELATED: How to Know if you've Found 'The One', According to Barack Obama 
3. LeToya Luckett-Walker
How can you top two wedding dresses? How about three!
Tommicus Walker and LeToya tied the knot at Villa Antonia, a mansion in the canyons of the Texas Hill Country.
The black, white, and deep red themed wedding was an intimate affair for the couple who were engaged for only 4 months. 
LeToya wore custom Vera Wang dresses and Christian Louboutin sandals. 
https://www.instagram.com/p/Bcm_s2CnOIT/?taken-by=letoyaluckett
https://www.instagram.com/p/Bcn5cGaHpc_/?taken-by=letoyaluckett
https://www.instagram.com/p/BcsfCMJnzYZ/?taken-by=letoyaluckett
4. Viola Davis 
Graceful and stunning! What else can describe Viola, on her wedding day and beyond?
The actress and her husband, Julius Tennon, got married in 2003.
After 13 years of marriage, the two renewed their vows. For the vow renewal, Viola wore a custom dress designed by Carmen Car Valvo. 
https://www.instagram.com/p/BVsA_OtgXkn/?taken-by=violadavis
5. Gabrielle Union-Wade
Gabrielle is sweet….
https://www.instagram.com/p/6DMVy1J-Xd/?taken-by=gabunion
and sexy!
https://www.instagram.com/p/sZ6mHYp-WR/?taken-by=gabunion
Gabrielle and Dwayne Wade tied the knot at a castle wedding venue in Miami, Chateau Artisan.
The bride wore two dresses designed by designer Dennis Basso, one for the ceremony and one for the reception. 
Both of these dresses are two of our favorite black wedding dresses. 
6. Solange
Solange's style has always been captivating and unique. Nothing less on her wedding day!
The songstress married director Alan Ferguson in New Orleans surrounded by about 200 family and friends.
Guests were asked to show up in white, but the bride still managed to stand out due to exceptionally well designed pieces.  
https://www.instagram.com/p/BKrDolnAQP4/?tagged=solangewedding
https://www.instagram.com/p/BRGh2ewgSqp/?tagged=solangewedding
7. Monica Brown
A dress as big as the personality! 
Monica wed NBA star Shannon Brown in a massive wedding that included 340 guests.
The ceremony took place at Vibiana, a church turned event space.
Although the celebration was massive, the biggest part of the wedding, however, had to be Monica's dress.
The singer has said the train weighted about 50lbs! The custom dress was designed by Stephane Rolland. 
https://www.instagram.com/p/BWUQdOjlvIQ/?taken-by=monicabrown
RELATED: Love Lessons from OWN's Black Love Docu-Series
8. Angela Bassett 
A dress as classic as the couple! 
Although Angela Bassett and Courtney B. Vance are the definition of black love now, things didn't start off well for the two.
Angela has spoken about how unimpressed she was by Courtney during their first date, calling it "boring".
Well, the two tied the knot in 1997 and have been happily married ever since!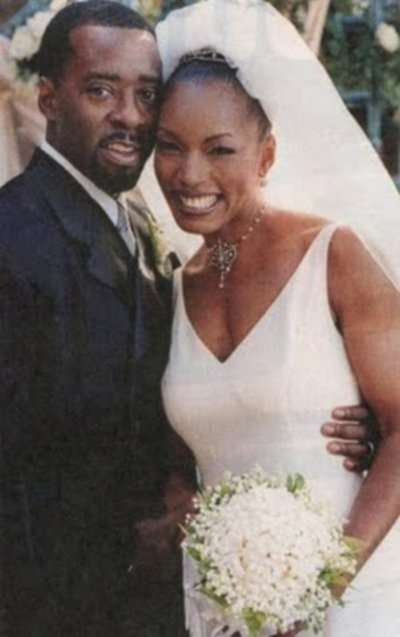 9. Ciara 
Ciara was a gorgeous bride in Peter Dundas' one of a kind dress. 
The singer and ball football player, Russell Wilson, got married at Peckforton Castle in Cheshire, England.
Ciara's dress was hand crafted in Milan by Peter Dundas, the creative director for Roberto Cavalli. The heels she wore were personally designed by Giuseppe Zanotti. 
https://www.instagram.com/p/BHuVQg-Ai1Y/?tagged=ciarawedding
10. Niecy Nash 
Beautiful in ivory! 
Niecy and Jay Tucker had their wedding in Malibu, CA in front of family and friends.
The bride couldn't decide on one dress, so she wore two custom gowns designed by Ines Di Santo.
11. Beyonce 
Stunner in a dress designed by her mama! 
Beyonce and Jay Z tied the knot in an intimate surprise ceremony in 2008.
 Jay Z's 13,500 sqft penthouse in NYC was the venue for the wedding. The ceremony was so intimate that only about 40 family and friends were present. 
https://www.instagram.com/p/tOA3Cgi8Ee/?tagged=beyoncewedding
RELATED: 7 Red Carpet Looks by Tracee Ellis Ross We Love
12. Megan Good
Sexy with sleeves!
Megan Good married preacher and Hollywood film executive DeVon Fraklin in an intimate ceremony at the Triunfo Creek Winer in Malibu, CA.
The bride wowed 400 guests with her beautiful gown that combined both her classy and sexy side. 
https://www.instagram.com/p/BbHVPwlBU7e/?tagged=megangood
13. Serena Williams 
The queen of tennis served up elegance and style in one beautiful gown. 
Serena married Reddit founder Alexis Ohanian at the Contemporary Arts Center in New Orleans. And the bride wore a dress fit for a queen! 
The bride worked with Sarah Burton for Alexander McQueen on her dress and decided on a ball gown silhouette, a decision that surprised her. 
"I flew to London to meet with Sarah and ended up falling in love with the ball gown silhouette, which is completely the opposite of what I ever thought I would choose for myself," she told Vogue.
"I loved the idea of doing a really spectacular ball gown, and it has turned out to be such an incredibly special piece."
https://www.instagram.com/p/BbpfbAbDjff/?tagged=serenawedding
14. Michelle Obama
One of the greatest first ladies made one of the most beautiful brides of all time! 
The Obamas said "I do" in 1992 at Trinity United Church of Christ in Chicago.
Mitchell wore an off-the-shoulder long-sleeved gown complete with a '90s staple, pouffy veil. Married over 25 years and still going, the Obamas remain one of our favorite couple. 
https://www.instagram.com/p/euIVIrAXTH/?tagged=obamawedding
15. Alicia Keys 
Alicia was a bohemian queen on her wedding day. 
Swizz Beatz and Alicia Keys got married in a private home by the Mediterranean Sea. The bride wore an ivory silk, georgette-draped gown by Vera Wang.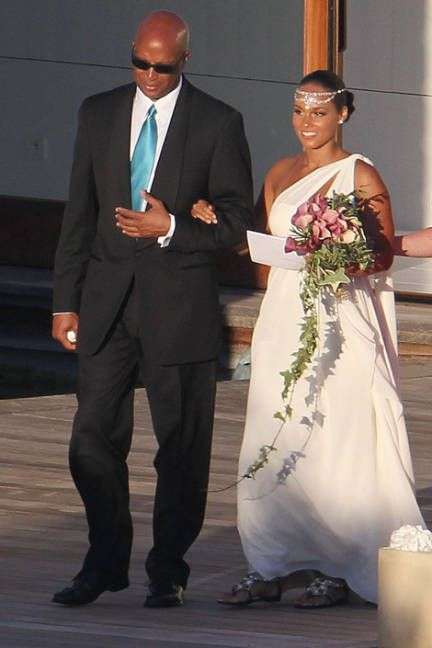 That's our list of gorgeous black celebrities and their gorgeous wedding dresses. Which one is your favorite look? 
Let us know below.